The Atlantic Daily: Security Measures
Trump's travel ban takes partial effect, the stakes of the U.S.-South Korea alliance, the NSA's liabilities, and more.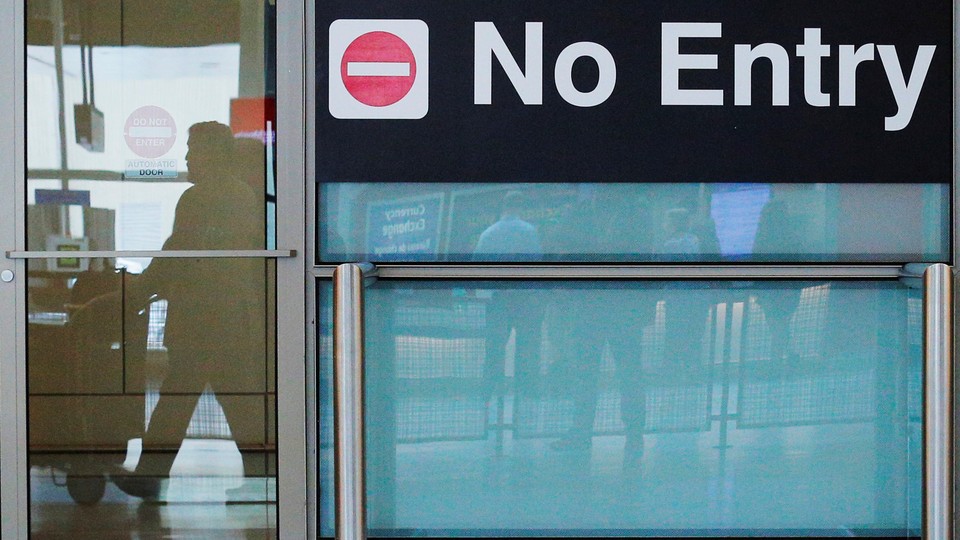 What We're Following
Return of the Travel Ban: Parts of President Trump's executive order restricting travel from six Muslim-majority countries are going back into effect tonight, with the government empowered to block any travelers who do not have a "bona fide relationship" with a "person or entity" in the U.S—a restriction that the State Department will interpret narrowly, new guidelines indicate. Marie Tillman, whose husband Pat joined the Army after September 11, criticizes the ban as a measure based on fear. Meanwhile, a number of Iraqi Christians detained in Detroit are facing deportation to Iraq, prompting questions of whether Trump will stand by his promises to protect Christians from persecution in the Middle East.
Presidential Visits: Trump's meeting with South Korean President Moon Jae In today came at a tense moment in global politics: North Korea's rising military power poses a threat to South Korea, and could force the U.S. to reconsider its alliance with the southern country. Trump has also accepted an invitation to join French President Emmanuel Macron for Bastille Day celebrations next month—which could be a chance for the ideologically distant leaders to find common ground.
Cybersecurity: Tuesday's global cyberattack was the second in as many months to use digital tools that were stolen from the National Security Agency, demonstrating unintended consequences of the NSA's practice of finding and stockpiling computer coding vulnerabilities. But what's a cybersecurity force to do? America's electoral system remains vulnerable to hacking—and the country needs a strong nonpartisan system to protect it.
---
Snapshot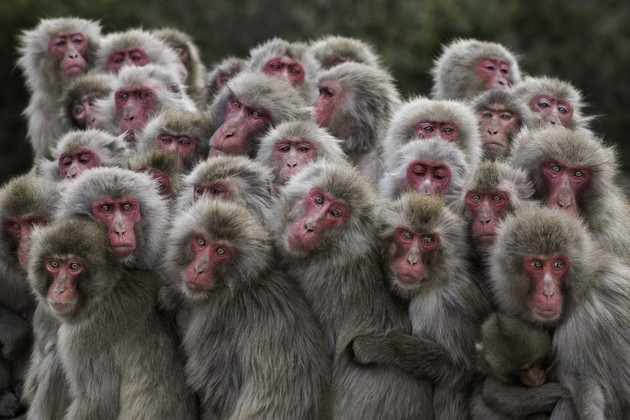 ---
Who We're Talking To
At the Aspen Ideas Festival, co-hosted by the Aspen Institute and The Atlantic:
Cass Sunstein, a legal scholar and former adviser to President Obama, explains why the impeachment process is widely misunderstood.
Jeffrey Seller, the producer of the musical Hamilton, discusses what led up to the cast's viral statement of protest to then-Vice President-elect Mike Pence. (Readers reacted to that moment here.)
Sarah Lewis, an art historian, and Michael Murphy, an architect, posit that art can change the world by making people pause.
---
Evening Read
Karen Weintraub and Rachel Zimmerman on a movement to improve medical care for "super-users"—the 5 percent of patients whose complex medical needs account for about half of health-care spending in the U.S.:
There is general agreement that these programs must address a range of social and pragmatic needs, like transportation, housing, nutrition, isolation, emotional well-being, and medical problems. But the details of each program are different. "Everyone's trying their home brew," says Dr. Harlan Krumholz, a cardiologist and health-care researcher at Yale University and Yale-New Haven Hospital.

The one thing all of the super-user care programs have in common is a mantra that could have come from Cosmo Kramer himself: Stay the hell out of the hospital. Hospitals, these folks argue, often make sick people sicker. They're sources of infection to vulnerable patients. They're disorienting. They run costly tests and look for issues that are better left alone. Super-users, says Krumholz, "represent a failure of the system."
Keep reading for how medical practitioners are trying to fix this, and learn more about America's health-care super-users here.
---
What Do You Know?
1. In a recent study, black girls as young as ____________ years old were perceived as less innocent than white girls of the same age.
Scroll down for the answer, or find it here.
2. In Venezuela, economic crisis and political unrest have led to an average of ____________ protests each day.
Scroll down for the answer, or find it here.
3. By 2100, according to a new economic analysis, climate change will reduce the income of counties in the American South by ____________ percent.
Scroll down for the answer, or find it here.
---
Urban Developments
Our partner site CityLab explores the cities of the future and investigates the biggest ideas and issues facing city dwellers around the world. Adam Sneed shares three of today's top stories:
New York's subway system is a mess, but don't believe those who say overcrowding is the problem. The most debilitating thing about the system is the politics of its operation.

It isn't hard to bond with people just like you. What Americans need are more connections to people who are different.

In the Bay Area, homelessness is reaching out into the suburbs—and those communities are woefully unprepared to deal with it.
For more updates from the urban world, subscribe to CityLab's daily newsletter.
---
Reader Response
A reader revives our series on deciding whether to become a parent:
I never wanted kids growing up, but every single last person told me a switch would flip when I was in my late 20s because that's what happens with women. I believed it, and when I met the love of my life who did want kids, I didn't see it as an insurmountable issue. After all, I was supposed to change.

I moved in with my ex when we were 22 and the kids issue seemed light-years away—until it wasn't. When we hit 29, the issue of whether to have kids came to a crisis point. He desperately wanted three or four kids, and I couldn't stand the thought. It took us a year of arguing to finally decide to separate, and it was very traumatic since it was our only relationship issue.

Plot twist: I now want kids.
Read the rest of her story here.
---
Verbs
Sandwich launched, dorm shuttered, brains mapped, smartphones domesticated.
---
Time of Your Life
Happy birthday to Judith's stepson Michael (born as the Berlin Wall began coming down), Nathan (the same age as the singer Jennifer Lopez), Mor's dad Haim (a year younger than human spaceflight), Aimee (born around the time the DNA of an extinct animal was first cloned), Erin's grandmother Fran (a year younger than sliced bread), Eddie's wife (a year younger than Star Trek), Usha's mother (born the same year as Margaret Thatcher), Cammy's sister Jacque (twice the age of Google), and Linda's sister Barbara (a year younger than the U.S. national anthem). Ann has a birthday wish for her sister (who's the same age as kidney transplants): "A special day for a special person." Georges has one for his friend Emilie (a year younger than Microsoft): "A superb artist; a devoted mother; a marvelous daughter. She is building a better future for her son, Harold, and for us all." Finally, happy birthday to Jo (a year younger than LP records), who points to another way of locating yourself in cultural history:
I am always interested in name popularity through the years and decades. In the 1950s and '60s, we had so many girls named Susan, Linda, and Cathy/Kathy. Those names are "boomer" labels for sure.
Do you or a loved one have a birthday coming up? Sign up for a birthday shout-out here, and click here to explore the Timeline feature for yourself.
---