The Atlantic Daily: Travel Plans
A Supreme Court date for Trump's travel ban, the CBO's score of Senate Republicans' health-care bill, toxic soil for public-housing residents in an Indiana city, and more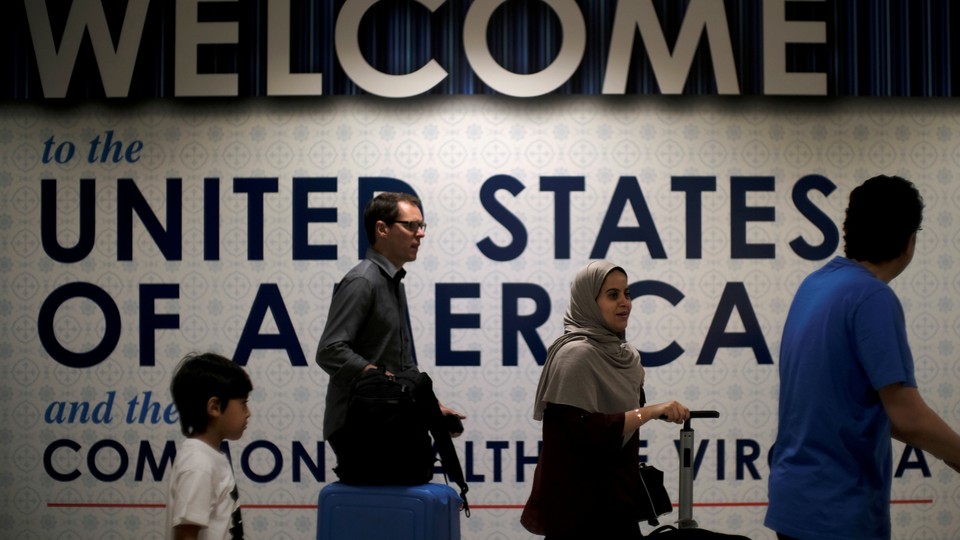 What We're Following
Trump's Partial Victory: The Supreme Court agreed to review President Trump's proposed travel ban this October, and partially unblocked the administration from enforcing it in the meantime. Now, the administration can enforce the ban against foreign nationals from the six targeted countries "who lack any bona fide relationship with a person or entity in the United States," but not against the students, employees, or family members of citizens and residents who would otherwise have been affected—and the delay means the case may be moot by the time the court considers it.
CBO Score: A highly anticipated report from the Congressional Budget Office says the Senate Republican health-care bill (called the Better Care Reconciliation Act) would result in 22 million people losing their insurance over the next decade. That's little improvement over the unpopular House version, though the bill's deep spending cuts would reduce the deficit by $321 billion in the same period. Lawmakers are still in the process of finalizing the bill; today, they added a provision to penalize those who go more than 63 days without coverage by requiring them to wait six months before they can sign up for a new plan.
Safety Hazards: The American supplier of the siding that was used in London's Grenfell Tower has discontinued it after an investigation found the siding (known as "cladding" in the U.K.) may have acted as an accelerant in this month's deadly fire at the apartment complex. The country's government has ordered 600 buildings, many of which serve as public housing, to be tested for combustible siding. In East Chicago, Indiana, residents of another public-housing complex were ordered to evacuate last year because of toxic levels of lead and arsenic in the soil under the building. As it turned out, the complex had been built on a Superfund site—and the families had been exposed to the contamination for decades.
---
Snapshot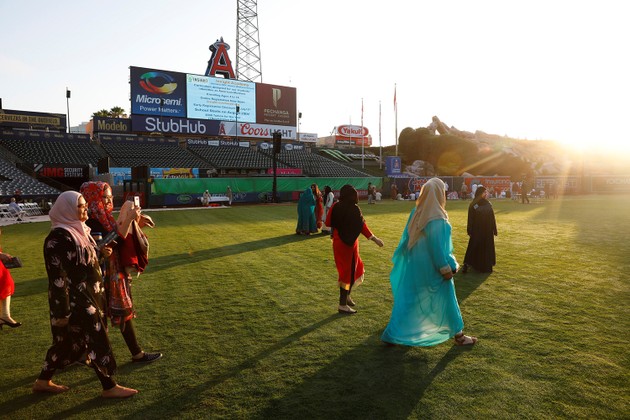 ---
Who We're Talking To
At the Aspen Ideas festival, co-hosted by the Aspen Institute and The Atlantic:
Michele Moody-Adams, a professor of political philosophy, shares her advice on how Americans can "reawaken a sense of solidarity."
Anthony Fauci, the director of the National Institute of Allergy and Infectious Diseases, explains how he tries to persuade anti-vaxxers to change their minds.
Jennifer Doudna, co-discoverer of the CRISPR gene-editing technique, discusses the ethics of using that technology on humans. (Find a reader debate on the same topic here.)
---
Evening Read
As Google discontinues its instant messenger, Colleen Rothman says goodbye to Gchat:
Now, whenever I use Gmail's search feature, essential for a service that urges you to keep everything while making it tedious to organize anything, driftwood from some years-old chat floats to the surface. … Reading email exchanges from past relationships that soured is awkward enough. But it's the old Gchats, conducted in close to real time, that transport me to the past, revealing thoughts I don't remember having in conversations with people I no longer speak to, people who at the time I could never imagine not knowing. There they are, in stark black sans-serif: my overabundant exclamation points, my unsuccessful attempts at sarcasm, my bad jokes, or worse, responding "lol" to misogynistic ones. All preserved in digital amber, like the insect from Jurassic Park. And just like in the movie, when the past is within such close reach, I can't leave it alone.
Read more from Rothman's eulogy here. If you still miss Google Reader, read this ode to its lost benefits, and find another record of earlier days of the internet here.
---
What Do You Know?
1. On three separate occasions—in the mid-1990s, during Obama's presidency, and today—the Army estimated its needs at the same number of active-duty soldiers: ____________.
Scroll down for the answer, or find it here.
2. Between 2009 and 2015, as the number of students at U.S. colleges and universities grew by 5.6 percent, the number of counseling appointments they attended grew by ____________ percent.
Scroll down for the answer, or find it here.
3. In 2015, America's most expensive zip code was the city of ____________.
Scroll down for the answer, or find it here.
---
Look Back
On this day in 2015, the U.S. Supreme Court's decision in Obergefell v. Hodges granted same-sex couples the constitutional right to marry. A few days later, Molly Ball looked back on the work it took to get there:
In 1971 ... sodomy was a crime in nearly every state, gays were routinely persecuted and barred from public and private employment, and homosexuality was classified as a mental illness. ...

What changed ... wasn't the Constitution—it was the country. And what changed the country was a movement.

Friday's decision wasn't solely or even primarily the work of the lawyers and plaintiffs who brought the case. It was the product of the decades of activism that made the idea of gay marriage seem plausible, desirable, and right.
Read more here.
---
Reader Response
The TAD group is discussing Julie Beck's dispatch from the Aspen Ideas festival, where Casper ter Kuile spoke about his research on how fitness communities like CrossFit fill the social functions of religion. This reader thinks ter Kuile is on to something:
It's a ready-made social group and all that comes with it, right down to buzzwords most outsiders don't get that increase the "I'm part of the group!" feeling. It's divorced from the sense of unifying higher belief that an actual religion has, but psychologically I can see it filling the same "hole" a religion might.
Another reader wonders what that might mean for society:
The most interesting implication might be that CrossFit is really a fairly self-centered activity (not meant as a moral judgment, just that it's very self-focused because it's literally about building up the body and/or mind). CrossFit might direct attention out to the other members/potential members of the gym/box, but it doesn't go much further than that—whereas at least in theory, religion asks its adherents to engage much more broadly with social well-being.
More reader discussion here, and more on the social reasons for churchgoing here.
---
Verbs
Emoji analyzed, communication questioned, wages raised, women interrupted.
---
Time of Your Life
We hope these readers had happy birthdays yesterday: Gary's wife Peg (born the same year as Muhammad Ali), Whitney's husband Jeff (who came of age around the time of Tiananmen Square), and Janelle's mom Deb (twice the age of The Oprah Winfrey Show).
Today, happy birthday to Steven (the same age as Miranda rights), Gary (a year younger than T-shirts), Greg's friend Julio (a year younger than cellphones), and John, who writes:
My live can be divided in two halves: before and after the iTunes Store. Coming of age in that peculiar time for music consumption definitely influenced me, as I still carry a dedicated MP3 player when streaming audio has become the default.
Do you or a loved one have a birthday coming up? Sign up for a birthday shout-out here, and click here to explore the Timeline feature for yourself.
---