The Atlantic Daily: Presidential Legitimacy and Preexisting Conditions
Advice from a Watergate prosecutor, the GOP health-care bill's fate, colon cancer and Mormon family trees, and more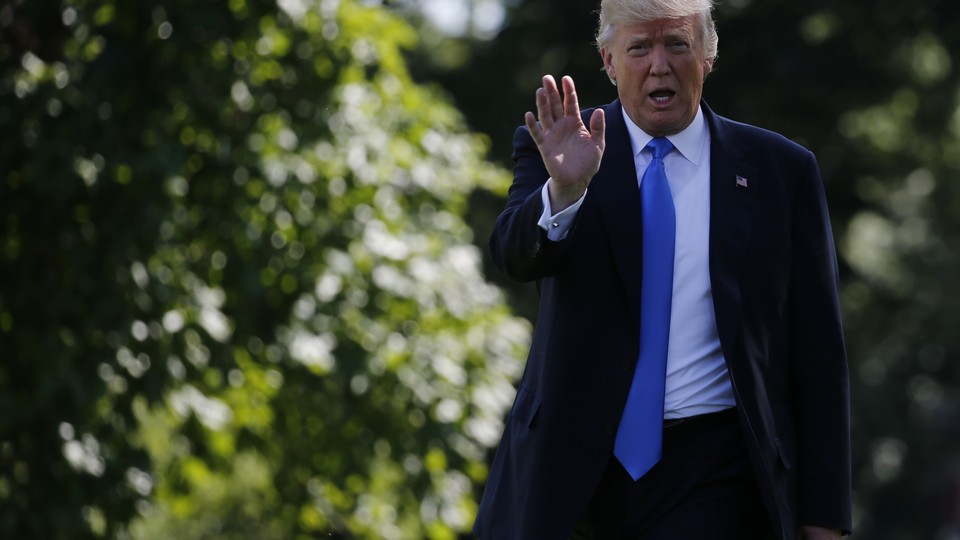 What We're Following
Trump's Troubles: Last year, the CIA told then-President Obama that Putin had asked his intelligence agencies to intervene in Trump's favor in the presidential election, according to a new report from The Washington Post. This doesn't necessarily mean the Trump campaign was involved, but it deepens the uncertainty surrounding the legitimacy of his office—and makes the question of how to save its role in government even more urgent. Watergate prosecutor Richard Ben-Veniste has been watching the ongoing investigation, and has this message for Trump: Don't repeat Richard Nixon's mistakes.
Health Problems: Nevada's Dean Heller joined a list of several Republican senators who say they can't support the version of the GOP health-care bill that Mitch McConnell released yesterday. One of the goals of that draft was to remove the unpopular House provision allowing insurance companies to discriminate against those with preexisting conditions—but two former Democratic advisers on economic policy say that a back door in the bill could still cause financial ruin for these patients.
Science News: The EPA approved a new Monsanto biotechnology last week: Corn seeds will be genetically modified to produce an insecticide that in turn kills pests (in this case, western corn rootworms) by disrupting their RNA. And on Mars, the Curiosity rover has been making its own decisions about which rocks to study thanks to artificial-intelligence software—and a new study says its choices have been good.
---
Snapshot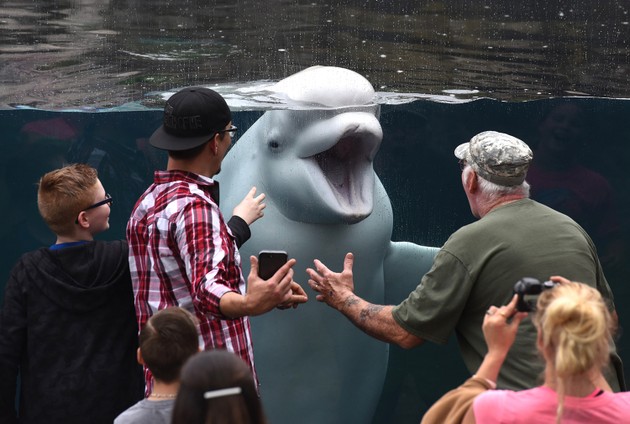 ---
Evening Read
Sarah Zhang on a genetic mutation that causes colon cancer:
Nobody knew it then, but the gene came to Utah by wagon with the Hinman family. Lyman Hinman found the Mormon faith in 1840. Amid a surge of religious fervor, he persuaded his wife, Aurelia, and five children to abandon their 21-room Massachusetts house in search of Zion. They went first to Nauvoo, Illinois, where the faith's prophet and founder, Joseph Smith, was holding forth—until Smith was murdered by a mob and his followers were run out of town. They kept going west and west until there were no towns to be run out of. Food was scarce. They boiled elk horns.The children's mouths erupted in sores from scurvy.  Aurelia lost all her teeth. But they survived. And so did the gene.
Keep reading here, as Sarah traces the story of how Mormon family trees helped track down the gene and save the lives of the Hinmans' descendents.
---
What Do You Know?
1. GLOW, the title of a new Netflix show, is the acronym for a real-life league of women ____________ that was active in the 1980s.
Scroll down for the answer, or find it here.
2. Only two plants in the world—the peanut and the ____________—produce their fruit underground after flowering out in the open.
Scroll down for the answer, or find it here.
3. Last week, New Hampshire nearly signed into law a bill that would have unintentionally authorized pregnant women to commit ____________.
Scroll down for the answer, or find it here.
---
Poem of the Week
From our October 1994 issue, Galway Kinnell's "The Cellist":
Her bow niggles at the string like a hand
stroking skin it never wanted to touch.
Probably under her scorn she is sick
that she can't do better by it. As I am,
at the dreary in me, such as the disparity
between all the tenderness I've received
and the amount I've given, and the way
I used to shrug off the imbalance
simply as how things are
Read more here.
---
Reader Response
Drew answers our call for stories of formative summer jobs:
I worked as a vet tech at a nonprofit vet office in Fort Collins, Colorado, originally started to provide affordable vet care for elderly people with animals. It was an incredible learning experience for me on many levels. First, it birthed in me a love for animals that I hadn't really experienced before (I didn't grow up with pets). Secondly, it showed me how important animals are to the lives of humans, especially the elderly. They provide so much joy and companionship to people who need it desperately.

The job also gave me some incredible skills and experiences that I wouldn't learn unless I were to be a vet myself, or go to vet tech school—how to suture a dog's abdomen after a spay operation, how to administer a rabies vaccine, how to give mouth-to-mouth to a newborn (but dying) puppy, or how to help an elderly woman whose dog has just been euthanized. These experiences were some of my most memorable and exciting of any job I've ever had! They're very valuable.
Read more from American workers on the value of their jobs here.
---
Adjectives
Toxic wildfires, awkward humans, critical rap, hard-won acceptance.
---
Time of Your Life
Happy birthday to Anna Mary (a year younger than VCRs), Roger (the same age as Kermit the Frog), Orly's husband Ezra (a year younger than The Oprah Winfrey Show), Gail's grandmother Ophelia (a year younger than pop-up toasters), Gary's daughter Leticia (a year younger than cellphones), Christiana's brother (a year younger than texting), and Peggy (a year younger than TV remote controls).
Tomorrow, happy birthday to Tim's mother Rose (the same age as the Seventeenth Amendment), Harold (the same age as Pope Francis), Ashley (twice the age of  Wikipedia), Maja's husband (a year younger than Star Trek), Juanita (the same age as the Battle of Midway), and Cheryl (a year younger than scuba gear).
Do you or a loved one have a birthday coming up? Sign up for a birthday shout-out here, and click here to explore the Timeline feature for yourself.
---