The Atlantic Daily: Climate Fallout and Pharma Faults
The global response to the U.S. withdrawal from the Paris Accord, the letter that helped fuel the opioid crisis, the history of school-bathroom controversies, and more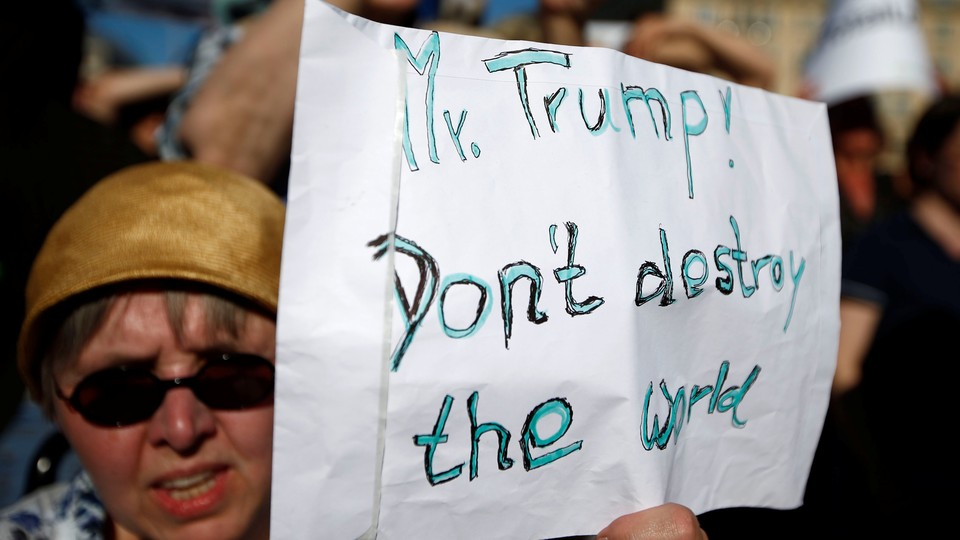 What We're Following
After Paris: In the aftermath of President Trump's decision to withdraw from the Paris Accord, many world leaders have expressed disappointment in the U.S. and reaffirmed their own commitment to the pact. Perhaps more than any other problem facing the world, climate change demands a collective solution—and as Uri Friedman argues, Trump's withdrawal marks a dangerous return to a worldview in which every nation is concerned only with itself. But some state and local governments say they'll work to uphold the climate agreement on their own, which is part of why these readers remain optimistic.
Around the World: Ireland's ruling party has elected a new prime minister, and the results are historic: Not only will 38-year-old Leo Varadkar be the youngest leader in Ireland's history, he'll also be its first prime minister who's openly gay and its first who's a person of color. Elsewhere, China is waging a successful campaign to become what Isaac Stone Fish calls "the world's most likeable superpower"—even though its illiberal government doesn't quite back up the diplomatic rhetoric.
Bitter Pills: As America's opioid crisis continues, several recent lawsuits are seeking to hold pharmaceutical companies accountable for the damage, arguing that Big Pharma's marketing practices and other activities misled doctors into overprescribing the dangerous drugs. Similar claims against tobacco companies set precedent for these suits, but plaintiffs face an obstacle in the fact that addicted users often don't use pills the way they're supposed to. Another part of the problem can be traced to a five-sentence letter to the editor published in a leading medical journal in 1980. The letter didn't prove that opioids are safe, but it's often been cited as though it did—so many times that the journal is now publishing a new study to correct it.
---
Snapshot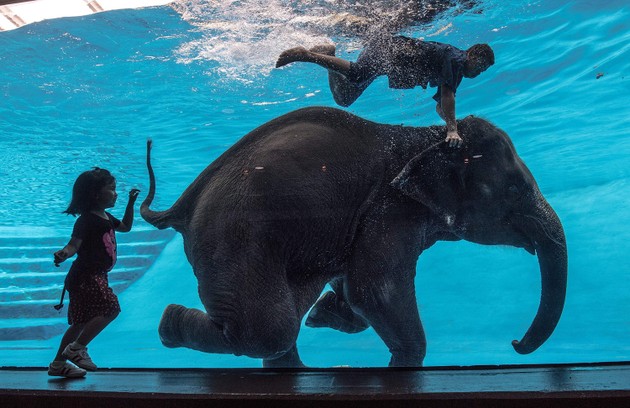 ---
Evening Read
J.Y. Chua on the history of school-bathroom controversies:
During the early 20th century, consumer culture also began to reinforce communal bathing as the epitome of American manliness. Brands like Cannon Towels and Ivory Soap advertised their products with pictures of naked athletes or soldiers showering together. … But even in this era, school baths generated controversy and dissent. In particular, concerns arose over the modesty of schoolgirls. In 1940, 16-year-old Joan Aveline Lawrence sued her Alabama high school after she was suspended for refusing to take a shower. Apart from arguing that communal baths violated her constitutional right to privacy, Lawrence contended that they were "immoral." Close to 300 girls signed a petition supporting her lawsuit, and some parents even described communal showers as a "step towards Communism." Although the judge threw out the case, the complaint foreshadowed legal complexities that would engulf school bathrooms in the second half of the century.  
Keep reading here, as Chua traces bathing battlegrounds from the Progressive Era through the Civil Rights Movement to today.
---
What Do You Know?
1. Over ____________ percent of Fortune 500 companies have formal mentorship programs.
Scroll down for the answer, or find it here.
2. On the planet Mercury, daytime and nighttime temperatures differ by as much as ____________ degrees Celsius.
Scroll down for the answer, or find it here.
3. Together, Facebook and Google account for ____________ percent of advertising growth on the internet.
Scroll down for the answer, or find it here.
---
Poem of the Week
From our December 1994 issue, Margaret Atwood's "Bored":
           It
wasn't even boredom, it was looking,
looking hard and up close at the small
details. Myopia. The worn gunwales,
the intricate twill of the seat
cover. The acid crumbs of loam, the granular
pink rock, its igneous veins, the sea-fans
of dry moss, the blackish and then the graying
bristles on the back of his neck.
Read more here.
---
Reader Response
Katherine Shear, a professor of psychiatry, responds to "Sheryl Sandberg's Advice for Grieving":
As Sandberg's story illustrates, acute grief is a very intense and disorienting experience. It's a testament to human resilience that most people adapt to painful losses and move forward in their lives with a sense of meaning and purpose and possibilities for happiness. In Sandberg's terms, they choose Option B. However, not everyone can do this. About 10 percent of bereaved people get caught up in ruminating over troubling aspects of the loss, engaging in extensive avoidance of reminders of their loved one's absence, or feeling overwhelmed by seemingly unrelenting emotionality. These people have a recognizable syndrome called Complicated Grief that affects an estimated 10 million people in the United States. They want to choose Option B, but they can't.
Read more and find some resources on complicated grief here. If you'd like to share a personal story about grieving, please send us an email at hello@theatlantic.com.
---
Verbs
Fights sung, myths dispelled, bugs bugged, space soothes.
---
Time of Your Life
Happy birthday from Jennifer to Ryan, who at 18 is one-ninth the age of The Atlantic; from Vickie to her husband of 44 years, who came of age with the release of the Pentagon Papers; and from Brian to his wife Deb, who was born right around the time Sandra Day O'Connor was nominated to the Supreme Court.
Happy birthday tomorrow to Manny (18 years older than the Stonewall riots), Rhea's sister (13 years older than Juno), Michelle's sister Darnelle (the same age as the state of Hawaii), and Jim's mother, who at 98 is the same age as American women's right to vote.
Do you or a loved one have a birthday coming up? Sign up for a birthday shout-out here, and click here to explore the Timeline feature for yourself.
---