The Atlantic Daily: Closing Time
Trump reverses Obama's Cuba opening, the officer who shot Philando Castile is acquitted, the president lashes out at the DAG on Twitter, and more.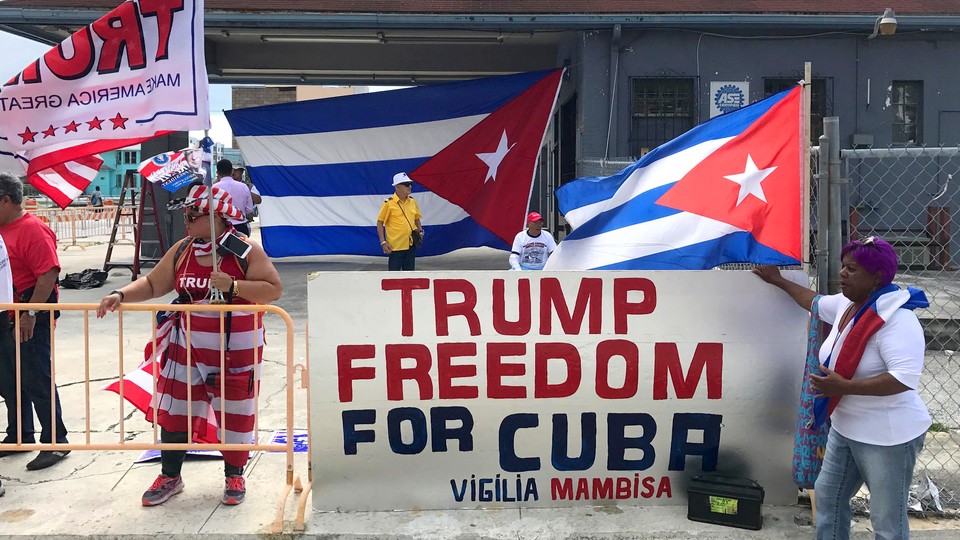 What We're Following
Reversing Course: President Trump announced his decision to roll back the Obama administration's opening of relations with Cuba, calling the policy a "completely one-sided deal." Yet restoring trade restrictions may not be good for American businesses any more than for Cuban ones—and Ben Rhodes, who led the negotiations with Cuba under Obama, argues that the new president's policy is destined to fail. Meanwhile, Trump is upholding Obama's DACA program, which protects undocumented immigrants who arrived in the U.S. as children from deportation and which he'd promised to "terminate." This is good news for immigration advocates, but voters who counted on Trump to restrict immigration may see it as a betrayal.
Another Acquittal: Jeronimo Yanez, the Minnesota police officer who was charged with second-degree manslaughter for shooting and killing Philando Castile during a traffic stop last year, was acquitted of all charges by a jury after 27 hours of deliberations. The shooting became national news when its immediate aftermath was live-streamed by Castile's girlfriend, who was also in the car, along with her 4-year-old daughter. The jury's decision comes a month after the Oklahoma officer Betty Jo Shelby was acquitted of all charges in the shooting death of another black man, Terence Crutcher; his family has now filed a wrongful-death lawsuit to seek damages and police reform.
Much Ado About Russia: On Twitter, Trump appeared to attack Deputy Attorney General Rod Rosenstein and confirm that he himself is under investigation over his firing of James Comey as FBI director last month. The tweet renewed concerns that Rosenstein may have to recuse himself from the Russia probe led by special counsel Robert Mueller: Rosenstein wrote a memo that justified firing Comey, but Comey said he was fired to stop his investigation of connections between the Trump campaign and Russia. The Trump transition team has been asked to preserve documents related to Russia, suggesting Mueller's probe of those connections is ramping up. Regardless of how the Trump team may have been involved, there's evidence of a widespread attack on U.S. voting systems by Russian hackers, and it's unclear how seriously the systems were compromised.
---
Snapshot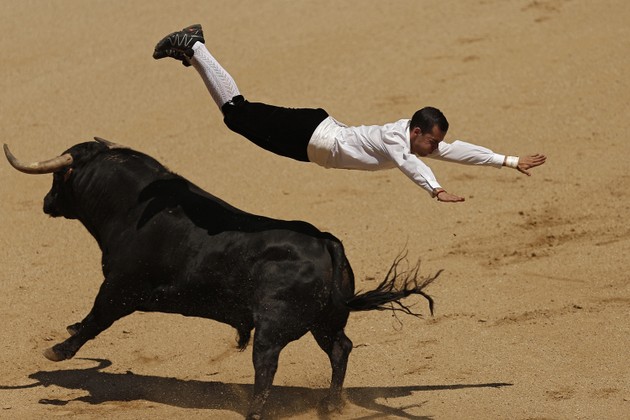 ---
Evening Read
Spencer Kornhaber on surrealism on TV:
Of this trippy generation of shows, The Leftovers staged the most convincing relationship between the real and the imagined, the banal and the bizarre. Using an appealing cast of small-town characters whose lives were suddenly upended, the show mixed grief memoir and savage comedy with speculation about how a civilization ill at ease with mystery might deal with the truly unfathomable. The results felt like a buffet of surprises, and not merely because the filmmakers were trying to keep the audience off-balance: The characters themselves were off-balance. By avoiding the definitively supernatural (aside from the October catastrophe) while still maintaining a deep sense of the weird, The Leftovers was more than just a riveting example of contemporary surreality TV. The series turned out to be a genuine—and profound—work of modern surrealism. After all, for every one of us in this life, the simple act of making breakfast can feel, on certain days, like a test of sanity.
Keep reading here, as Spencer unpacks what made HBO's The Leftovers so compelling.
---
What Do You Know?
1. A new analysis finds that more than ____________ genetic variants affect human height.
Scroll down for the answer, or find it here.
2. Amazon's stock is worth almost ____________ times what the company earns.
Scroll down for the answer, or find it here.
3. In a 2002 study, 80 percent of students said they based their self-worth on ____________.
Scroll down for the answer, or find it here.
---
Poem of the Week
From our May 1880 issue, "Wants," by 18-year-old Edith Jones—who's better known today by her married name, Edith Wharton:
We women want so many things;
    And first we call for happiness,—
The careless boon the hour brings,
    The smile, the song, and the caress.

And when the fancy fades, we cry,
    Nay, give us one on whom to spend
Our heart's desire! When Love goes by
    With folded wings, we seek a friend.
Read more here.
---
Reader Response
Writing to us from Dallas, Texas, Michael adds some background on the gender-inclusive language in the Southern Baptist Convention's latest Bible translation:
The change makes the translation more accurate for English readers. Perhaps the easiest example actually comes from Latin. We would call several male graduates "alumni," while multiple female graduates are "alumnae." The moment you add one male to that group of "alumnae," they become "alumni." Any group that includes men and women would take on the masculine ending. There's certainly a conversation to be had about the inherent sexism in such a linguistic system, but the point is that English isn't like that; we have to decide whether or not we use English words that are word-for-word translations or accurate translations.

So when St. Paul writes a letter [in Greek] to a church that presumably has members of both sexes, when they hear what used to be translated into English as "brothers," they are actually hearing something more akin to "siblings." This is an important distinction to make, especially to elements of churches who see "political correctness" run amok. We don't use a gender-inclusive translation because we as readers are gender-inclusive; we do it because the people who wrote the Bible were.
More on the controversy over Biblical translations here.
---
Verbs
Whole Foods gobbled up, The Handmaid's Tale freed, binge-drinkers blaze, Wi-Fi flies.
---
Time of Your Life
Happy birthday to Kendall (the same age as Justin Trudeau), from Diana to her mom (a year younger than the FIFA World Cup), and from Aralyn to Christine (twice the age of MTV).
On Saturday, happy birthday to Andrew (18 years older than the first artificial heart), from Mainon to Chris (who was born around the time of Elvis Presley's last performance), from Manny to Louie (a year younger than the Beatles), and from Julie to her pop, Keith (half the age of The Atlantic). Kathleen is celebrating two birthdays tomorrow, for Chris (a year younger than Sesame Street) and Rafay (born 14 years before the fall of the Berlin Wall). And from Ann, happy birthday to her son Mitchell (who was born around the time France resumed nuclear tests in French Polynesia). Ann writes: "I remember the day, but I was a little too preoccupied to remember much else about the world."
Do you or a loved one have a birthday coming up? Sign up for a birthday shout-out here, and click here to explore the Timeline feature for yourself.
---