The Atlantic Daily: Injunction Junction
President Trump's travel ban is dealt another legal blow, Greg Gianforte is sentenced for assaulting a reporter, Theresa May's government negotiates, and more.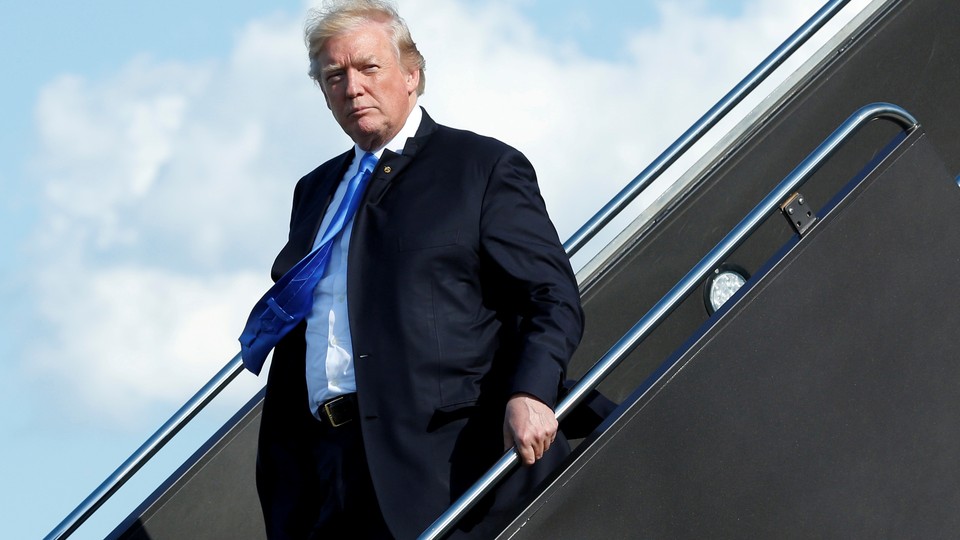 What We're Following
String of Defeats: The Ninth Circuit Court of Appeals handed President Trump's travel ban another legal blow, ruling that the White House's justifications for the ban have no basis in reality. In addition to finding the country's current vetting standards adequate, the court's three-judge panel concluded the executive order "does not offer a sufficient justification to suspend the entry of more than 180 million people on the basis of nationality." The decision follows last month's Fourth Circuit ruling that upheld the injunction against the ban—one that only the Supreme Court can review and possibly overturn.
Gianforte's Punishment: Congressman-elect Greg Gianforte was sentenced to community service and anger management for body-slamming Guardian reporter Ben Jacobs on the eve of Montana's special election. The Republican, who was also fined $385 for the misdemeanor assault, told reporters he looks forward to putting the altercation behind him and "going to work in Washington." And he'll certainly be going at an interesting time—at least according to Congressman Jim Banks. The freshman lawmaker from Indiana, Molly Ball writes, is "a fairly ordinary Republican congressman, trying to find his way in Washington in not-so-ordinary times."
The Queen's Speech: Queen Elizabeth II's speech to the U.K. Parliament following last week's snap election was delayed amid ongoing talks between Theresa May's Conservatives and the Democratic Unionist Party, who the Tories need to form a government. The delay suggests the Conservatives are still negotiating with their minority-government partners following their dismal electoral performance, but the speech was also postponed for another reason: The goat's skin parchment paper the speech was written on wasn't yet dry. Meanwhile in France, President Emmanuel Macron's party took a big lead in the first round of the country's parliamentary elections. Though the results project voters will give Macron a historic landslide, a legislative majority may not pacify his opponents or stem the resistance that's expected to rise against him.
---
Snapshot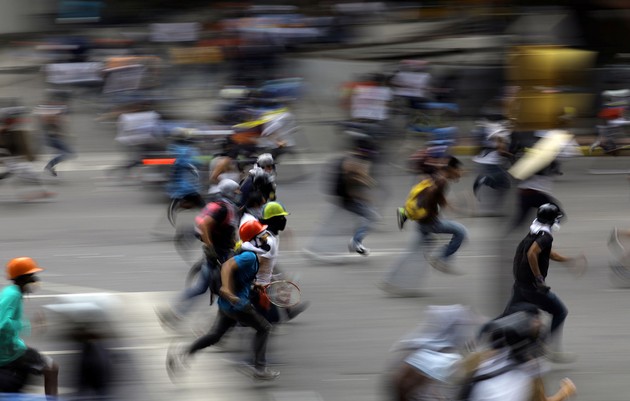 ---
Evening Read
Laura Kipnis on the platitudes of middle age:
This isn't exactly scintillating stuff, and for women writers the ground is especially well trod. The demise of your looks and sexual attractiveness (colloquially known as fuckability) a few decades before men suffer the same fate—sorry, we've heard it, and heard it some more. The condition is insulting enough minus the compensatory nuggets of sagacity about how not fretting over your looks is freeing, or about how getting laid is still fun just not that important, and guess what: Men aren't so crucial after all! Loving yourself is what really matters.

Then there's the mandatory wryness. God save me from wryness.
Keep reading here for Kipnis's review of a memoir that escapes the usual cliches.
---
What Do You Know?
1. Rafael Nadal is the first player in the Open era to win ____________ Grand Slam singles titles at the same tournament.
Scroll down for the answer, or find it here.
2. More than ____________ percent of black mothers are the breadwinners in their households.
Scroll down for the answer, or find it here.
3. The Olympic Games didn't include the women's marathon until  ____________.
Scroll down for the answer, or find it here.
---
Look Back
Today marks 50 years since the Supreme Court's decision in Loving v. Virginia struck down laws against interracial marriage in the U.S. In our December 2002 issue, Randall Kennedy looked back on its legacy:
Although white and black Americans are far more likely to date and marry within their own race than outside it, the cultural environment has changed considerably since Loving. … The de-stigmatization in this country of interracial intimacy is profoundly encouraging. Against the tragic backdrop of American history, it is a sign that Frederick Douglass may have been right when he prophesied, even before the abolition of slavery, that eventually "the white and colored people of this country [can] be blended into a common nationality, and enjoy together ... the inestimable blessings of life, liberty and the pursuit of happiness."
Read more here.
---
Reader Response
Becky writes:
Randy Ribay's addition to the conversation about "My Family's Slave" is one I have been waiting and hoping to see.  The self-righteous indignation of so many readers has, to me, been one of the more disturbing aspects of the piece's publication, not because slavery is anything but despicable, but because there is so much hidden power in the tendency of the privileged to segregate themselves away from the immediate evidence of the systems of inequality that perpetuate slavery in the first place.

Modern slavery endures because severe inequality makes certain forms of self-exploitation seem better than alternative options to large swaths of the population. Given the choice between starvation and indentured servitude, most will choose the latter. It is a nightmarish injustice, but those who would admonish Tizon for imperfectly reckoning with his close-up complicity in a system of class exploitation do little more than congratulate themselves on the enormous privilege of being born
sequestered away from experiences of extreme suffering.
Christopher Lapinig cited U.S. immigration law as one of the systems that make modern slavery possible. Read his and other responses to "My Family's Slave" here.
---
Verbs
Flight phobia spreads, graves uncovered, schools virtualized, tapes tease.
---
Time of Your Life
Best birthday wishes for yesterday to Bianca (twice the age of The Simpsons), Rosary's new fiance (the same age as Bruno Mars), and from Nancy and "D" to their son Josh (who turned 18 around the time the planetoid Quaoar was discovered). Happy birthday to Eunice, who's worried about the future: "This is the only planet we know can support human life. We must protect it." From Jessica, happy birthday to her "incredibly warm-hearted, caring friend" Ian: "The impact that he has on the people around him makes the world a better place." And happy birthday to Sandy, who writes:
I have to admit, the most resonant information in my Atlantic-generated timeline is that still from Saturday Night Fever. Hollywood thought I was into disco? They were right! At 13, my collection of disco 45s inspired many a dance party in our living room.
Today, happy birthday to Alvaro (the same age as the nation of Tonga), from Melissa to her cousins K.P. Forrest and Elle (twice the age of MTV), from Angela to Will (a year younger than the Harry Potter series and "the best co-captain out there" ), and to John (a year younger than Nineteen Eighty-Four), who writes:
Oldest sister born 1946, youngest brother born 1964: Our family totally encompasses the defined "Baby Boom" generation, but we definitely have different viewpoints.
Do you or a loved one have a birthday coming up? Sign up for a birthday shout-out here, and click here to explore the Timeline feature for yourself.
---