The Atlantic Daily: Yates Testifies and France Preps for a New Prez
Former Acting Attorney General Sally Yates's appearance before the Senate Judicial Committee, Emmanuel Macron's win in France, a technique to fight discrimination, and more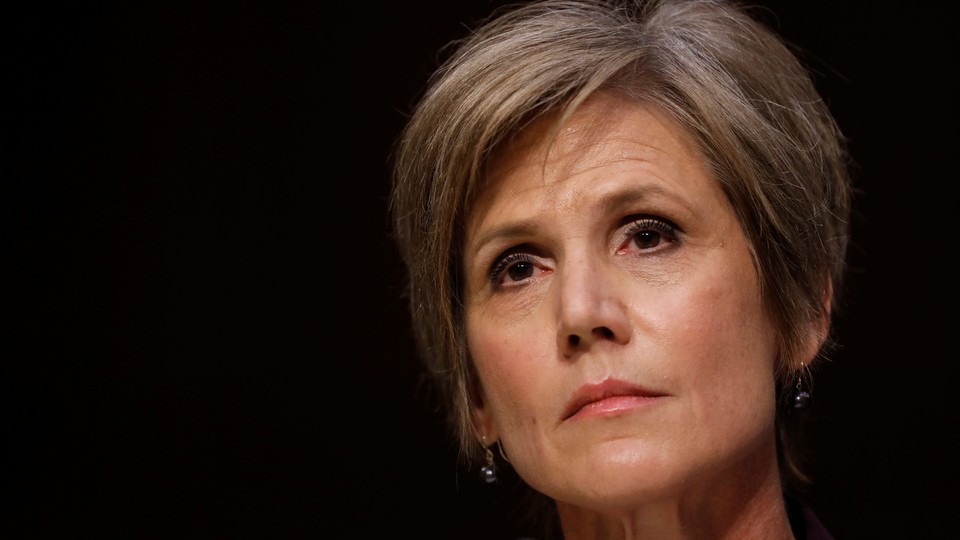 What We're Following
Monsieur President: Emmanuel Macron, the independent centrist candidate, won Sunday's election by a wide margin—65.5 percent of the vote to Marine Le Pen's 34.5. The results come as a relief for the European Union, and for others who had feared Le Pen's far-right party coming to power. But Le Pen has made her mark: Her National Front, once a fringe party, is stronger than ever, and populist movements like it are proving to be a driving force in Western democracy. Indeed, Macron's victory may represent a reaction against Le Pen more than an affirmation of his own politics—and in governing a country that's tired of the political establishment, he's got a difficult task ahead.
Russian Interference: At a Senate hearing on Russian interference in the U.S. presidential election, former Acting Attorney General Sally Yates testified that she had warned the White House that former National Security Advisor Mike Flynn's false statements about speaking to a Russian official could expose him to blackmail from Russia. Ahead of the hearing, President Trump tried to shift blame for the Flynn scandal onto the Obama administration, which had previously granted Flynn security clearance—but that excuse doesn't explain the failures in his administration's vetting process.
On Campus: A new law in Georgia allows those with the required permits to carry concealed weapons on college campuses, but leaves open some questions as to how it should be interpreted and enforced. Meanwhile, students' political speech continues to provoke controversy on and off campus. For some students, the "callout culture" enabled by social media feels stressful and stifling. Yet the issue at the heart of the debate may not be free speech, but what it means to be a student.
---
Snapshot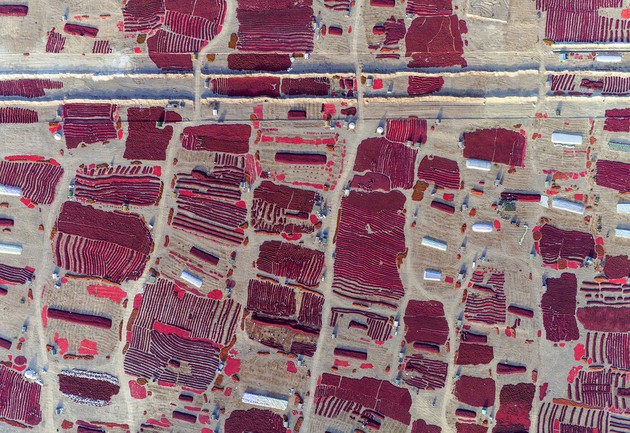 ---
Evening Read
Jessica Nordell on how to overcome the prejudices people don't realize they hold:
Over the last several years, "unconscious-bias trainings" have seized Silicon Valley; they are now de rigueur at organizations across the tech world. But whether these efforts have had any meaningful effect is still largely undetermined.

Until, perhaps, now. I traveled to southern Wisconsin, because [psychologist Patricia] Devine and a small group of scientists have developed an approach to bias that actually seems to be working—a two-hour, semi-interactive presentation they've been testing and refining for years. They've created versions focused on race and versions focused on gender. They've tried it with students and faculty. Next, they'll test it with police.

Their goal is to make people act less biased. So far, it's working.
Keep reading here. Do you have a personal experience to share about unconscious bias—your own or someone else's? If you've been through an unconscious-bias training at your workplace, did you feel it had any effect? We'd like to hear your stories: hello@theatlantic.com.
---
What Do You Know?
1. The eight U.S. counties with the largest declines in life expectancy since 1980 are all in the state of ____________.
Scroll down for the answer, or find it here.
2. About ____________ percent of Americans are bored by their jobs.
Scroll down for the answer, or find it here.
3. In the 1850s, the food industry was transformed by the discovery of a magenta food dye made as a byproduct of processing _____________.
Scroll down for the answer, or find it here.
---
Look Back
The first Westminster Kennel Dog Show opened on this day in 1877. In 2014, Jen Choi wrote about the campaign to make the Korean Jindo breed eligible to compete:
This matters to Korean Americans in a way that might sound comical to those outside our fold. The Westminster Dog Show is the longest-running continuously held sporting event in the country, second only to the Kentucky Derby. It began in 1877, prior to the invention of the light bulb or the building of the Washington Monument. It predates the admission of 12 states to the Union. In essence, Westminster is as American as it gets. Once a dog is crowned Best in Show, the winner becomes the canine equivalent of Miss America, fulfilling a year's worth of duties as "America's Dog." It appears on national morning chat show appearances, rings the opening bell at the New York Stock Exchange, and visits the observation deck at the Empire State Building. A chance to compete at Westminster is a chance for a Korean to "make it" in this country.
Read more here. Jindos haven't made it into the dog show yet, but you can find photos of this year's canine competitors here.
---
Reader Response
After John criticized how internet activism can give people the illusion of political action, Kate, a progressive voter in South Carolina, speaks up in defense of online petitions:
What the flying thunder CAN I do to feel as if my political ideas matter?!!!!! Living in a beyond-change-in-my-lifetime red state, one needs a few moments of active hope. I do make phone calls, but S.C. pols are pretty much oblivious to any sort of progressive reasoning.  Calls to congresspersons geographically beyond my voting purview are accepted, but not (necessarily) tallied for opinion, i.e., largely a waste of time. It's not as if magazine/blog/e-zine writers return phone calls—unless one is either wealthy or socially well-placed, one's thoughts are disregarded. Thus, the illusion of positive action via online petitions is valuable to those of us stuck in places in which our votes don't count.
If you've got any suggestions for what to do—or other thoughts on how technology is reshaping democracy—our inbox is open: hello@theatlantic.com.
---
Time of Your Life
Yesterday was a big day for birthdays. Happy 61st to John: His son called him "old as dirt" last year, but he's still a little younger than Disneyland. Happy 71st to Bob, who's never lived in a world without the atomic bomb. From Alison, happy 63rd birthday to Chris, who's "more interested in understanding and compromise than in being right or most powerful"; speaking of compromise and power, the U.S. and U.S.S.R. signed the Anti-Ballistic Missile Treaty right around his 18th birthday. From Katrina, happy birthday to Acorn, who's 13—the same age as Gmail. And happy 54th birthday to Susan, who writes:
Those of us born in the '60s were the first to grow up in an integrated society—at least on paper if not in reality. Whites were going to school with blacks, working alongside each other; quite a few of us have interracial marriages and children. It was no accident that our first black president was elected at this time; we were finally old enough and wise enough to make it happen.
See more events from her lifetime here. Today, happy 64th birthday to Iris, who turned 18 the year Mariner 9 was launched into space. And from Karen, happy 68th birthday to Randy, who was born around the same time as NATO.
Do you or a loved one have a birthday coming up? If you'd like us to feature your Life Timeline in an upcoming newsletter, take a moment to fill out this form (please give us a week or so to process your request). In the meantime, click here to explore the Timeline feature for yourself.
---
Verbs
Beauty evolves, protests sung, violins validated, best friends beloved.
---