The Atlantic Daily: Trump and Treaties
The White House communications director's resignation, the future of U.S.-German relations, a Philippine town overtaken by ISIS, and more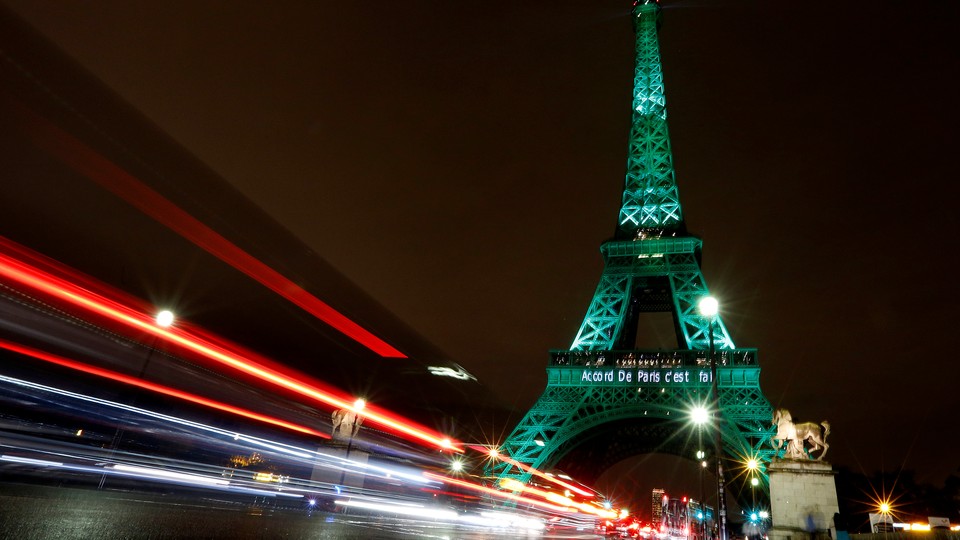 What We're Following
Dubke's Departure: White House Communications Director Mike Dubke reportedly resigned from his position on May 18, three months after he was brought in to help Press Secretary Sean Spicer coordinate the administration's messaging. President Trump is known for his unpredictability and outspokenness, and Dubke's resignation may be the first sign of a long-rumored shake-up among his communications staff. Outside the White House, the former House Speaker Newt Gingrich has taken on the task of defining Trump's political ideology.
Foreign Engagements: German Chancellor Angela Merkel cast doubt on the future of U.S.-German relations this weekend when she stated that Europe "must take our fate into our own hands" rather than relying on the U.S. and the U.K. Though Merkel walked back those comments somewhat today, Trump doubled down on the criticism of Germany that—along with the skepticism he displayed toward NATO, the G7, and the EU in the course of his meetings with European leaders last week—prompted Merkel's remarks. Elsewhere, a lesson in the limits of American influence abroad can be found in the history of U.S. relations with former Panamanian dictator Manuel Noriega, who has died at 83.
Climate Change: Trump has received heavy criticism from environmentalists for his speculation about leaving the Paris Agreement on climate change—but given his lack of enthusiasm, some experts say the treaty might accomplish more if the U.S. withdraws. To track the shifts already in progress, scientists have found that mushrooms may provide a record of temperature and CO2 changes in the past few decades. Meanwhile, record-high tides in Hawaii—submerging roadways and beaches—foreshadow the effects of rising sea levels.
---
Snapshot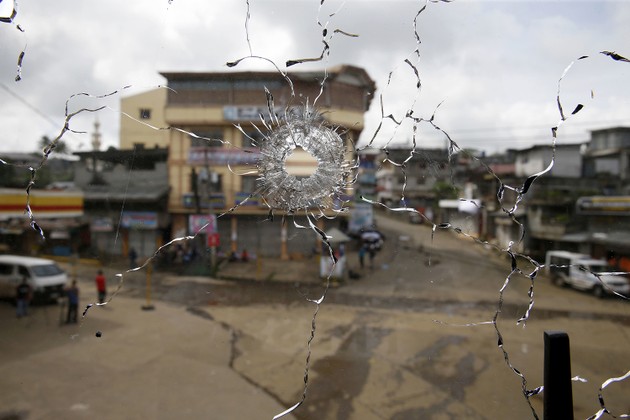 ---
Evening Read
Anne Beatty on a student she struggled to teach:
My limited understanding of T was partly a result of the single story I'd heard about kids like him. The story of low-income, urban students of color has been told too often by white, middle-class people like me who are cast as main characters in pat, triumphant narratives endorsing the redemptive single story of teaching.

These simplified stories distance teachers from their students, reinforcing the power imbalance created when a teacher arrives thinking she already knows who her students are and what miracles she should perform. The caricatures—so tempting and easy to create in the shadow of Hollywood's teacher-savior plot line—ultimately act as a barrier to meaningful classroom interaction. Both popular teaching narratives and inexperienced teachers give in to the temptation to simplify the roles of teacher and student. Effective teachers, though, begin to understand the complexity of their role, and its power, by remembering how complicated their students are.
Keep reading here, as Beatty reflects on what Hollywood gets wrong about school. And check out the first installment of our new audio series on unforgettable students here.
---
What Do You Know?
1. A just-released study found that ____________ percent of drivers had used a prescription drug within the past two days.
Scroll down for the answer, or find it here.
2. New archaeological evidence suggests that humans have been cultivating rice for roughly ____________ years.
Scroll down for the answer, or find it here.
3. In the run-up to President Andrew Johnson's impeachment, Congress experienced a bomb scare when two bottles of liquid—which later turned out to be ____________—were discovered.
Scroll down for the answer, or find it here.
---
Urban Developments
Our partner site CityLab explores the cities of the future and investigates the biggest ideas and issues facing city dwellers around the world. Adam Sneed shares three of today's top stories:
New Orleans Mayor Mitch Landrieu won praise for last week's speech explaining the city's decision to remove monuments to the Confederacy. This is the story of the grassroots movement that made it happen.

Venezuela's Helicoide was supposed to be an architectural icon and the world's first drive-through mall. Now it's something very different: a hellish prison.

The best thing about biking to work has nothing to do with exercise, the environment, or saving money. It's all about the chance to unplug.
For more updates from the urban world, subscribe to CityLab's daily newsletter.
---
Reader Response
The TAD group is discussing Emma Green's review of Senator Ben Sasse's new book, The Vanishing American Adult, which calls for Americans to bring a sense of virtue back to civic life. One commenter links virtue to "a fundamental difference between conservatives and liberals":
Why are some people less successful than others—is it a lack of virtue or a hostile environment? In the conservative thinking, a hostile environment will be painful but it will produce virtue. I was/am a conservative, but I realize it's way too broad of brush to paint everyone successful as virtuous and all those unsuccessful as lazy. At the same time, there is some truth in that. The way we help people really needs to be personalized. I like the idea of community-based aid because it can give one person a hug and a bag of groceries and another a kick in the butt, but we need something on the state or federal level to provide adequate funding.
More reader discussion here.
---
Nouns
Spidey sense, House of Cards binge, neoliberal pride, authoritarian cryptocurrency.
---
Time of Your Life
Happy weekend birthdays from Nina to Karel, and from John to Addie. They're both turning 90, and came of age with the fall of Berlin—right around the time another reader, Connie, was born. And happy birthday to Kathy (18 years older than Star Wars), Helen's friend Jerry (twice the age of Apple) and Alice, who had this to say about her timeline milestones:
Seatbelts? Never used one until 1971. Outer space exploits? Mom watched the moon landing on a snowy TV channel while I stepped out for a totally forgettable movie at the drive-in—but at least the picture was clear.*
Today, happy birthday from Katrina to Simon (the same age as the Anti-Ballistic Missile Treaty), from Kara to Shawn (who's never lived in a world without the Beatles), from Mel to John (twice the age of iPhones), from Robert to Kristen (a year younger than MTV), from Sue to Chane (twice the age of Toy Story), and from Ann Marie to her favorite Mr. (the same age as commercial bar codes). From Katrina, happy birthday to Allegra, who "was her dad Simon's 30th birthday present"—and from Kris, happy 30th birthday to Clay, who's getting ready to have a child of his own. Happy birthday to Kathryn's dad (the same age as the Japanese constitution); to Margie's son Jonah, who at 4 is too young for the Life Timeline but never too young to start learning history; and to Polly, who shares another moon-landing memory:
I remember sitting with my grandfather in his living room watching the first men walk on the moon. He had never been on an airplane, and even as a self-centered teenager, I realized how strange this must have been for him.
Do you or a loved one have a birthday coming up? Sign up for a birthday shout-out here, and click here to explore the Timeline feature for yourself.
---
---
*This newsletter originally misstated the year of the first moon landing as 1967. We regret the error.