The Atlantic Daily: An Attack in Egypt
Coptic Christians targeted in Egypt, Ramadan in the time of ISIS, Trump's unpredictability, and more
What We're Following
Religious Violence: Gunmen killed 28 Coptic Christians in an attack on a bus in Egypt's El-Minya governorate today. Though no group has claimed responsibility yet, ISIS has targeted Copts in the past—and has taken advantage of Egypt's existing sectarian climate to do so. The attack comes less than a day before the start of the Muslim holy month of Ramadan, a time of fasting, prayer, and atonement that ISIS has marked with deadly attacks in recent years. President Trump condemned such terrorism in his Ramadan message—a departure from the tone of his predecessors' statements.
Leadership Questions: Though Trump's first trip abroad has gone smoothly so far, his stops in Saudi Arabia, Israel, and Brussels also highlighted the unpredictability of his foreign policy: For instance, he declined to affirm the U.S. commitment to defend fellow members of NATO yesterday, although some allies had expected him to do so. David Frum sees that moment—as well as the reaction to Montana Representative-elect Greg Gianforte's attack on a reporter—as evidence of a "moral holiday" among Republican leaders who haven't stood up against Trump's breaches of political norms. But the Gianforte incident isn't unique to the Trump era; it has roots in a long tradition of political bullying.
Women's Health: One-third of the Planned Parenthood health centers in Iowa are closing after the state passed legislation that excludes abortion providers from public funding, leaving some patients struggling to find another source for reproductive health care. Meanwhile, the U.S. lags behind other countries in protecting mothers and babies during childbirth, but many of its recent safety improvements are thanks to one influential obstetrician.
---
Snapshot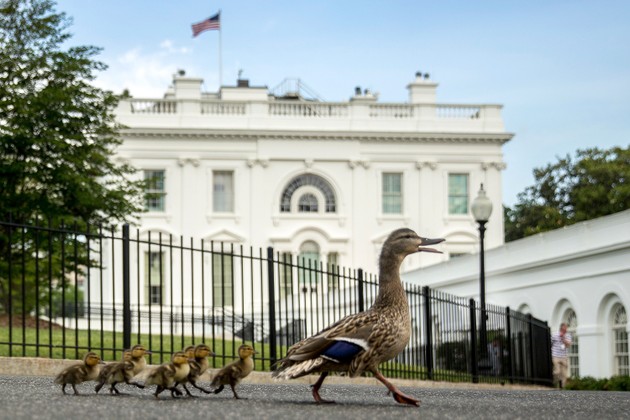 ---
Who We're Talking To
Carlos Mark Vera, who founded the nonprofit Pay Our Interns, describes the value of a "tough-love" approach to mentorship.
Irina Raicu, the director of an ethics center in Silicon Valley, explains why technologists need ethics training.
Bob Woodward, the legendary investigative reporter, advises journalists covering Trump to calm down: "We are not at the Watergate level yet." Watch here.
---
Evening Read
Ben Rowen on the history of memories:
Nostalgia—generally defined as a sentimental longing for bygone times—underwent a particularly significant metamorphosis in 1888, when Kodak released the first commercially successful camera for amateurs. Ads soon positioned it as a necessary instrument for preserving recollections of children and family celebrations. According to Nancy Martha West, the author of Kodak and the Lens of Nostalgia, the camera "allowed people … to arrange their lives in such a way that painful or unpleasant aspects were systematically erased."

Technology is poised to once again revolutionize the way we recall the past.
Read more here, as Ben describes the innovations that foreshadow the end of forgetting.
---
What Do You Know?
1. In 2016, Fox News host Sean Hannity's show generated $____________ in advertising revenue.
Scroll down for the answer, or find it here.
2. The average astronomy paper cites about ____________ sources—compared with about 10 sources in the 1960s.
Scroll down for the answer, or find it here.
3. Both the government of Australia and ____________ University claim to have hosted the first crouching start in modern track.
Scroll down for the answer, or find it here.
---
Poem of the Week
From our August 1918 issue, Amy Lowell's "Castles in Spain":
Bombs and bullets cannot menace me,
Who have no substance to be overthrown.
Cathedrals crash to rubbish, but my towers,
Carved in the whirling and enduring brain,
Fade, and persist, and rise again, like flowers.
Read more here.
---
Reader Response
After some readers described how Eudocia "Lola" Pulido's story reminded them of their own experience, another abuse survivor relates to Alex Tizon:
I am a white, American-born woman many years younger than Alex and thus my experiences are very different from his, yet I relate to his story in a way that I have not seen addressed: I grew up in an abusive household and live every day with the guilt of not doing more to rectify my parents' transgressions.

It must be acknowledged that exposing a child to domestic violence is a form of abuse with lifelong effects; Alex witnessed Lola's mistreatment as a constant presence in his youth, and clearly struggled with that legacy for the rest of his life. Although he did not recognize himself as such in "My Family's Slave," he too deserves our sympathy as a victim.
Read more here.
---
Time of Your Life
Happy birthday to Aaron (twice the age of personal computers), Linda's brother Rudy (who turned 13 the year The Partridge Family debuted), and Nora's mother Priscilla (the same age as the Oscars). Another Nora wishes a happy 95th to her hero: her father Paul (twice as old as Sesame Street), who served with the Marines in the Pacific, and is still active in his community today. And happy birthday to Kara's mother—she's never been online, but she's seen many big events in her 80 years.
Tomorrow, happy birthday to Mona's father Don (a year younger than talking movies), Mary Kay's boyfriend Andrew (twice the age of the International Space Station), Erin's nephew Zachary (twice the age of the euro), Susan's husband Vin (the same age as Singin' in the Rain), and Buck's son Luke, with a solemn message: "Your age cohort must solve global warming." Happy birthday to Debby (the same age as the James Bond films), Terry (a year younger than the Golden Gate Bridge), and Mary (one year younger than The Cat in the Hat). Happy birthday from Susanne to Michael, who shares a birthday with Robin's baby sister—they're both a year younger than NASA. And happy birthday to our lifetime reader Margaret, who writes: "I could die (almost) happy if you featured my birthday in The Atlantic Daily!" Thanks, Margaret—we hope you'll have many birthdays yet.
Do you or a loved one have a birthday coming up? Sign up for a birthday shout-out here, and click here to explore the Timeline feature for yourself.
---
Verbs
Neverland sought, pirates rebooted, fans feared, Hillary speaks.
---
This newsletter won't publish on Monday due to the Memorial Day holiday, but we'll be back as usual on Tuesday, May 30. While we're out, check out this Memorial Day poem by Henry Wadsworth Longfellow, as well as James Fallows's recommended Memorial Day reads.
---