The Atlantic Daily: Will They or Won't They? Trump and NATO Edition
The president's summit with allies, a "body slam" in Montana, a U.S. citizen's path to jihad, and more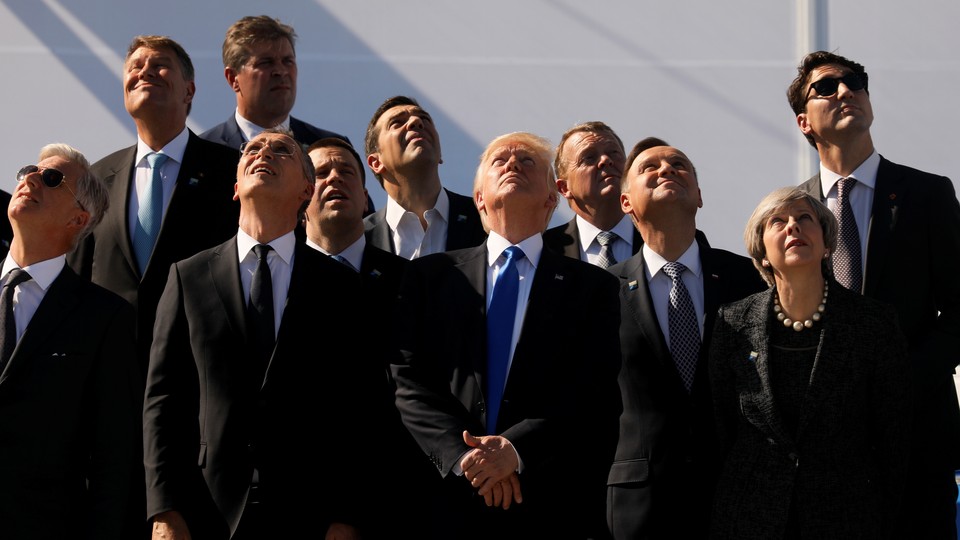 What We're Following
To NATO or Not To: During a speech at the NATO summit in Brussels today, President Trump did not explicitly affirm his commitment to Article 5 of the North Atlantic Treaty, which, when invoked, requires all member states to aid an ally under attack. His attitude toward the treaty has shifted in the past: After calling NATO "obsolete" during his campaign, he said it was "no longer obsolete" last month, but he continues to criticize many member nations for falling short of their spending obligations.
Tough Competition: Montana's Republican congressional candidate Greg Gianforte has been cited for misdemeanor assault after he "body-slammed" a reporter who had asked him about the GOP's health-care bill. The state's special election takes place today—a test of whether Democrats can gain any traction in conservative districts. Another testing ground is California, where the party hopes to win back House seats from seven Republicans in 2018.
Fighting ISIS: The Pentagon confirmed that in March, a U.S. airstrike on two ISIS snipers inadvertently set off explosives planted in the same building, killing more than 100 Iraqi civilians. As the investigation into the Manchester bombing continues,  Conor Friedersdorf reflects on the necessary limits to any free society's counterterrorism measures. And Seamus Hughes and Bennett Clifford trace the path to radicalization of Abdullah Ramo Pazara, who fought in the Bosnian War, became a U.S. citizen, and then became an ISIS commander.
---
Snapshot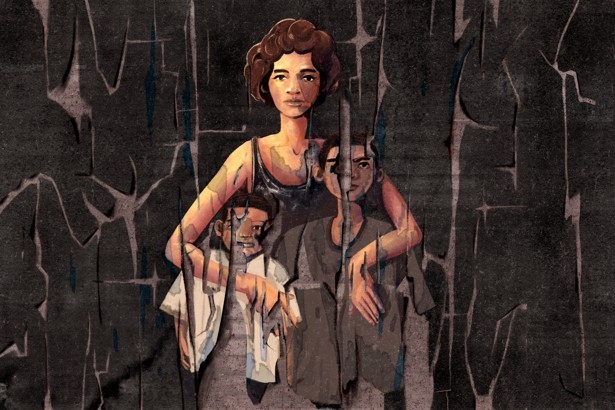 ---
Evening Read
In Portland, Maine, Annie Lowrey talks to Carolyn Silvius, who was evicted from her apartment:
She lived with her children for some time after that, but it became too burdensome for them. "We talked it over, the three of us," Silvius told me. "They said, 'You're not going to get any services unless you're actually homeless.' And that Maine wouldn't let a disabled little old lady stay in a shelter for long."  

But Maine did. In the 10 months that she lived on a cot in a homeless shelter, Silvius searched for a new apartment and saved up her Supplemental Security Income money for a security deposit. But that inadvertently put her food stamps at risk, due to the state's asset test. "The reviewer was like, 'How much do you have in the bank?' I told them the amount, because I had not moved in here yet," she explained. "They said, 'You have that kind of money? You're not going to be able to get your full food stamps.'" They slashed the amount to just $60 a month, even though by the time the check arrived, Silvius didn't have the money anymore—she was already in her new apartment.
Keep reading here, as Annie reports on the people left behind by recent reforms to Maine's safety net.
---
What Do You Know?
1. There are approximately ____________ grocery stores in the U.S.
Scroll down for the answer, or find it here.
2. New data from the Juno spacecraft indicates that Jupiter's magnetic field is about ____________ times the size of Earth's.
Scroll down for the answer, or find it here.
3. Nearly 75 percent of workers in the age group ____________ get their income from multiple sources, such as the gig economy and part-time jobs.
Scroll down for the answer, or find it here.
---
Urban Developments
Our partner site CityLab explores the cities of the future and investigates the biggest ideas and issues facing city dwellers around the world. Adam Sneed shares three of today's top stories:
You may have heard that the suburbs are staging a comeback. Don't be fooled, though: The urban renaissance is far from over.

Only a handful of large metro areas have been able to spread economic gains across all classes and races. What's their secret?

When city officials insist there's no room for bike lanes, how can you change their minds? For cycling activists in Latvia's capital, the answer was to do it themselves.
For more updates from the urban world, subscribe to CityLab's daily newsletter.
---
Reader Response
This week, Deirdre Clemente wrote about the history behind business-casual dress codes.  One reader laments:
It can be so confusing! I recently started a new job and had a "talking-to" about my wardrobe, which shocked me. I have about six pairs of the same dress pants in different colors/patterns from Ann Taylor. They are crop-cut with obvious buttons and pockets. I was told that they look like "stretch pants" despite the fact that they are from the professional department, reasonably expensive, and also have very clear buttons/zippers/pockets. People can find a problem with just about anything when there is no "norm" such as khakis and a button-down.
Then again, strict rules about attire don't always make sense either. More readers discuss their weirdest school and workplace dress codes here.
---
Time of Your Life
Happy birthday to Zoe (twice the age of Facebook), Jim (the same age as Kermit the Frog), Lisa (a year younger than TV remotes), Dave (the same age as NATO), and Barton (a year younger than The Simpsons). Happy birthday to Maryann (a year younger than sunscreen) from her daughter—our features editor, Sacha; to Ellie (twice the age as the Harry Potter series) from her brother Ed; and to Elizabeth's mum, who's 94 (a year younger than documentary films). Finally, happy birthday to Shashi (twice the age of Twitter) from Avery, who writes:
Shashi is the copy editor for our college newspaper and he's absolutely brilliant. Since my first day as an editor, he has become one of my greatest friends, most loyal supporters and truest confidant. I can't even come close to explaining how much of an asset Shashi is to our paper and to my life!
I was a copy staffer for my college paper too, so we at the Daily have a soft spot for the trade. If you or a loved one have a birthday coming up, you can sign up for a birthday shout-out here, and click here to explore the Timeline feature for yourself.
---
Verbs
Baywatch watched, masculinity slammed, 18th century Instagrammed, lightning strikes.
---