The Atlantic Daily: AHCA Assessment
The CBO's score, the Manchester bombing investigation, what's going on in Brazil, and more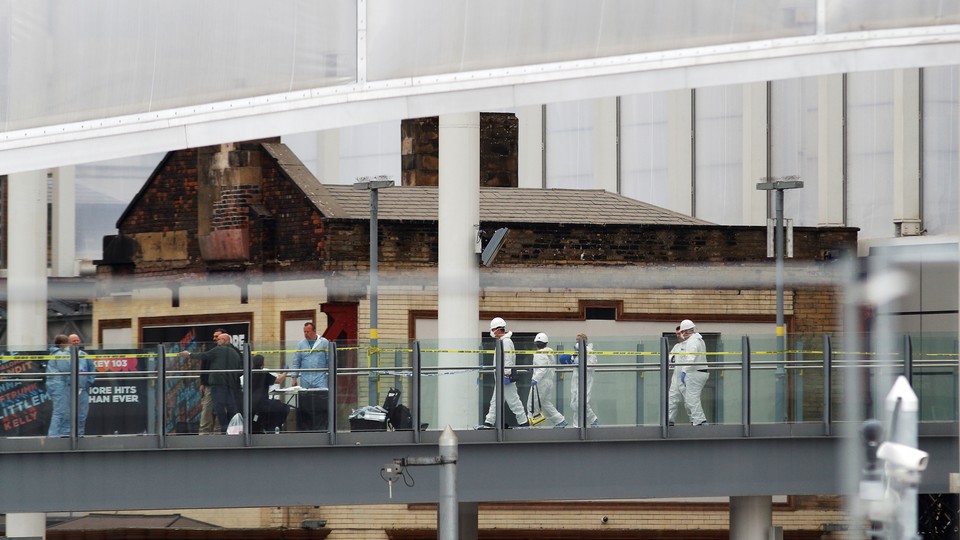 What We're Following
Health-Care Diagnoses: The Congressional Budget Office found that by 2026, 23 million people would lose insurance under the GOP health-care bill that passed the House earlier this month. (If this sounds familiar, it's because it is—the CBO projected a figure of 24 million under the first, failed version of the bill.) As the Senate gets to work on revisions to the plan, Majority Leader Mitch McConnell has come under fire for loading the working group with conservatives—though his long-term strategy may be more complicated. And as the White House proposes budget cuts to SNAP, some studies have linked the food-stamps program to higher levels of obesity.
Terror Investigation: Manchester police say they're investigating a "network" surrounding 22-year-old Salman Abedi, who's been identified as the bomber in Monday's attack. In the early stages of the investigation, U.K. officials shared intelligence with U.S. counterparts who leaked information about the suspect's identity to news organizations, causing the U.K. some aggravation. Abedi was known to the country's security services before the bombing, but wasn't considered an immediate threat—circumstances that point to the challenges of terrorism prevention.
Global Governments: After he declared martial law in the Philippines' southern region of Mindanao, President Rodrigo Duterte says he may extend the declaration throughout the country "to protect the people" from Islamic militants. In Brazil, protesters stormed government ministries with calls for President Michael Temer to step down over corruption allegations. And in Indonesia, the outgoing governor of Jakarta withdrew his appeal of a two-year jail sentence over blasphemy, a conviction international observers worry will undermine freedom of expression in the country.
---
Snapshot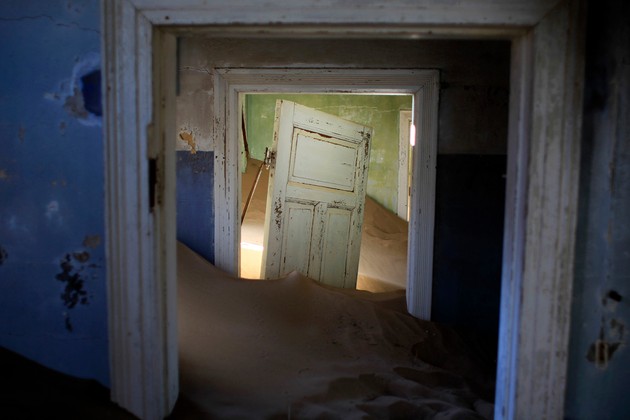 ---
Evening Read
Alice Su on the exploitation of migrant workers in the Middle East:
There's a neighborhood in Amman nicknamed "Manila Street" where many migrant workers live and congregate on their days off, setting up Filipino food markets, buying phone cards, and visiting the Western Union to send money home. Many of the Filipina women who live there are "runaways," meaning they lack regular papers and can be arrested or exploited on the streets at any time. When I visited the area, a Filipina woman at the street market explained why police kept pulling me over. "They will try to make you their 'girlfriend,'" she said. "Sometimes they are police and sometimes they are just pretending. They say: 'You have iqama [residency papers]?' If you don't have, they ask you for money, or drive you somewhere to do fucking. Or else they can send you to jail, or back to your country. I hear too many stories like this." Several other migrant women later told me the same thing.
Read more here, as Su reflects on the women whose cruel working conditions she's reported on—and on the women who are often responsible for exploiting them.
---
What Do You Know?
1. Three of the world's top five most profitable companies are located in ____________.
Scroll down for the answer, or find it here.
2. A blue whale can hold up to ____________ tons of water in its mouth.
Scroll down for the answer, or find it here.
3. In a recent study of low- and moderate-income households, just ____________ percent could count on a steady month-to-month income with no significant dips or spikes.
Scroll down for the answer, or find it here.
---
Look Back
"On May 24, 1976," writes Marina Koren, "a group of French wine experts gathered in the capital for a blind wine tasting":
The event was organized by Steven Spurrier, a British sommelier who ran a wine school and shop in the center of town. American visitors had brought him wine from California, and Spurrier became curious to see how it would stand up to French wines, regarded as the best in the world. Spurrier and the judges, as well as other sommeliers and observers, went into the tasting thinking the California offerings didn't stand a chance, and that the tasters would be able to discern the flavors even when their identities were hidden.

But that's not what happened.
Read more on the so-called "Judgment of Paris" here.
---
Reader Response
In our ongoing series on technology and democracy, Juliette De Maeyer argues that podcasts are the new talk radio—with the power to convince audiences to care and think deeply about political and social issues. On the TAD forum, this reader is enthusiastic:
It's a less distracting medium [than TV], which I love. There's no crawl at the bottom of the screen, or dizzying graphics, or multiple people trying to get words in edgewise. I just started listening to podcasts, and it has cut my TV news watching down to almost nothing.
But another reader is skeptical:
Podcasts are good, but there are so many out there that it's nearly impossible to keep track of them all, which will likely result in people staying even more firmly in their information bubble. I've listened to plenty of conservative talk radio in my day, but only because there wasn't much else on the radio where I was driving. I can't imagine myself ever downloading and listening to a Rush or Mark Levin podcast.
More reader discussion (and some podcast recommendations) here. Also, that fragmentation caused by "information bubbles" is part of why why Utah Senator Mike Lee is studying civic engagement.
---
Time of Your Life
Happy birthday to Eli, who's never lived in a world without the World Wide Web; to Maria's sister, who's twice the age of CD players; and to Lynn and Mark, who were born on the same day in 1950—right around the time Greece got a new prime minister, Sofoklis Venizelos. Check out their shared Life Timeline: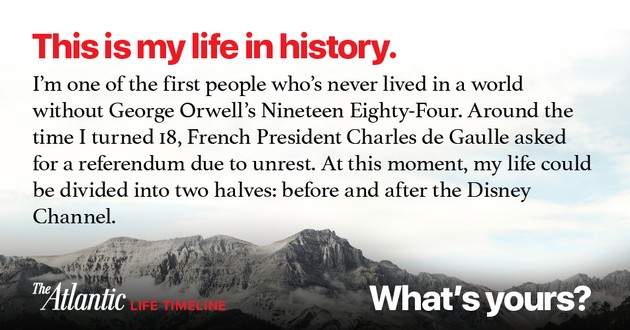 Do you or a loved one have a birthday coming up? Sign up for a birthday shout-out here, and click here to explore the Timeline feature for yourself.
---
Verbs
Mentorship modeled, remake flubbed, superheroes self-sabotaged, flamingos stabilized.
---