The Atlantic Daily: An Attack on Manchester
The aftermath of ISIS's bombing, Trump's budget proposal, what's next on his trip abroad, and more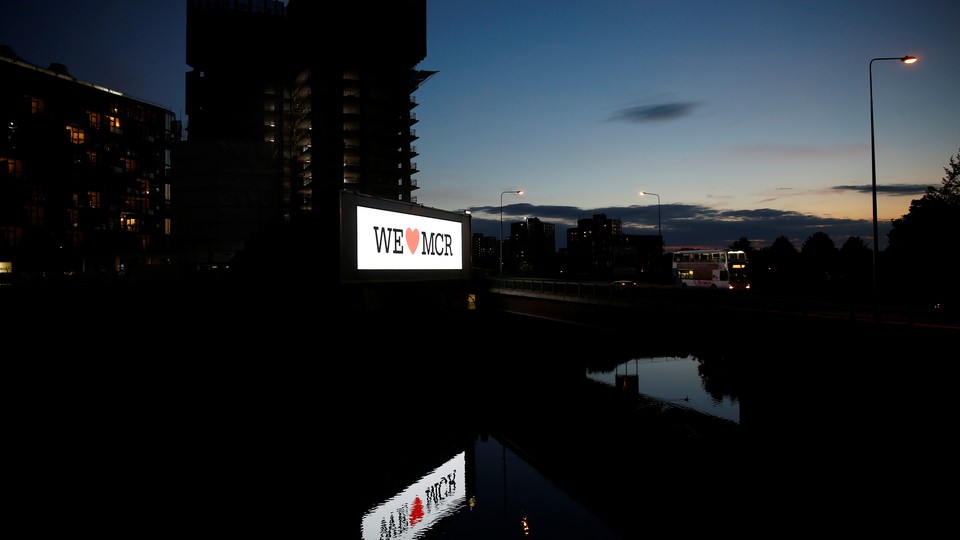 What We're Following
The Attack in Manchester: The U.K. has raised its terrorism threat level to critical in the aftermath of a bombing at the Manchester Arena last night, which left 22 people dead and 59 wounded. ISIS claimed responsibility for the attack, which targeted the attendees of an Ariana Grande concert—many of them teens and preteen girls. The motive behind the bombing remains unknown, but Grande's career thus far has illustrated the values of independence and freedom of expression that terrorism seeks to undermine. As terrorist attacks hit the European continent over the past year, Britain had, until last night, remained largely unscathed. Terrorists, these attacks suggest, are innovating; now, governments need to keep pace.
Trump's Budget: The White House released its official budget proposal to Congress. Like the blueprint version released in March, the plan demands drastic cuts, which stand to hurt working-class and low-income Americans. For instance, it directs money away from career and technical education and reduces income-support programs like SNAP and Social Security. The cuts also could make the nation more vulnerable to public-health crises, though the plan does provide more resources for fighting crime. As written, however, the budget is unlikely to pass—not only because both Republicans and Democrats want revisions, but also because the numbers behind it don't add up.
President Abroad: Trump concluded his visit to Israel today with a continued promise to work toward peace between Israel and Palestine. His next stop will be Vatican City, where he'll meet with a pope who's spoken out against some of the populist values he's associated with—even as right-wing Catholics have embraced Trump. Back home, the scandal Trump left behind is growing: A new report implicates White House staffers in some of the questions about how Trump may have tried to shut down the FBI's investigation of Mike Flynn. Meanwhile, Flynn is getting another Senate subpoena, this time seeking materials from two of his businesses—which could bypass his attempt to plead the Fifth.
---
Snapshot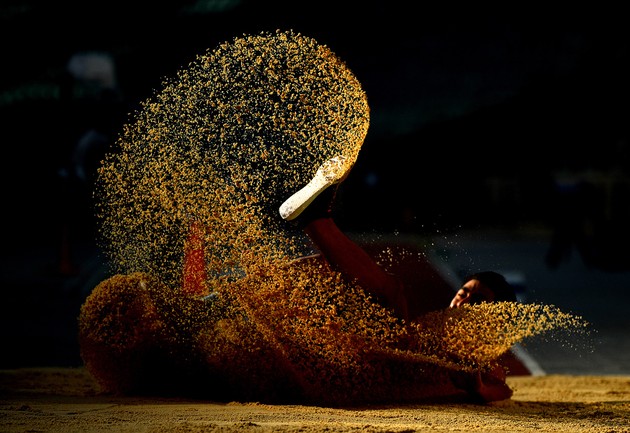 ---
Who We're Talking To
Mitch Landrieu, the mayor of New Orleans, explains why the city removed four Confederate monuments this month.
Paul D. Miller, also known as the musician DJ Spooky, discusses why he's staging a remix of the 1915 white supremacist film The Birth of a Nation.
Diane Kelly, a biologist, and other scientists describe the items that got them questioned by the TSA. "Technically it's not even my dolphin vagina mold," says Kelly. "I was carrying it for someone."
---
Evening Read
Sarah Scoles on how astronomers brought early internet users into the search for extraterrestrial life:
The year was 1999, and the people were going online. AOL, Compuserve, mp3.com, and AltaVista loaded bit by bit after dial-up chirps, on screens across the world. Watching the internet extend its reach, a small group of scientists thought a more extensive digital leap was in order, one that encompassed the galaxy itself. And so it was that before the new millennium dawned, researchers at the University of California released a citizen-science program called SETI@Home.

The idea went like this: When internet-farers abandoned their computers … their screens would be saved by displays of data analysis, showing which and how much data from elsewhere their CPUs were churning through during down-time. The data would come from observations of distant stars, conducted by astronomers searching for evidence of an extraterrestrial intelligence. Each participating computer would dig through SETI data for suspicious signals, possibly containing a "Hello, World" or two from aliens. Anyone with 28 kbps could be the person to discover another civilization.
Keep reading here for the history of SETI@Home.
---
What Do You Know?
1. Sales taxes account for about ____________ percent of the tax revenue that U.S. state governments collect.
Scroll down for the answer, or find it here.
2. The popular car model ______________ was originally marketed in Nazi Germany as the "strength through joy" car.
Scroll down for the answer, or find it here.
3. The first president to secretly record his conversations was ____________.
Scroll down for the answer, or find it here.
---
Urban Developments
Our partner site CityLab explores the cities of the future and investigates the biggest ideas and issues facing city dwellers around the world. Adam Sneed shares three of today's top stories:
In the White House's long list of proposed budget cuts, one stands out as especially cruel: a plan to eliminate a low-budget housing program for the most vulnerable Americans.

Just 16 percent of children who grow up in poverty manage to become economically successful adults. How do they do it?

Have you always wanted to take up bike commuting, but aren't sure where to start? Here's everything you need to know.
For more updates from the urban world, subscribe to CityLab's daily newsletter.
---
Reader Response
A reader responds to "My Family's Slave" from the perspective of "someone who went through it":
For half my childhood, I was indentured. I was born in Canada, went to school in this country, and it still happened to me. I'm incredibly thankful that I got to grow out of it, but trauma hurts the most in its resonance.

Listening to those claiming to seek justice for Eudocia has felt like a scab opening over and over again. Please, do not take actions on behalf of indentured and enslaved people without consulting them. … For my own situation, finding peace and healing after escaping took precedent over any vengeance or confrontation. I would have hated to become a hashtag.
More survivors' stories here. If you have been through an similar experience and would like to share your story, please email hello@theatlantic.com.
---
Time of Your Life
Happy birthday to Patti (the same age as NATO), to Barry's wife Deb (a year younger than color TV), and to Virender's daughter Neha (twice the age of the International Space Station). From Ramona, happy 70th birthday to her sister Jean, who's "humorous, loyal, and the ultimate class act" (and has never lived in a world without It's a Wonderful Life). And happy birthday to Molly (the same age as Tiger Woods), who reflects:
Though it's hard to imagine a life of any sort without it now, the internet was unheard of in rural Alberta when I was growing up. The last exam I ever took in high school, I think it was in an advanced physics class, ended with this bonus question: What is the internet, and how do you think it might be used in the future? I got the extra point.
Do you or a loved one have a birthday coming up? Sign up for a birthday shout-out here, and click here to explore the Timeline feature for yourself.
---
Verbs
Memes courted, rejections collected, false story retracted, presidency prophesied.
---