The Atlantic Daily: Peace and Poison
Trump's "ultimate deal," Flynn's Fifth invocation, what lead has done to a generation in New Orleans, and more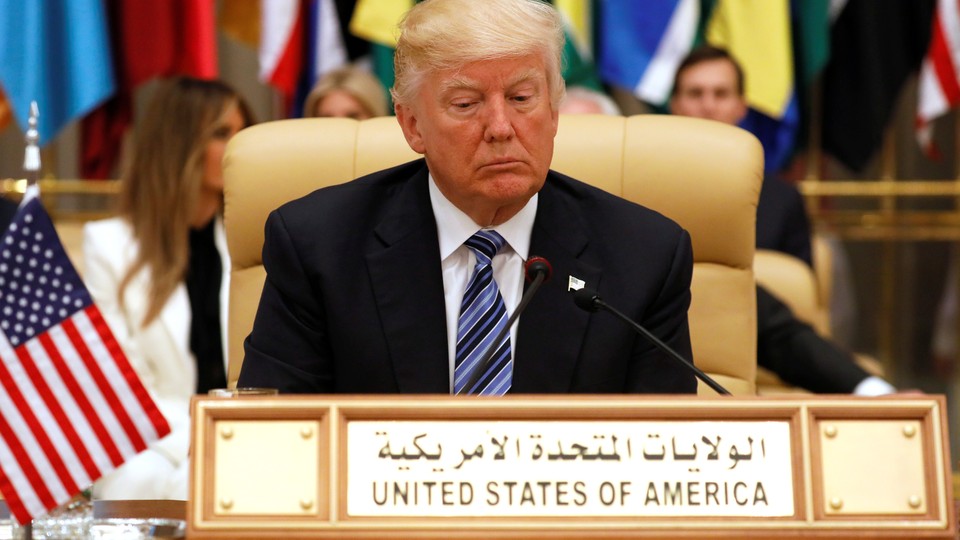 What We're Following
Trump's Trip: In Saudi Arabia yesterday, the president delivered a speech about Islam, calling for a crackdown on extremism and increased cooperation between the U.S. and the Muslim world. His comments—which, Graeme Wood writes, seemed tailored to please his Saudi audience—marked a dramatic shift in tone from the inflammatory rhetoric of his campaign. Today, he's in Israel, where the government's right wing eagerly anticipated his presidency—but where the policy shifts of his first few months have disappointed politicians. From Jerusalem, Rosie Gray reports on Trump's progress toward what he calls the "ultimate deal": peace between Israel and Palestine.
Investigation Updates: Mike Flynn, the former national-security adviser, is invoking the Fifth Amendment after the Senate demanded he turn over documents relevant to the Russia investigation. After James Comey agreed last week to testify publicly on what led up to his dismissal, some observers are defending Trump's authority to fire him—though that argument might miss the risks of politicizing the FBI. Meanwhile, the White House is preparing to face the independent investigation led by special counsel Robert Mueller. For a preview of what's to come, current West Wing staffers can look to the Clinton era.
Court Proceedings: While Attorney General Jeff Sessions's recent call for stronger sentencing and charging drew harsh criticism from advocates of criminal-justice reform, it's found a controversial defender in one conservative organization of federal prosecutors—a relatively small group that's gained significant influence in the Trump administration. Also, this year marks half a century since the Supreme Court ruled that children have the same due-process rights as adults—yet most states don't protect kids' right to counsel.
---
Snapshot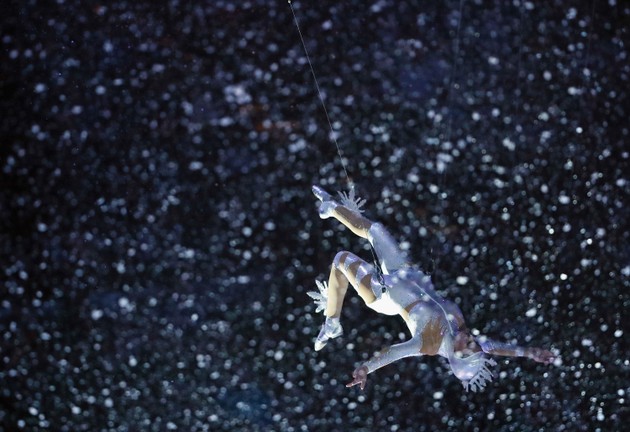 ---
Evening Read
Vann R. Newkirk II tells the story of a decades-long lead-poisoning lawsuit in New Orleans:
Four hundred and twenty four people were slain in New Orleans in 1994, a murder rate that may have been the highest ever in any American city. … But the obstacles for a young mother and her two children ran deeper than the onslaught in the streets. "They played inside a lot," [Casey] Billieson said, "and we thought they'd be safe that way, but then we learned even that was bad for them."

Inside the apartment, her boys were insulated from the crossfire outside. But like thousands of others seeking shelter behind the peeling walls muffling the bubbling bass dripping from Crown Vic speakers, the poison of lead would find a way into her sons' bodies all the same. Ryan and Ronnie, along with thousands of other poor children in New Orleans whose parents believed they could shelter their children from the violence outside, would become an entire poisoned generation.
Keep reading here, as Vann describes the toxin's destructive effect on black families and communities.
---
What Do You Know?
1. Americans account for roughly ____________ percent of the settlers living in the West Bank.
Scroll down for the answer, or find it here.
2. Button-down collars were invented in England as a convenience for ____________ players.
Scroll down for the answer, or find it here.
3. Most emoji foods are depicted at a ____________ degree angle.
Scroll down for the answer, or find it here.
---
Look Back
On this day in 1964, while speaking at the University of Michigan, President Lyndon B. Johnson outlined his goals for the Great Society—an ambitious set of domestic programs that included education and immigration reforms, as well as the Voting Rights Act and the National Endowment for the Arts. In January 2015, Julian E. Zelizer explained how Johnson, Congress, and voters made it happen:
In the years leading up to … the passage of the Great Society … there was a huge chorus of critics who decried the inaction of Congress. ... Then everything changed. In the 1964 elections, Johnson defeated right-wing Republican Barry Goldwater in the biggest landslide since 1936. Voters elected huge liberal majorities in Congress, rejecting Goldwater's brand of right-wing conservatism. ... As a result of the election, Johnson had all the votes that he needed to move forward with his bills. "There were so many Democrats," Illinois Republican Donald Rumsfeld said, "that they had to sit on the Republican side of the aisle."

Congress passed Medicare and Medicaid, federal aid to elementary and higher education, Voting Rights, environmental regulation, and much more. Opponents of liberal reform realized that they would be beat. "Suddenly, after years of deadlock," Minnesota Senator Walter Mondale recalled, "the floodgates burst open."
---
Reader Response
The TAD group is discussing Olga's article about how people decide whether to have kids. One reader writes:
We "interviewed" a lot of our older friends before having kids. We'd take them out to lunch and grill them over the decision to have kids—the good, the bad, would they do it again. A surprising number of them said they would not have kids if they had to do it all over again. The experience did not decide us one way or another, but we did get a very even-handed view of parenthood.

My wife was hung up on "big" issues—pollution, overpopulation, etc., etc. I couldn't have cared less about any of those, I was much more focused on what it meant for us. I value family a lot, and it was hard to imagine life at 65 with no kids, no grandkids. I had a pretty good idea that kids meant the end of early retirement as an option ... and I was right about that much. What I didn't understand was how much it would force me to grow, nor how much it would expose my personal weaknesses.
More discussion here. Olga's article was partly based on emails from readers, who mentioned a wide variety of factors in the parenthood choice—from their partners' wishes to mental-health concerns. If the latter is part of why you're on the fence about parenthood, here's one mom's story of why she decided to stay on antidepressants while pregnant.
---
Time of Your Life
Happy belated birthday from Jane to her friend John (who's twice as old as personal computers), Beth to her niece Susan (who's never lived in a world without bar codes), and from Derek to his wife Linda. Linda was born the same day as another reader, June, and both of them were born around the same time as Target.
Today, happy birthday to Kathleen (twice the age of the Disney Channel) and Liam (a year younger than seat belts). Happy birthday from Lara to her brother and best friend Alex, and from Pam to her "sweet throwback" daughter Erica—they're both about twice the age of Wikipedia. Happy 25th birthday to Erik (the same age as the Twenty-Seventh Amendment) from Aunt Denise. And from Lawrence, a happy birthday to his mom—at 97, she "trusts in her faith and people more than technology," and the computer mouse is only half her age.
Do you or a loved one have a birthday coming up? Sign up for a birthday shout-out here, and click here to explore the Timeline feature for yourself.
---
Adjectives
Bonkers times, "horble gray," freeze-dried mouse sperm, glowing orb.
---