The Atlantic Daily: Budget Blues
Congress's plans for Trump's proposed spending cuts, a police officer's guilty plea, technology's potential to save democracy, and more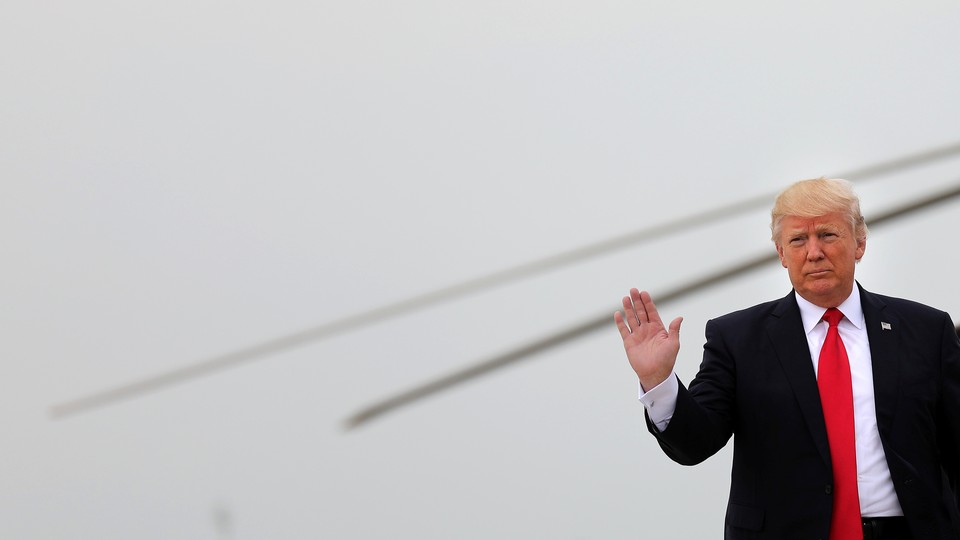 What We're Following
Trump vs. Congress: As lawmakers prepare to vote on a budget deal that rejects many of his proposed cuts, President Trump voiced his displeasure on Twitter, calling for a government shutdown in September—though if he doesn't sign the bill, he could shut down the government himself this week. GOP leaders aren't following Trump's instructions on taxes either: They're drafting a plan that's designed not to add to the long-term deficit, which means they'll have to ignore the sweeping cuts he's recommended. And Congress has refused to fund Trump's wall on the Mexican border; even so, the White House just announced a plan to improve the existing fence.
Health Care: A key party leader withdrew his support for the GOP's plan to repeal and replace the Affordable Care Act today, an ominous sign for the bill's success. Another obstacle comes from the party's older constituents, who fear losing the coverage they have under the ACA. And last night, the comedian Jimmy Kimmel added to the arguments against a repeal with a deeply personal—and convincing—plea. Meanwhile, Puerto Rico's bankruptcy is shaping up to create a public-health crisis, which stems partly from underfunding the territory's Medicaid system.
Justice Systems: Former South Carolina police officer Michael Slager pleaded guilty to violating the civil rights of Walter Scott, the unarmed black man whom he fatally shot in the back in 2015 as Scott ran away during a traffic stop. The case is one of many that focused national attention on America's criminal-justice failures. Another problem in the system: U.S. courts' reliance on plea bargains, which can limit defendants' access to a fair trial. Chicago has an idea to help fix that with a "restorative justice" court, which will give some offenders a chance to make amends to the local community instead of serving time in jail.
---
Snapshot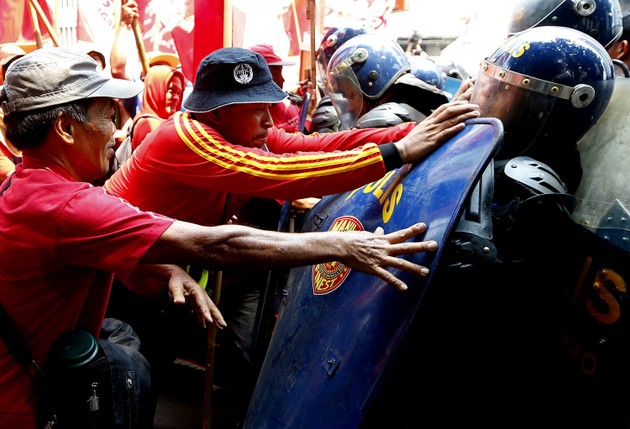 ---
Evening Read
Can technology help save democracy? In the first installment of our new series of essays centered around that question, Shannon Vallor argues that new technologies have destabilized democratic institutions:
Our newest digital tools—until recently, celebrated as bearers of a new age of democratic wisdom and civic health—have largely failed to deliver on those promises. The causes are complex, and any brief account of them doomed to inadequacy. But chief among them is the technocrat's error of building ever more powerful systems and platforms for democratic life, while entirely neglecting the need to cultivate robust civic habits, norms and virtues among the peoples who will use those systems.

Technology's threat to democracy is not, at its root, that of poorly designed systems (though certainly design improvements can be made). The real threat is when technical progress is relied upon as a substitute for moral progress in cultivating the civic virtues, norms, and values that sustain functional democracies.
Keep reading here. To share your own thoughts on how technology has hurt—or could help save—democracy, email hello@theatlantic.com.
---
What Do You Know?
1. The only United Nations member state that hasn't ratified the UN Convention on the Rights of the Child is ____________.
Scroll down for the answer, or find it here.
2. In a survey of college freshmen, 41.1 percent of women and ____________ percent of men described their political beliefs as "liberal" or "far left."
Scroll down for the answer, or find it here.
3. Though sideline cheerleaders began rallying sports fans in the 1880s, women weren't allowed to cheer until ____________ decades later.
Scroll down for the answer, or find it here.
---
Urban Developments
Our partner site CityLab explores the cities of the future and investigates the biggest ideas and issues facing city dwellers around the world. Adam Sneed shares three of today's top stories:
A note to the suburbs: The era of cheap, easy growth is over.

The retail meltdown is hitting cities and suburbs hard. Here are three ways local leaders can act to make sure things don't get even worse in the future.

As New Orleans takes down monuments to the Confederacy, African Americans and Native Americans are standing alongside the defenders of the memorials. The photojournalist Abdul Aziz crossed the battle lines to find out why.
For more updates from the urban world, subscribe to CityLab's daily newsletter.
---
Reader Response
After Bill wrote in to acknowledge Trump's accomplishments so far, Elise pushed back:
Yes, he's met with foreign leaders and embarrassed himself with a lack of knowledge or poor social skills. Yes, he appointed a cabinet, but some of them have been questionable choices from a legal and ethical perspective. The "top business leaders" he surrounds himself with have yet to show us they have the best interests of the country in mind rather than their own. As for "executive decrees," what kind of thought and background information went into any of them? Yes, Trump has been "busy"—posturing on the world stage, damaging our country's reputation and doing little or nothing of substance for the American people. It's disheartening to observe.
More readers assess the president's progress here.
---
Time of Your Life
Happy birthday to our reader Margaret, who writes that although she's turning 77 today, she's "not very old really." (She sent some emojis to prove it.) Here's her Life Timeline: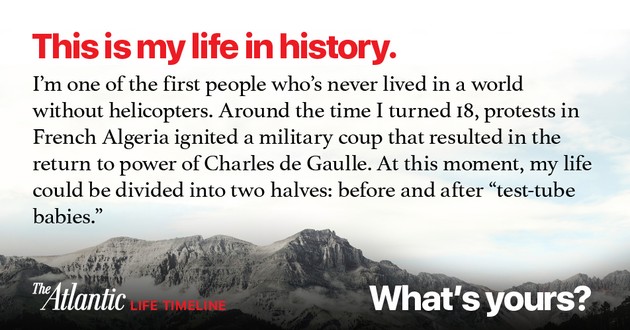 Do you or a loved one have a birthday coming up?  If you'd like us to feature your Life Timeline in an upcoming newsletter, take a moment to fill out this form. ( If you've already sent in the info via email, no need to resubmit, but it'll help us out if you allow at least a week for us to process your request.) In the meantime, click here to explore the Timeline feature for yourself.
---
Verbs
Truths remembered, economies revived, space telescope shipped, French elections approach.
---