The Atlantic Daily: Highly Classified
Trump's reveal to Russian officials, a historic apology to the Groveland Boys, all the doppelgängers you meet online, and more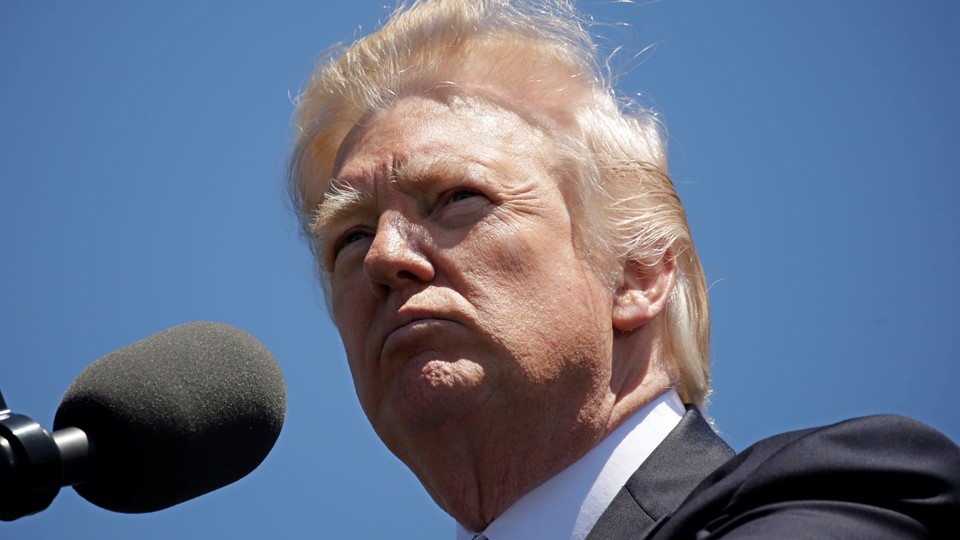 What We're Following
Russian Relations: The Washington Post reports today that President Trump revealed highly classified information to Russian officials during an Oval Office meeting last week. The president was apparently boasting that "people brief me on great intel every day." Some Republican senators are already defending the president, though others are expressing concern. As the story develops, you can find the latest coverage on our Politics page.
Foreign Relations: Over the weekend, North Korea successfully tested an intermediate-range ballistic missile—the country's best-performing weapons technology so far, according to experts. The White House is calling for increased UN sanctions in response. The U.S. also accused the Syrian government of building a crematorium outside the infamous Saydnaya military prison in order to hide the evidence of mass executions. As for U.S. allies: The crown prince of the United Arab Emirates visited the White House today, as the Trump administration works to strengthen America's partnership with the UAE.
Race Relations: The Supreme Court declined to review the strict North Carolina voter-ID law that lower courts found to be racially discriminatory, putting an end to the law for now. In Florida, lawmakers issued a historic apology to the families of the Groveland Boys, four black men who were falsely accused of raping a white woman 68 years ago. But racism in the U.S. is more than just a historical legacy: In a feature story for our June 2017 issue, Graeme Wood describes how his high-school classmate Richard Spencer became an icon for today's white supremacists.
---
Snapshot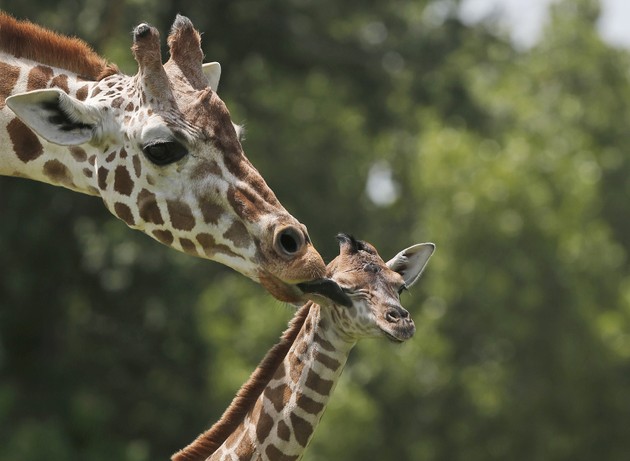 ---
Evening Read
Julie Beck on all the other Julie Becks she's encountered online:
There are 112,182 Becks in the country, and just 195 Julie Becks.

That seems to be pretty middle-of-the-road. My two sisters, who have unusually spelled names, have just 4 and 16 name doppelgangers in the country. My dad, who has one of the most common male names of all time, has more than 1,000. I'm not a unique name snowflake, but I'm no "John Smith" or "Mary Johnson" either—chances are theoretically good that I could go my whole life without meeting any more of me.

Or rather, chances were good, before the internet.
Keep reading here, as Julie reflects on what talking with her namesakes teaches about identity in the internet age.
---
What Do You Know?
1. The average person is keeping ______________ secrets at any given time.
Scroll down for the answer, or find it here.
2. Over the last 60 years, the world's plastic production has increased by ____________ times.
Scroll down for the answer, or find it here.
3. About _____________ percent of registered nurses in the U.S. are men.
Scroll down for the answer, or find it here.
---
Look Back
The first Arab-Israeli War broke out on this day in 1948, a day after the state of Israel was established. In our October 1961 issue, Martha Gellhorn reported on the refugee crisis that resulted:
The details of the Arab case vary, depending on the political climate of the moment and the audience. However, the Palestinian refugees always remain the invaluable, central theme. The case is painted the color of blood in the Arab countries: Revenge and Return. For the Western public, tears replace blood; the Arab case rests on the plight of the refugees and is a call to conscience rather than to arms. …

The best way to consider this case is close up, by looking at the Palestinian refugees themselves, not as a "problem," not as statistics, but as people. The Palestinian refugees, battered by thirteen years in the arena of international politics, have lost their shape; they appear as a lump and are spoken of as one object. They are individuals, like everyone else.
---
Reader Response
After Jim Fallows argued that the Comey dismissal may be worse than Watergate, Stephen shared his personal connection to that scandal—a memory of the Saturday Night Massacre, when Attorney General Elliot Richardson and his deputy, William Ruckelshaus, resigned in protest after Nixon fired Watergate special prosecutor Archibald Cox:
On the Saturday evening of October 20, 1973, I received a phone call from a mentor, Tom O'Donnell, a partner at Archibald Cox's Boston law firm. I had heard the news earlier in the day: the firing of Cox, and the resignations of Elliot Richardson and William Ruckelshaus. Tom asked me if I could perform a favor. AG Richardson was about to land at Logan Airport and needed a ride to his home in Cohasset.
Read more of Stephen's story and other responses from Jim's readers here.
---
Time of Your Life
Happy birthday to Ben and to Annie, who are both turning 81 this week. Here's how their lives line up with history: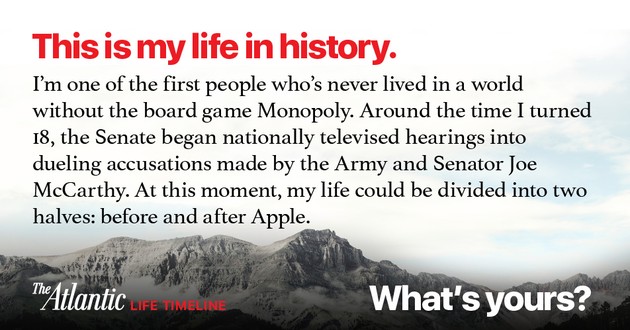 Yesterday was a big day for both Susan and her son Geoffrey, who "was born 28 years ago on Mother's Day"—and just had a birthday on Mother's Day again. Happy birthday to Julia, whose husband Jerry writes: "Her first 55 years have been great, and she's looking forward to round two."
From Olivia, happy 67th birthday to "the ultimate history nut"—her dad, who's one of the first people never to live in a world without George Orwell's  Nineteen Eighty-Four. And Pamela writes:
Happiest of birthdays to my best friend and savior, Gary, who will be so happy to know that he is one of the first people who's never lived in a world without It's A Wonderful Life!
Do you or a loved one have a birthday coming up? If you'd like us to feature your Life Timeline in an upcoming newsletter, take a moment to fill out this form. (It'll help us out if you allow at least a week for us to process your request.) In the meantime, click here to explore the Timeline feature for yourself.
---
Nouns
Human batteries, literary activism, "empowering keepsakes," historical smells.
---