The Atlantic Daily: Crisis Response
Comey fallout continues, an executive order on voting fraud, a health-care town hall gets heated, and more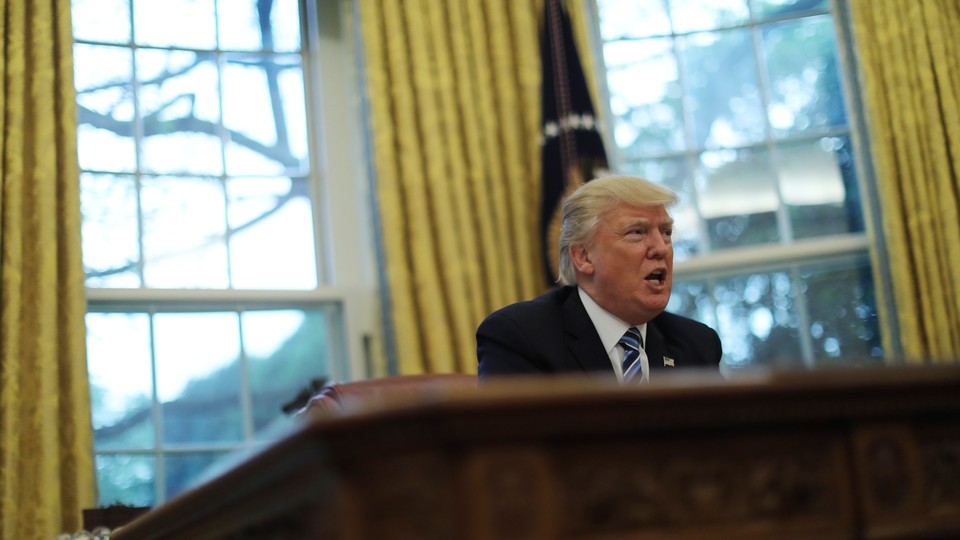 What We're Following
Comey, Cont'd: The latest explanation for the controversial dismissal comes from President Trump himself, who says he'd planned to fire the FBI director "regardless" of the DAG's recommendation. What's it mean for the president to fire a principal officer charged with investigating his campaign? Though many commentators have called this a constitutional crisis, the firing doesn't quite meet the definition—though it could increase the likelihood of a future one. For now, Senate Democrats are struggling to nail down a plan to respond. And as for the Russia investigation, its future is still unknown.
Orders of Business: Trump's latest executive order creates a commission that will study U.S. voting and registration processes, apparently aimed at fighting voter fraud—a longtime goal of Trump's. There's no evidence any such fraud occurs on a significant scale. As two new interviews with the president indicate, though, it's well in character for him to tune out information that contradicts his beliefs. In the aftermath of his election, many Americans found they'd been similarly surrounded by views that matched their own. A first step to bursting the bubble: restoring public trust in media.
Don't Forget Health Care: Representative Tom MacArthur—the man behind the resurrection of the GOP health-care bill—held a town hall last night that quickly got heated as constituents berated MacArthur over the bill. Even so, as Russell Berman reports, the angry shouts shaped up to a detailed policy discussion. One frequently cited reason for repealing Obamacare is the fact that several insurers have pulled out of its exchanges. Here's why they left.
---
Snapshot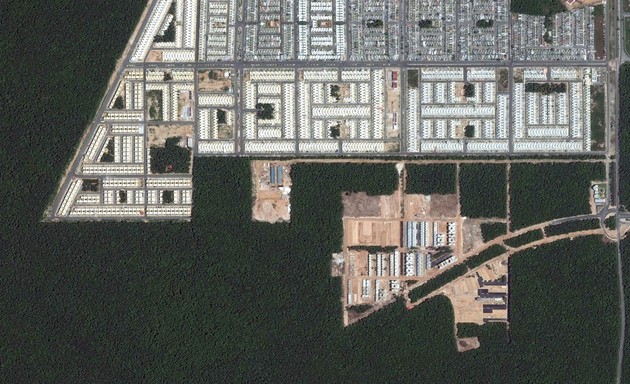 ---
Who We're Talking To
Beverly Gage, a professor of 20th-century American history, explains how the firing of James Comey is and isn't an unprecedented presidential conflict.
Peter Fretwell, a researcher with the British Antarctic Survey, describes how his team conducts an albatross census from space.
Rob Reiner, the award-winning director, reflects on confronting—and carrying on—his famous father's legacy. Watch the animation here.
---
Evening Read
The opening paragraphs of "Deeds Not Words," a short story by Tessa Hadley from our June 2017 issue:
All the girls at St. Clements loved Miss Mulhouse. Quite a few of them had loved her even before she broke windows in a shop on Oxford Street and was arrested as a suffragette. She was graceful and earnest and angularly thin, with a lot of very soft hair and large, interesting pale eyes, the lower lids languidly heavy. Her intensity was of the smoldering and not the flaring kind, and she read Browning and Dante Gabriel Rossetti to the girls in her lessons. I have been here before, / But when or how I cannot tell: / I know the grass beyond the door, / The sweet keen smell …

After the news of her arrest had spread—someone's father had found her name in the newspaper—loving Miss Mulhouse became a kind of cult in the school and no one dared not belong.
Keep reading here for the story of love and suffragism at an English girls' school.
---
What Do You Know?
1. Though almost ____________ percent of social-media users say they "never" or "hardly ever" talk politics online, 37 percent are "worn out" by political discussions in their feeds.
Scroll down for the answer, or find it here.
2. Each human has approximately ____________ neurons in the olfactory bulb (the part of the brain that governs sense of smell).
Scroll down for the answer, or find it here.
3. A new paper finds that first-born children are ____________ percent more likely than others to become politicians or CEOs.
Scroll down for the answer, or find it here.
---
Urban Developments
Our partner site CityLab explores the cities of the future and investigates the biggest ideas and issues facing city dwellers around the world. Adam Sneed shares three of today's top stories:
A Pittsburgh restaurant owner's attempt to open a "hip-hop fried chicken" shop prompted a whirlwind of criticism. To understand why, let us present the life and death and rebirth of fried chicken in American cities.

If you're looking for something to binge-watch on Netflix, look no further than Britain's Grand Designs, the show that fuses genuine architectural critique with all the real-estate gawking you could ever want.

We want to know: If you could live in any fictional city, which one would you choose? These are our picks.
For more updates from the urban world, subscribe to CityLab's daily newsletter.
---
Reader Response
In our ongoing thought experiment on the ethics of mandatory gene editing, one reader reflects:
There's a circle I absolutely cannot square:

I am a strong advocate of abortion rights. I believe women have the right to conceive or not conceive and to abort a pregnancy for almost any reason. Somehow, the intuition which causes me to adopt that position doesn't map to the context of genetic manipulation. I am entirely comfortable with laws which punish women and men for procreating negligently by failing to use genetic screening and manipulation. I could try to put a veneer on this and reconcile the two views, but I don't think I can do so honestly. I wonder any of your liberal readers face the same dilemma?
More reader discussion here. If you've got an answer for how to resolve those two views, let us know.
---
Time of Your Life
Happy birthday to David, who writes,
As one of the first to never know a world without NASA, I can vividly recall watching the first lunar landing on a black-and-white TV in Crete, where my father was stationed in the Air Force. I remember the rise and demise of Life and Look, and explored the world through our National Geographic subscription and maps. The latter is also a factor in my becoming a geography professor.
Can you guess David's age? See more events from his lifetime here. Outer space is also in the background for Andreas, whose 55th birthday shout-out comes with love from Marcy—he's never lived in a world without astronauts. And happy 65th birthday to Debby, who was born right around the time Singin' in the Rain premiered in theaters. Her friend Bette writes: "Look what it means, your arriving when you did!"
Do you or a loved one have a birthday coming up? Take a moment to fill out this form for a birthday shout-out in The Atlantic Daily (please allow at least a week for us to process your request). In the meantime, click here to explore the Timeline feature for yourself.
---
Verbs
Cosmologists clash, Betsy DeVos booed, "goddamned steam" demanded, genetic test results revised.
---