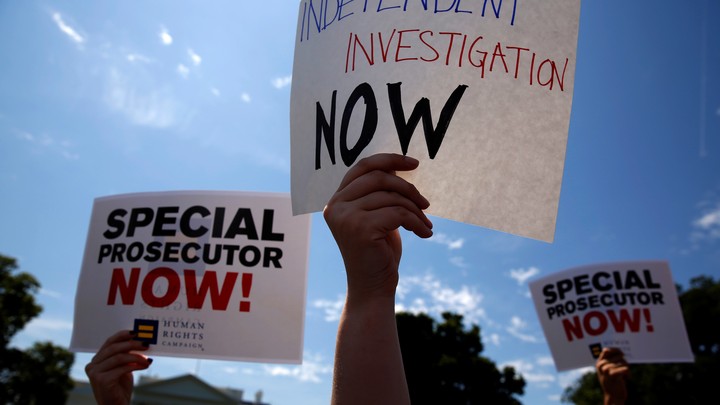 Animal Rights: In Vietnam, conservationists are working to rescue thousands of bears from illegal bile farms, where they're kept in poor conditions by people seeking to harvest their bile for traditional medicine. The farms might soon be stamped out—and when that happens, the bears will need new homes. Meanwhile, the Ringling Bros. and Barnum & Bailey Circus is preparing for its final show this month after years of criticism over its treatment of animals. One tidbit its critics may not know: In the late 1800s, the circus's founder played a surprising role in helping the animal-rights movement get off the ground.
---
Snapshot
---
Evening Read
Matthew Davis attends a homecoming game at Gallaudet University:
The crowd watches as the dozen cheerleaders stand in formation, an American flag high but limp in the windless air behind them. The cheerleaders start by extending their arms horizontally and then grabbing an imaginary bulb in their right hand—the sun—and raising it into the sky for "dawn's early light"; midway through, their arms pull back to show "rockets' red glare," hands explode for "bombs bursting in air," and their right hands wave that the "flag was still there." It ends, of course, with "the home of the brave," the cheerleaders stomping their feet on the FieldTurf, their flexed arms curled in signs of strength.

The crowd raises their hands and shakes them in the air, applause in American Sign Language, and the Gallaudet University Bison, the country's only college football team for the deaf and hard-of-hearing, takes the field for the opening kickoff.
Keep reading here, as Davis examines what the Gallaudet team can teach about identity politics.
---
What Do You Know?
1. Over time, the underground storage tanks at the Hanford Site in Washington have leaked ____________ gallons of nuclear waste.
Scroll down for the answer, or find it here.
2. As of 2016, ____________ U.S. states used voting machines that were at least 10 years old.
Scroll down for the answer, or find it here.
3. Zuul crurivastator, a newly discovered ankylosaur, is named after a creature in the movie Ghostbusters and the Latin words for "destroyer of ____________."
Scroll down for the answer, or find it here.
---
Look Back
On this day in 1872, Victoria Woodhull became the first woman nominated for president of the U.S. Last November, Adrienne LaFrance wrote about Woodhull and other women who followed in her footsteps:
Victoria Woodhull, an early suffrage leader, ran for president in 1872 on the Equal Rights Party's ticket—decades before women had even secured the right to vote and despite the fact that, at 34, she was too young to be eligible. She's remembered today as part-hustler, part-trailblazer, and her roster of experience included stints as a clairvoyant and a Wall Street broker. (If anyone actually voted for her, those votes were never counted.)
---
Reader Response
For our June issue, we asked readers this big question: What is the best exit of all time? Thomas J. Straka of Pendleton, South Carolina, wrote:
Richard Nixon exited twice. After he lost the gubernatorial election in California in 1962, he famously said, "You don't have Nixon to kick around anymore." And then, after he resigned the presidency, he gave that iconic victory wave to the crowd from the White House South Lawn. Both exits are in the history books.
See more reader answers and vote for your favorite here—we'll publish the results of the poll in the next print issue. And if Nixon's on your mind today, the historian John Aloysius Farrell parses what the Watergate scandal can teach us about how to respond to Trump's firing of Comey.
---
Time of Your Life
Happy 29th birthday to Rose, who was born around the time a NASA scientist told the Senate that global warming had started. And happy 49th birthday to Amy, who's never lived in a world without the Super Bowl. From Curt, happy 52nd birthday to Harriet; the two of them got married about half her lifetime ago, the same year the World Wide Web was born. Philip, a numerologist, wishes a happy and especially auspicious birthday to Sally, who was born on 05/10/51 and is now turning 66 (a little younger than credit cards). And happy birthday to Ryan, who's twice as old as the euro, one-fifth the age of The Atlantic, and is Rachel's "witty, brilliant husband and dorky best friend."
If you'd like us to feature your Life Timeline in an upcoming newsletter, take a moment to fill out this form. (Please leave us a week or so to process your request.) In the meantime, click here to explore the Timeline feature for yourself.
---
Verbs
Eggs explained, Anne adapted, genomes dreamed of, supernova sparkles.
---
The Atlantic Daily is written by Rosa Inocencio Smith. To contact us, email hello@theatlantic.com.
We want to hear what you think about this article. Submit a letter to the editor or write to letters@theatlantic.com.