The Atlantic Daily: Dealing With Deal Makers
Congress's bipartisan budget proposal, Trump's Civil War gaffe, the radicalization of two college students, and more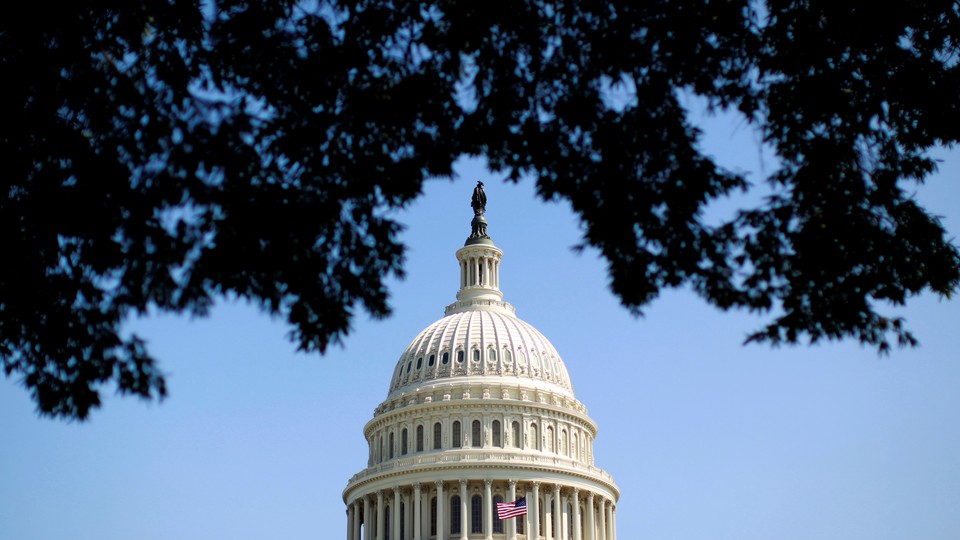 What We're Following
Budget Business: Congress has reached a bipartisan agreement on a spending bill that will keep the federal government running until the end of September. Although the bill includes an increase of up to $15 billion in defense spending, lawmakers rejected the drastic cuts President Trump had proposed in other areas, such as the biomedical-research agency the National Institutes of Health.
Strong Leaders: Trump drew new criticism during an interview today when he suggested that strong leadership from Andrew Jackson could have prevented the Civil War, adding, "Why was there a Civil War? Why could that one not have been worked out?" The answer to Trump's questions is that the war was fought over slavery—a moral issue on which, as Yoni Appelbaum writes, there was no room for compromise. Over the weekend, Trump also raised eyebrows by inviting Rodrigo Duterte, the president of the Philippines whose drug crackdown has resulted in thousands of vigilante killings, to visit the White House. Today, Trump added to the uncertainty over his North Korea policy by saying he would meet with Kim Jong Un "under the right circumstances."
Fighting ISIS: Trump's chief counterterrorism adviser Sebastian Gorka is reportedly on his way out amid questions over his credentials and speculation about links to Nazi groups. Yet as Graeme Wood writes, buried under his thinking may be some kernels of truth about how religion can contribute to radicalization. One story on that topic: how two college students in Mississippi decided to join ISIS together.
---
Snapshot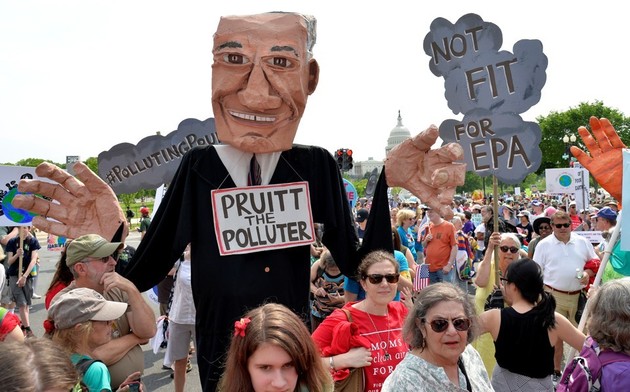 ---
Who We're Talking To
Susan David, a psychologist, describes how the pressure to stay positive at work can compound a company's problems.
Francine Berman, a computer-science professor, explains why designers of data-sharing devices like webcams and DVRs need to develop a code of ethics.
Frank Rich, the executive producer of Veep, discusses what it's like to run a show whose political satire hits increasingly close to home. And for more on how real-life politics intersect with culture, read Rosie Gray on the entertainment presidency.
---
Evening Read
Sandra Newman on Echo, the snarky, bulletin-board-style web forum of the 1990s:
Echo was a star of the early internet, profiled in the New Yorker, Wired, Fortune, and The New York Times. It was a party-rich, Manhattan-centric community, and the membership was heavy in media types: artists, musicians, and especially writers. … In the intervening decades, Echo has never changed its primitive interface. To navigate within it, you can't just click on links, but have to type in Echo-specific commands: j cen; l a m; sh 123. You don't access it in your browser, but through a telnet client, a program that allows you to access the command line interface of another computer. It doesn't support images or sound, much less video. It doesn't even have colors. It's text-only, and even editing text is a time-consuming pain in the ass.

Yet many of its earliest members are still there. They're now in their 50s, 60s, and 70s. They've been talking to each other every day for 27 years.
Keep reading here, as Newman explores how Echo has created a home for its members online. Sound appealing? Some Atlantic readers have started their own online community, TAD, and you can check it out here.
---
What Do You Know?
1. The first corneal transplant from a pig to a human was carried out in the year ____________.
Scroll down for the answer, or find it here.
2. Although more than 4,700 institutions in the U.S. grant higher-education degrees, only ____________ of them offer programs for students with intellectual disabilities.
Scroll down for the answer, or find it here.
3. In the 1980s, there were 50 black-owned insurance companies operating in the U.S.; today, there are ____________.
Scroll down for the answer, or find it here.
---
Reader Response
This past Saturday marked the 100th day of Donald Trump's presidency. Bill writes:
In your assessment of President Trump's 100-day achievements you forgot many of his actions: meeting with 16 foreign leaders, appointment of quality Cabinet leaders, several meetings with top business and industry leaders, taking actions internationally to restore U.S. credibility, and acting decisively and timely on many executive decrees. Obviously The Atlantic—or you—disagree with these actions, but nevertheless he took them and he has been very busy in this first inning.
Many thanks to Bill for his thoughtful feedback. Unfortunately, we don't have space in the Daily to recap more than the highlights of the day's headlines, but you can check out all The Atlantic's coverage on Trump's first 100 days here. Meanwhile, we welcome comments from readers of all viewpoints in our Notes section. If Trump's actions during his first 100 days have changed your opinion—for better or worse—about his presidency, please send us a note: hello@theatlantic.com.
---
Time of Your Life
Today, we're joining Santosh in wishing a happy 28th birthday to Nidhi. Here's how her life lines up with history: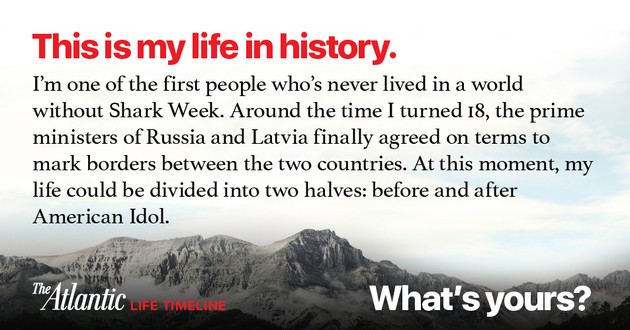 We've got some belated birthday wishes as well: Timothy turned 69 on Friday, which makes him twice as old as CD players and just a little younger than microwave ovens. From Beka, a happy birthday to Angelo, who was born in Brazil 28 years ago—right around the time the Tiananmen Square protests were taking place across the globe in China. And Joyce wishes a happy birthday to her mom, Katherine, who turned 97 yesterday. Her Life Timeline spans technological innovations from pop-up toasters to the computer mouse to exploration of the outer solar system.
Do you or a loved one have a birthday coming up?  If you'd like us to feature your Life Timeline in an upcoming newsletter, take a moment to fill out this form. ( If you've already sent in the info via email, no need to resubmit, but it'll help us out if you allow at least a week for us to process your request.) In the meantime, click here to explore the Timeline feature for yourself.
---
Verbs
Guilt goes viral, fungus flavors food, "late capitalism" proliferates, yoga patience stretches thin.
---