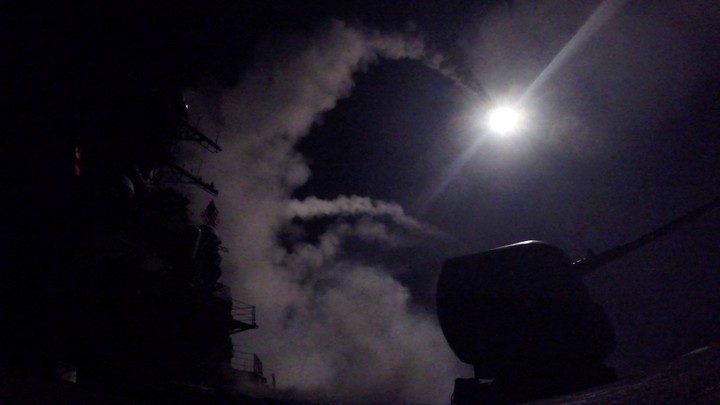 What We're Following
Air Strike in Syria: The U.S. launched more than 50 missiles at a Syrian airfield last night in retaliation for Assad's alleged nerve-gas attack on civilians. This military intervention on humanitarian grounds marks a major policy shift for Trump, who's famously promised to put "America first"; it's also a big departure from the Obama doctrine of foreign policy. Key U.S. allies support the strike, as do some Democratic leaders, but others say it was unconstitutional, and some of Trump's strongest supporters are disappointed. Here's a practical guide to the debate—but either way, the strike complicates the fight against ISIS, and raises questions for the U.S. political system. So, what's next in Syria, and is Trump prepared to lead the fight he's started? As the ground continues to shift, you can find our coverage here.
Terror in Sweden: At least four people were killed and 15 were injured today when a truck drove into a crowd on a busy street in Stockholm. Though no group has claimed responsibility yet, Swedish police suspect terrorism, and they've arrested one person in connection to the attack. Here's what we know. This method of weaponizing a vehicle recalls last year's attacks in Nice and Berlin, and it's frighteningly simple: As Uri Friedman writes, "The less complex the terrorist plot, the harder it is to thwart."
Justice Gorsuch: Justice Antonin Scalia's long-vacant seat is finally filled after the Senate confirmed Neil Gorsuch to serve on the Supreme Court. He'll be sworn in next week. Gorsuch will make for a 5–4 conservative majority on the court, though his testimony in the Senate left some of his views on key legal controversies unclear. His confirmation also marks a substantive victory for Trump and the GOP, whose accomplishments so far have mostly focused on undoing the work of the president's predecessor.
---
Snapshot
---
Evening Read
Julie Schulte tells a handbag's tale:
As someone who always carried a backpack instead, I had started with the belief that there was no supreme purse, no one bag to rule them all. But handbag aficionados would soon inform me I was wrong. There was an end-all-be-all bag: "Haven't you heard, darling, of the Birkin?"

I knew Jane Birkin from those black-and-white boudoir pictures with Serge Gainsbourg, but what I didn't realize was the bag made by Hermès in the chanteuse's honor was not something one just buys. This bag was about competition. As a rule, even a wealthy woman cannot simply walk into a boutique and leave with a Birkin. First she must be placed on an indeterminable queue. The wait time is inconsistent and mysterious. Status can reduce it, as can the illusion of status. Take for example Mr. Tonello, the clever fashion buyer and Birkin reseller who would first pile up on scarves and accessories and request a Birkin at the last minute. BRIC nations can't get their hands on enough bags, and in Hong Kong a luxury bag is valuable enough to qualify its owner for a loan on the spot.  
Keep reading here, as Schulte explores the complex meanings that handbags carry.
---
What Do You Know?
1. North Korea conducts about 85 percent of its external trade with ____________.
Scroll down for the answer, or find it here.
2. After English and Spanish, the most common language spoken by Boston public-school students is ____________.
Scroll down for the answer, or find it here.
3. The ____________ are now the only Major League Baseball team that doesn't share its home city with an NBA, NFL, or NHL team.
Scroll down for the answer, or find it here.
Answers: China, Haitian Creole, San Diego Padres
---
Poem of the Week
From our February 1995 issue, "Green Fields" by W. S. Merwin:
Peter with his gaunt cheeks
     and point of white beard the face of an aged Lawrence
Peter who had lived on from another time and country
     and who had seen so many things set out and vanish
still believed in heaven and said he had never once
     doubted it since his childhood on the farm
Full poem here. To celebrate National Poetry Month, we're sharing a new poem from our archives every day this April; read them all here, and check out some favorites from our staff as well.
---
Your Life in History
For the ladies and gents with birthdays tomorrow ...
Click here to see the timeline for Robin Wright, born April 8, 1966—or enter your birthday here to see your own.
---
Reader Response
In his story for our April issue, "What Your Therapist Doesn't Know," Tony Rousmaniere described how a data-driven approach to therapy could help patients get better treatment—including by giving therapists more accurate feedback than the patients themselves are willing to. The process is known as FIT: feedback-informed treatment. One reader writes:
I think FIT could be helpful to a therapist who is already empathetic and has some skills. However, this does not address the problem of therapists having their own insecurities and emotional reactions and working them out on the client. Much of the challenge of therapy is being able to recognize and differentiate between one's own emotional response and the client's actual needs and feelings. Without this skill, which is generally only obtained by getting some quality therapy for the therapist, no amount of feedback will be sufficient to create a real sense of safety for the client, because the client will always have the sense that saying the wrong thing will upset or disappoint the therapist. The fact that 70 percent of clients lie to protect their therapists probably says a lot more about the therapists than the clients.
Read more reader comments, and Rousmaniere's responses, here.
---
Verbs
Anime dazzles, apps collude, Harry stylized, space robot mourned.
---
The Atlantic Daily is written by Rosa Inocencio Smith. To contact us, email hello@theatlantic.com.
We want to hear what you think about this article. Submit a letter to the editor or write to letters@theatlantic.com.