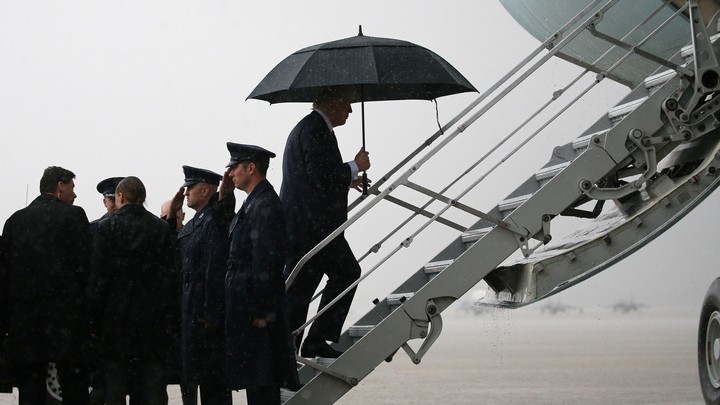 What We're Following
A U.S. War in Syria? In a sudden reversal of his previous policy statements, President Trump now says he's considering military action to oust Syrian President Bashar al-Assad. GOP hawks had urged him to take action in the wake of Tuesday's chemical attack, and the Pentagon is reportedly working on options—but there are still plenty of legal and practical obstacles ahead of U.S. forces going up against Assad's regime. But if we take into account the strikes against ISIS and other terrorist groups, the U.S. is already fighting in Syria.
News on Nunes:  House Intelligence Committee Chair Devin Nunes said he's stepping aside from the investigation into Russian interference with the U.S. election so that the House Ethics Committee can review his actions. Nunes is accused of improperly disclosing classified information; he's also been criticized for appearing too close to Trump.
Meanwhile, in the Senate: Republicans took the nuclear option to kill the filibuster on judicial nominations, paving their way to confirm Neil Gorsuch as a Supreme Court justice tomorrow. And an Atlantic scoop: Mitt Romney is considering a 2018 run for Utah Senator.
---
Snapshot
---
Who We're Talking To
George Poinar Jr., the now-retired science professor whose work inspired Jurassic Park, shares how he came across a fossilized tick full of 20-million–year-old blood cells.
Joshua Rosenthal and other marine biologists on his team explain how octopuses edit their own genes.
John Cacioppo, a psychologist, describes the vicious cycle of loneliness—and how to escape it.
---
Evening Read
Elizabeth Yuko on making ends meet as a 19th-century athlete:
In the days before television and radio, two forces in entertainment dominated much of America's free time: baseball and vaudeville. But the late 19th and early 20th-century pastimes were nowhere near as lucrative and glamorous as their modern-day equivalents: Both athletes and vaudevillians endured long hours, grueling travel, poor accommodations, and often didn't have much money to show for it all. Since baseball players only committed to playing part of the year, many had to find ways to supplement their income. For some—given that they were among the most popular public figures at the time—the natural choice was to capitalize on that fame and join the vaudeville circuit.

Which is to say there's some truth to the plot of the 1949 musical Take Me Out to the Ballgame, where Gene Kelly and Frank Sinatra star as baseball players who sing and dance during the off-season.
Keep reading here, as Yuko describes the days when baseball players were vaudeville stars.
---
What Do You Know?
1. About one in every ____________ Americans has a criminal record—the same ratio as that of Americans with college degrees.
Scroll down for the answer, or find it here.
2. According to a recent study, Americans work ____________ percent more hours than Europeans do.
Scroll down for the answer, or find it here.
3. Scientists have identified more than ____________ new human infections since 1975.
Scroll down for the answer, or find it here.
---
Urban Developments
Our partner site CityLab explores the cities of the future and investigates the biggest ideas and issues facing city dwellers around the world. Adam Sneed shares three of today's top stories:
Americans are driving less than they were a decade ago, but the pattern might be coming to an end. So what drove the decline: new density, economics, or something else? Well, it's complicated.

It's generally a good idea for cyclists to wear helmets. Helmet laws, on the other hand, do more harm than good.

In California, housing lawyers are reporting a troubling new trend: Landlords are telling undocumented tenants to pay more or move out—or else they'll call immigration authorities.
For more updates from the urban world, subscribe to CityLab's daily newsletter.
---
Reader Response
In the first (spoiler-free) installment of our discussion on S-Town, some readers who grew up in the South reflect on how the podcast presents the region. Michael writes:
I am somewhat afraid the lives closest to those mentioned in S-Town are the least likely to seek it out, and the least likely to give it credence. S-Town is constantly grappling with such Catch-22s. But they are real, at least in the show's initial presentation of themes and characters.

Time and again, S-Town sets up heroes to watch them fall. The most poignant moment for me was when a jovial character is described, then buried underneath their own nonsensical racist vitriol. It was a world that reminded me of the insanity I noticed growing up as a black man in the South, and which is still so rarely commented upon to this day. The twisting together of good and bad into something difficult to recognize, sometimes abhorrent, sometimes worthy of outright condemnation, but with complexities and subtleties that require more than just blanket condemnations and censorship.
---
Verbs
White House divided, schools integrated, triangulation postulated, pointlessness poeticized.
---
The newsletter dated April 5, 2017, misstated the number of years since Fox's prime-time debut: It's been 30 years, not 10. Our apologies for the error, and thanks to reader David for pointing it out.
---
The Atlantic Daily is written by Rosa Inocencio Smith. To contact us, email hello@theatlantic.com.
We want to hear what you think about this article. Submit a letter to the editor or write to letters@theatlantic.com.