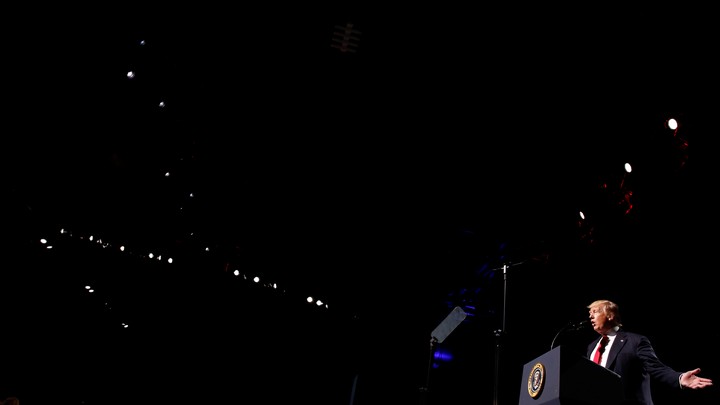 What We're Following
Trump's First 100 Days: Congress has averted a government shutdown just in time for Trump to hit a presidential milestone tomorrow. But that might not do much to ease the president's stress: He's accomplished little of what he promised by this point in his term, and lately, his public statements on Twitter and his administration's activities have been frantic, pointing to a case of presidential status anxiety. So, how do we judge Trump's early record, and what does it suggest he has in store for the country? Here's all our coverage on the president's first hundred days.
North Korea: In an interview with Reuters released last night, Trump said the U.S. "could end up having a major, major conflict" with the communist state, adding that "it's very difficult" to address the situation diplomatically. Perhaps adding to the tension, North Korea launched a ballistic missile early Saturday morning (local time), which exploded seconds after takeoff. Thus far, the Trump administration's policies on North Korea have been varied and vague, with the president and Secretary of State Rex Tillerson alternating between tough words and calls for peaceful dialogue. As Peter Beinart argues, it wouldn't just be dangerous for the U.S. to strike first—it would be immoral. Watch the video here.
World Democracy: An election in Macedonia turned violent yesterday when supporters of a conservative-nationalist, ethnic Macedonian party stormed the parliament building where an ethnic Albanian political opponent had just been elected speaker. In France, far-right candidate Marine Le Pen is projected to lose the runoff round of the presidential election—but a new analysis suggests she'd have already won if France's electoral system worked like America's. As it is, the French election looks like one of a few signs that global politics are returning to normal after last year's populist upsets. And in the U.S., voters in Louisiana are reckoning with Jim Crow's legacy in a significant voting-rights lawsuit.
---
Snapshot
---
Who We're Talking To
Sheryl Sandberg, the COO of Facebook, shares what she's learned about grieving in the aftermath of her husband's death two years ago.
Ro Khanna, who represents Silicon Valley in Congress, describes his plan for restoring middle-class prosperity in America.
Xavier Becerra, the attorney general of California, explains why—and how—he's preparing to take on President Trump.
---
Evening Read
Meghan O'Rourke assesses the friendship between the late poets Elizabeth Bishop and Robert Lowell:
Although they were starkly different poets and people, they were just like and unalike enough to goad each other on. Lowell, often described as the leading poet of his generation, was a voluble Boston Brahmin given to what he called "enthusiasms," symptoms that later elicited a diagnosis of manic depression, now known as bipolar disorder. As a student at Harvard, encouraged to uphold the Lowell name, he rebelled, and after two years he left to study poetry at Kenyon College. Bishop, by contrast, was an introverted, asthmatic all-but-orphan from Nova Scotia. Skeptical by nature, she was often slyly funny in her assessments of herself and others. While he wrote and rewrote copiously, she could take years to put words on the page.
Read more on the poetic pair here. Then, check out our staff recommendations for a couple of Bishop's and Lowell's poems.
---
What Do You Know?
1. According to research by the computer-security company Symantec, one in every ____________ emails sent in 2016 was malicious.
Scroll down for the answer, or find it here.
2. About ____________ percent of American adults say they believe scientists "should have a major role in policy decisions."
Scroll down for the answer, or find it here.
3. Facebook has taken action against at least ____________ fake accounts that sought to manipulate the outcome of France's presidential election.
Scroll down for the answer, or find it here.
---
Poem of the Week
From our October 2010 issue, "The Bone Ring," by Donald Hall:
The summer when I saw the Trylon and Perisphere,
I sat on the farm porch with my Great-Uncle Luther
who told me that when he was nine he watched
the soldier boys walking back home from Virginia.
Read more here, and be sure to check out the last few installments of our Poetry Month celebration over the weekend.
---
Time of Your Life
We've got a big crop of reader birthdays this weekend. First up is George, who's turning 42:
Happy birthday to Joan as well, who writes, "I was born into a world without TV." But she's never lived in a world without industrially sliced bread; check out that and more facts from her Life Timeline here.
Tomorrow, happy 55th birthday to Edgar from his wife, Kathy. And happy 21st birthday to Reuben, who's never lived in a world without Toy Story—which happens to be the midpoint of George's life up to now.
Do you or a loved one have a birthday coming up?  If you'd like us to feature your Life Timeline in an upcoming newsletter, send in a first name and the day, month, and year of birth to hello@theatlantic.com. And in the meantime, click here to explore the Timeline feature for yourself.
---
Verbs
School vouchers vouched against, doomsday danced to, president parodied, night lights mapped.
---
The Atlantic Daily is written by Rosa Inocencio Smith. To contact us, email hello@theatlantic.com.
We want to hear what you think about this article. Submit a letter to the editor or write to letters@theatlantic.com.