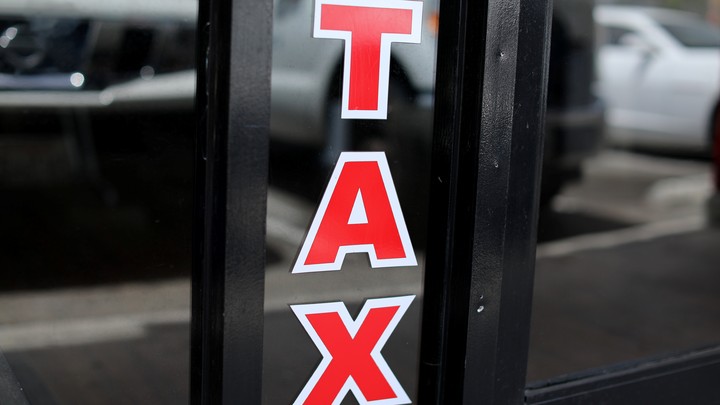 What We're Following
Trump's Tax Plan: The president released an outline of his proposed reforms to the U.S. tax code, which include reducing the number of individual tax brackets and cutting the corporate tax rate from 35 to 15 percent. Though Treasury Secretary Steven Mnuchin is optimistic about what the plan will accomplish, the changes are likely to exacerbate the national debt—and with most of its benefits going to high-income households, the proposal won't get much support from Democrats. Here's a guide to the single-page plan and what it means.
Health Concerns: House conservatives have reached a deal with the White House on a new amendment to the GOP's replacement for Obamacare. Passing the bill is now up to Republican moderates, but they have a lot to lose politically—and it doesn't help that this version of the bill protects even fewer benefits than the last one. Also in health news: A growing number of scientists argue that medicine's classical view of cancer fails to address how the disease evolves—and that a better understanding of that evolution could be the key to curing it.
Foreign Policies: Trump is reportedly preparing an executive order to withdraw the U.S. from NAFTA—though he may not have the legal authority to do so. Meanwhile, tensions over North Korea's nuclear program remain high, but the U.S. has some leverage to convince China to collaborate on a peaceful way out of the crisis. And Russia has been accused of interfering with elections across Europe, including the ongoing contest in France.
---
Snapshot
---
Who We're Talking To
James Forman Jr., a law professor and son of a civil-rights leader, describes how black communities' work to combat drugs and crime inadvertently helped lay the groundwork for mass incarceration.
Esther Myers, a co-author of a comprehensive new review of scientific research on caffeine safety, discusses how much coffee is actually safe to drink.
Douglas McCauley, a marine biologist, explains how hippos move quickly through water: "They remind me of portly astronauts doing a moonwalk."
---
Evening Read
Sam Rosen on the cityhood movement, a "local-government arms race" that's reshaping the Atlanta metro area:
Between 2005 and 2015, eight unincorporated neighborhoods in Georgia's three largest counties—Fulton, Gwinnett, and DeKalb—voted to form their own cities. … All of these new cities, The Atlanta Journal-Constitution wrote in 2015, "have become mostly white islands of safety and affluence. What's remaining is heavily black [and] less well-off."

But [Stonecrest City Alliance president Jason] Lary, his supporters, and his opponents—the folks ripping up his campaign signs—are not the white people at the center of the cityhood movement. Rather, they are a black community: If Lary were to succeed, Stonecrest would become the 15th-largest city in Georgia and the first majority-black city created by its own residents since Reconstruction. Many of Lary's neighbors and friends couldn't believe that he was aligning the area with cityhood and employing the strategies of the very people whose political tactics had weakened local black communities for more than a decade. Worse, not only had Lary aligned with the cityhood movement; he had enlisted its most famous advocate.
Keep reading here for the history behind the cityhood movement and for the outcome of Lary's incorporation fight.
---
What Do You Know?
1. Besides the $200,000 initiation fee, membership at Trump's Mar-a-Lago resort costs $____________ a year.
Scroll down for the answer, or find it here.
2. The writer Johannes Urzidil was born in 1896 in Prague, then the capital of the Kingdom of ____________.
Scroll down for the answer, or find it here.
3. While 66 percent of non-college-educated Mormons go to church at least once a week, Mormon college graduates have an attendance rate of ____________ percent.
Scroll down for the answer, or find it here.
---
Look Back
The landscape architect Frederick Law Olmsted was born on this day in 1822. In our September 2016 issue, Nathaniel Rich described his legacy:
That public parks should exist at all was a radical idea. Olmsted's solutions—Central Park, Brooklyn's Prospect Park, Boston's Emerald Necklace, among dozens of others, many designed with his longtime collaborator Calvert Vaux—were just as radical. Today we take much of his thinking for granted while rarely acknowledging the fact that, through industrial agricultural practices, resource extraction, and atmospheric monkeying, we have landscaped the entire world to suit our needs. Every square inch of land on Earth has been altered by our presence. Yet in the process we have failed to follow Olmsted's conclusions to their logical end. If his theories about public greenswards could be applied to towns and cities, why shouldn't they be applied to the planet as a whole?
Read more here, and go here to read some of Olmsted's own words, published by his son Frederick Law Olmsted Jr. in our June 1905 issue.
---
Reader Response
As Emma Green writes, a new study finds that Christians with a college education are more likely to attend church every week than those with a high school degree or less—even though college graduates as a group are less likely than others to be religious in the first place. Thomas has one explanation:
If you get through college with your Christian faith intact, chances are it has been challenged, both intellectually and socially. Therefore, if you come out the other side still believing at all, it's likely to be a more robust, clarified, and holistic belief, all of which would tend to contribute to religious activity. Overall, education may correlate inversely with religiosity, but when belief occurs, it tends to be more thoughtful and committed belief.
More on how college can challenge religion here, and from our deep archives here. Did your college experience have a profound impact on your relationship with faith? Email hello@theatlantic.com if you have a story to share—and in the meantime, check out these reader stories on their most important religious decisions.
---
Time of Your Life
Happy birthday to our reader Emily, whose Life Timeline starts a little more recently than the ones we've featured so far. Here's how her life lines up with history:
Check out Emily's Life Timeline, and generate your own, here. Do you or a loved one have a birthday coming up? If you'd like us to feature your life timeline in an upcoming newsletter, send in a first name and the day, month, and year of birth to hello@theatlantic.com.
---
Verbs
Social networks heal, cat videos camouflage, presidency quantified, Jonathan Demme remembered.
---
The Atlantic Daily is written by Rosa Inocencio Smith. To contact us, email hello@theatlantic.com.
We want to hear what you think about this article. Submit a letter to the editor or write to letters@theatlantic.com.