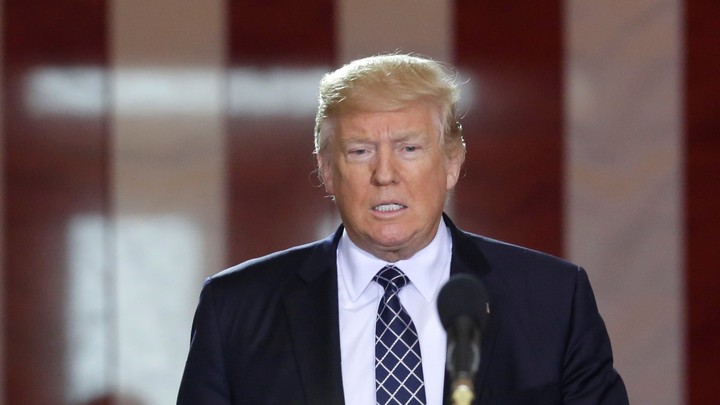 ---
Snapshot
---
Who We're Talking To
Tareq Oubrou, a prominent imam and theologian in France, describes how and why he believes French Muslims should "adapt" to the country's secular society.
Emily Partridge, a research fellow at the Children's Hospital of Philadelphia, describes how her team's study on artificial wombs could help save the lives of human preemies.
Peter Ungar, an anthropologist who studies ancient teeth, explains why wisdom teeth give modern humans so much trouble.
---
Evening Read
Sophie Gilbert reviews the new Hulu adaptation of The Handmaid's Tale:
It's an astounding work of television, with a distinct visual palette that makes it seem as instantly authoritative as the book. The show's creator, Bruce Miller, along with the cinematographer Reed Morano (who directed the first three episodes), have conjured a world whose aesthetics and strictures are rooted in and defined by womanhood. To call it "feminist horror" doesn't do it justice, but there isn't another genre that it quite fits. This is a world in which the cruelest oppressors are women who elect to subjugate other women to preserve some semblance of their own power. And the ways in which The Handmaid's Tale explores this dynamic while expanding the world of the book reveals how visionary television can feel when it immerses itself in the experiences of women.
Keep reading here, as Sophie explores what makes the show unique on TV—and resonant in real life. Also on adaptations: Here's Ian Bogost's case for why video games are better without stories.
---
What Do You Know?
1. For a married couple attempting to leave their savings to their children, the lower threshold of the U.S. estate tax is $____________ .
Scroll down for the answer, or find it here.
2. Since the mid-1980s, airplane seats have shrunk in width by approximately  ____________ percent.
Scroll down for the answer, or find it here.
3. Between 1998 and 2013, the comedian ____________ made 14 films that grossed over $100 million each in the U.S.
Scroll down for the answer, or find it here.
Answers: 11 million, 5 to 10, Adam Sandler
---
Urban Developments
Our partner site CityLab explores the cities of the future and investigates the biggest ideas and issues facing city dwellers around the world. Adam Sneed shares three of today's top stories:
Before autonomous vehicles can really rule the road, we'll need lots of pricey new infrastructure to support them. City leaders should act now to make sure they're the ones calling the shots—not the automakers.

Conservatives have long argued for the devolution of power from the federal government to the states. Liberals today might want to start doing the same thing, but for cities.

Red lights can be a real drag for cyclists. That's why a new system in the Netherlands tells commuters to speed up or slow down in order to catch the next green light on their journey.
For more updates from the urban world, subscribe to CityLab's daily newsletter.
---
Reader Response
After Kaveh's article on how airlines get away with bad customer service prompted one reader to share her airline horror story, several others wrote in with their own turbulent tales. Here's Nicole:
I was sound asleep when a flight attendant spilled a tray of fruit juices on me. I woke up to find my blanket, skirt, and seat covered in juice. Although the flight attendant apologized and assured us she would try to find another seat, she returned a few minutes later to inform us that none were available because—although the plane was far from capacity—others were stretched out sleeping on multiple seats. She brought us a few new blankets and left. My skirt and seat were soaked through, but I had to endure the sticky, cloying misery for the rest of the flight (multiple hours).

When we contacted the airline's customer service afterward, we were told the following: "With respect to the accidental spillage, our crew report states that their offer to relocate you and your wife to other seats was declined." On the contrary, we begged for a seat change. It makes no sense that we would willingly choose to spend hours sitting in juice-soaked seats. Who would do that?
More readers' travel troubles here. Some sympathy for flight attendants, though: Between corporate demands and passengers' public-shaming power, airline employees are set up to fail. If you're a flight attendant who'd like to sound off, please email hello@theatlantic.com.
---
Time of Your Life
As part of our new Life Timeline feature, we're wishing a happy birthday to our reader Robert, who was born on this day in 1950. Here's how his life lines up with history:
Check out Robert's timeline, and generate your own, here. Do you or a loved one have a birthday coming up? If you'd like us to feature your life timeline in an upcoming newsletter, send in a first name and date of birth to hello@theatlantic.com (we need at least the month and the year).
---
Verbs
Cooking explained, art of losing mastered, discoveries automated, W missed.
---
The Atlantic Daily is written by Rosa Inocencio Smith. To contact us, email hello@theatlantic.com.
We want to hear what you think about this article. Submit a letter to the editor or write to letters@theatlantic.com.