The Atlantic Daily: Presidential Progress
France's election, Trump's learning curve, Anne Frank's legacy, and more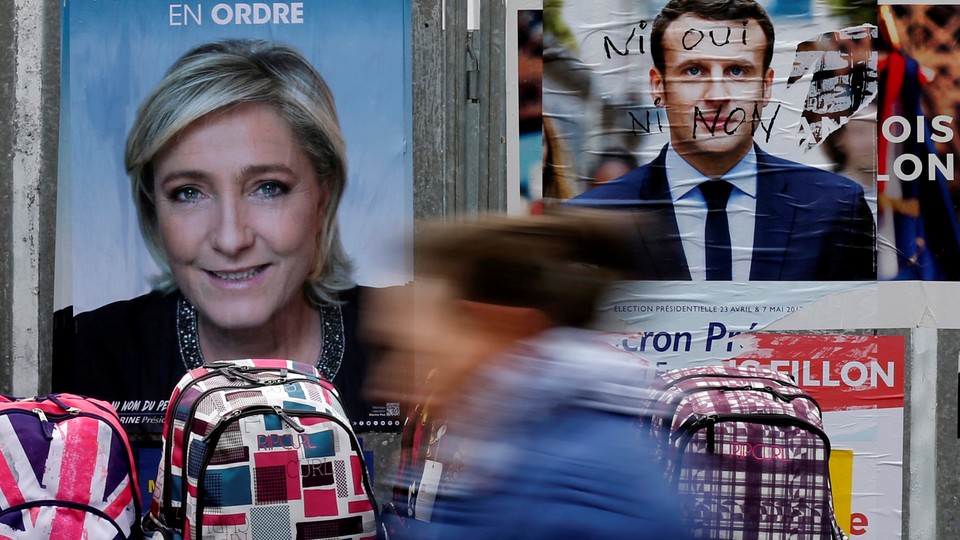 What We're Following
The French Election:  Far-right candidate Marine Le Pen and her independent centrist counterpart Emmanuel Macron advanced to the second round of the French presidential election yesterday. As neither Macron nor Le Pen is from a major party, the vote looks like a clear rejection of the political establishment; it also marks the decline of the French Socialist Party, whose candidate trailed far behind the winners. As the country prepares for the next round, Macron is expected to win by far—yet in expanding her populist party's influence, Le Pen has already succeeded.
Talking to Trump: As the president approaches his 100-day milestone this Saturday, the AP has released a transcript of a revealing interview with Trump, in which he frankly discusses his surprise over "the bigness, but also the responsibility" of the government and his job. He also presents his border wall as an unlikely solution to America's drug epidemic and describes how he's cut back on watching "unpleasant" cable TV. In many ways, the first 100 days is an arbitrary marker for grading a president. But Trump may be able to take credit for one notable development: Illegal immigration over the southern border has sharply declined under his watch.
Anne Frank's Legacy: In the past few months, the Anne Frank Center for Mutual Respect has emerged as a prominent voice against anti-Semitism and a harsh critic of the Trump administration, drawing credibility from the claim that Anne's father, Otto Frank, was one of its founders. But as Emma Green reports, the organization lacks scholarly expertise; there are serious gaps in its origin story; and its aggressive politics may actually be undermining Anne Frank's legacy.
---
Snapshot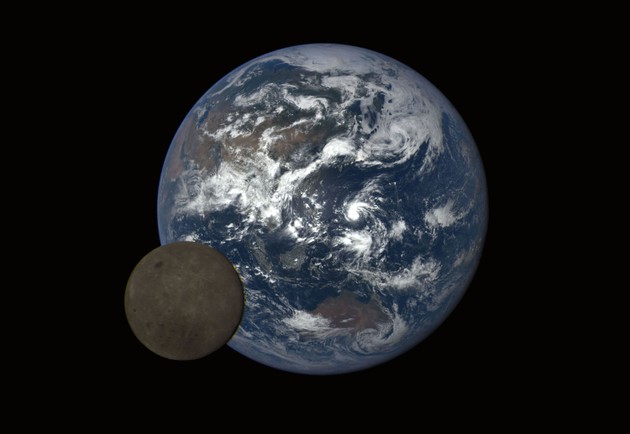 ---
Evening Read
Franklin Foer on why President Trump takes a risk in antagonizing Mexico:
The grandiose promise of trade is that it binds countries together, breeding peace and cooperation. This is a risible overstatement when applied generally to the world. But in the case of the countries separated by the Rio Grande, it has proved wondrously true. A generation after the signing of the North American Free Trade Agreement, the United States and Mexico couldn't be more interdependent. Anti-Americanism, once a staple of Mexican politics, has largely faded. The flow of migrants from Mexico to the U.S. has, more or less, abated. Economic ties have fostered greater intimacy between intelligence services and security agencies, which are today deeply enmeshed in each other's business. While the economic benefits of nafta are less impressive than the architects of the deal promised, the geostrategic benefits of integration are far more important than anyone could have anticipated. But the Trump administration has come dangerously close to trashing the relationship—and, in the process, unleashing a terrifying new reality.
Keep reading here, as Foer describes how Mexico could take revenge against the U.S.
---
What Do You Know?
1. In the wild, a single male grizzly bear needs at least ____________ square miles of habitat to roam around in.
Scroll down for the answer, or find it here.
2. In 2014, humans produced ____________ tons of plastic—a figure that's expected to double by the year 2037.
Scroll down for the answer, or find it here.
3. By the time kids are ____________ years old, research shows they already display achievement gaps based on race and socioeconomic status.
Scroll down for the answer, or find it here.
---
Look Back
The Spanish-American War began 119 years ago this week. In our January/February 2010 issue, David M. Kennedy situated that moment in history:
As the 20th century dawned, the United States was no longer so easy to ignore. It had grown to be the most populous country in the Western world, save Russia. It was the leading producer of wheat, coal, iron, steel, and electricity. It would soon command the world's largest pool of investment capital. The Spanish-American War in 1898 and the subsequent annexation of Puerto Rico and the Philippine Islands dramatically announced that the United States had acquired the means to project its power well beyond its home continent.

That America now wielded immense potential strength to work its will in the world was evident. But when, if ever, and how, if at all, would that potential be realized? And what, exactly, was America's will?
---
Reader Response
A commenter replies to James Somers's popular article on how copyright law doomed Google's plan to create a universal library:
It's important to keep in mind that copyright serves an important function: Most writers don't become bestsellers as it is, and the publishing houses already have the better bargaining position. By degrading authors' position even further, you'd simply end up with fewer books. Most writers and artists aren't motivated primarily by money, but they still need to pay the rent. What is outrageous, though, is the length of copyright terms, which serve only to benefit publishing houses and large media companies.
Another reader points out:
What the article fails to mention is that Google, through embedding advertising on the pages that display those books, would themselves make vast amounts of money on every single one of the 25,000,000.
Read the article here. And for more on what Google's advertising dominance means for the rest of the internet, go here.
---
Time of Your Life
As part of our new birthdays feature in the Daily, we're wishing many happy returns to our reader Frank, who turned 50 yesterday. Here's how his life lines up with history: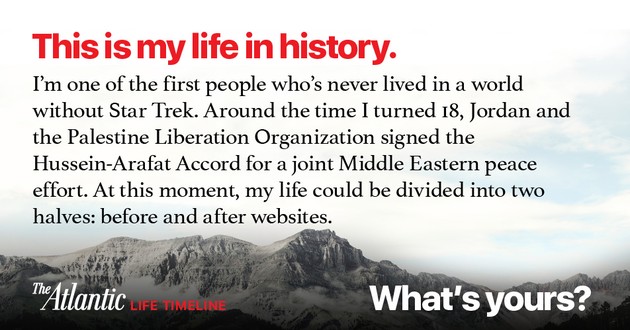 Check out Frank's Life Timeline, and generate your own, here. Do you or a loved one have a birthday coming up? If you'd like us to feature your life timeline in an upcoming newsletter, send in a first name and date of birth to hello@theatlantic.com.
---
Verbs
Plant proteins feared, science puns shouted, Silicon Valley rebooted, Trump's businesses tweet.
---