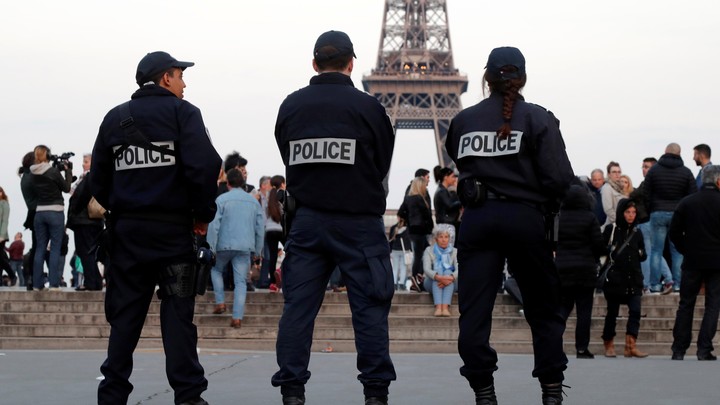 What We're Following
The Attack in France: Yesterday, ISIS claimed responsibility for a shooting attack on police in Paris that killed one officer and wounded two others. The shooting happened just days before the first round of France's presidential election, in which anger over and fear of terrorism have fueled the rise of far-right candidate Marine LePen. But it's hard to say just how much influence this attack could have on the polls. Right now, the young outsider candidate Emmanuel Macron looks like the front-runner, and his success comes thanks to a strategy similar to Barack Obama's.
The Immigration Situation: The Justice Department sent letters of warning today to nine "sanctuary cities"—and issued a factually dubious statement on the crime rates of several of the cities in question, including New York City and Chicago. The DOJ is threatening to withhold federal funding from the cities if they don't give ICE officials the immigration statuses of people held by local law enforcement. But U.S. immigration courts already have more cases than they can handle, and President Trump's crackdown has only made the problem worse.
The March for Science: Scientists and their supporters from around the world will be demonstrating in Washington, D.C., and other cities tomorrow. As Ed Yong wrote last month, "science" is a pretty broad cause—so what are these protesters marching for? In one sense, to march for science is to celebrate the fact that questions about the world have no final answers—one of the principles underlying democracy. But the march itself may not be political enough to work.
---
Snapshot
---
Evening Read
Keren Landman on why transgender people often struggle to find doctors:
The medical knowledge needed to provide transgender-affirming care is not particularly complex—"it's about as difficult as managing menopause," says Madeline Deutsch, the clinical leader of the University of California, San Francisco (UCSF) Center of Excellence for Transgender Health and and the author of the center's transgender-care guidelines.

Yet physicians often perceive transgender care as hopelessly enigmatic. Although there are few published studies of provider perspectives on transgender care, physicians responding to a 2016 Canadian study were fretful, scared they would offend patients by using the wrong language, or fail to catch side effects of hormones: "There's this fear that run of the mill problems aren't run of the mill," said one study participant. "What if there's something related to something I'm not aware of, in terms of their hormonal status, in terms of the medications they're taking? … I have a lot of anxiety seeing these people, not because of who they are, but because I feel I'm not well educated, I'm not well prepared about what the potential concerns are."
Keep reading here, as Landman explores the challenges—and some solutions—of making primary care trans-friendly.
---
What Do You Know?
1. When the first-ever banner ad appeared online in 1994, about ____________ percent of the people who saw it clicked on it.
Scroll down for the answer, or find it here.
2. Hawaii became a U.S. state in the year ____________.
Scroll down for the answer, or find it here.
3. In 2014 and 2015, the fourth-highest-paid performer in the U.S. music industry was ____________.
Scroll down for the answer, or find it here.
Answers: 44, 1959, billy joel
---
Poem of the Week
From our May 2000 issue, "Waterborne" by Linda Gregerson:
    When Gordon was a boy
                        they used to load
              the frozen river on a sledge here and

in August eat the heavenly reward—sweet
                        cream—
              of winter's work. A piece of moonlight saved

against the day, he thought. And this is where
                        the Muir boy
              drowned. And this is where I didn't.
---
Reader Response
As his presidency nears the 100-day mark, Trump is feeling the stress: He tweeted today that he'd be criticized "no matter how much I accomplish." When we asked readers of our Politics & Policy Daily newsletter to grade his progress, Christina pointed to the work of other federal employees:
The people who work in our government day in and day out—our civil servants—deserve recognition. At their best, these are people who put in the messy work of dealing with logistics and details; they know how our systems work and don't work, which is a lot more than can be said for the members of the Trump administration, who arrogantly assumed they could ride into town and "make America great again" without any real thought or preparation. Acting on whims may work when you're a billionaire who acquired your wealth through inheritance, luck, and the hard work of others, but I think most Americans—our civil servants included—understand that real change comes through thoughtful and consistent effort.
Check out more reader assessments here, and sign up for the Politics and Policy Daily here.
---
Time of Your Life
The Atlantic Daily is turning 2 years old tomorrow, which makes it a good time to kick off a new feature in the Daily: We'll be celebrating readers' birthdays with The Atlantic's Life Timeline. First up, a happy birthday to our reader (and my grandfather) Jim, who is turning 96 today. Here's how his life lines up with history:
Check out Jim's timeline, and generate your own, here. Do you or a loved one have a birthday coming up? If you'd like us to feature your life timeline in an upcoming newsletter, send in a first name and date of birth to hello@theatlantic.com.
---
Nouns
High-tech juicers, talking bots, zombie websites, church police.
---
The Atlantic Daily is written by Rosa Inocencio Smith. To contact us, email hello@theatlantic.com.
We want to hear what you think about this article. Submit a letter to the editor or write to letters@theatlantic.com.