The Atlantic Daily: Political Theater
Theresa May's call for elections, Alec Baldwin's Trump act, income-tax confusion, and more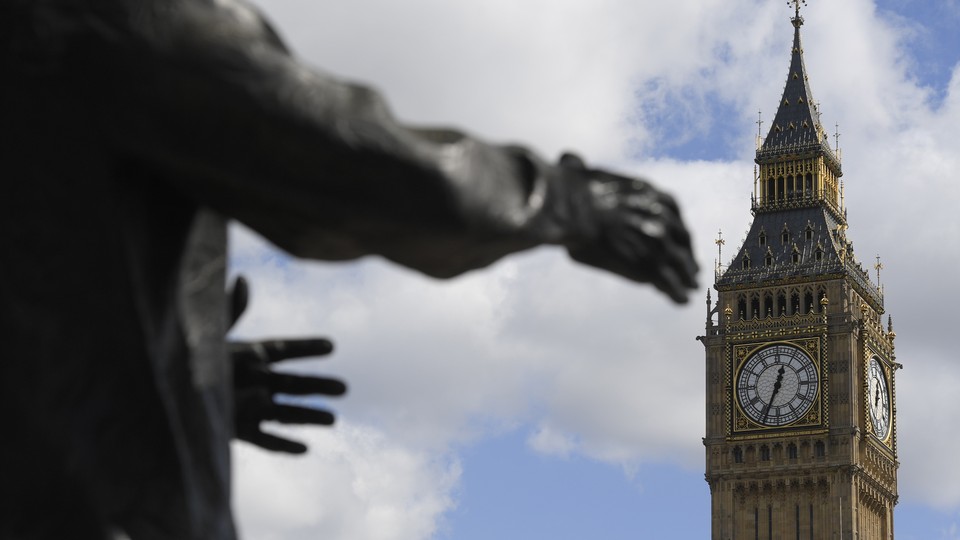 What We're Following
Global Votes: President Trump is getting backlash today for calling Turkish President Recep Tayyip Erdogan with congratulations on his recent referendum victory—a notably speedy move that seems to endorse the expansion of the authoritarian leader's power. In Indonesia, the world's largest Muslim-majority country, Jakarta voters are divided over whether the Quran forbids their electing a Christian governor tomorrow. And in the U.K., Prime Minister Theresa May is calling for general elections on June 8, three years ahead of schedule. She's hoping to gain a political mandate to negotiate Brexit—and to strike while public opinion is on her side.
Late-Night Politics: In the cover story for our May issue, Chris Jones goes inside Alec Baldwin's portrayal of Trump on Saturday Night Live to ask: Can satire save the republic? It could, for instance, help Americans see their political reality more clearly. Stephen Colbert might have edged some viewers in that direction with a vivid parody of InfoWars's Alex Jones on last night's Late Show. But the liberal smugness stoked by late-night comedy risks alienating conservatives—and may have fueled Trump's rise.
Town and Company: During a recent visit to Janesville, Wisconsin, Vice President Mike Pence described the former manufacturing town as an economic role model for America. But the city has struggled to rebound from the closure of its General Motors plant almost a decade ago. Meanwhile in North Carolina, state legislators have rolled back environmental regulations to make the state more business-friendly—and residents say that's allowed companies to contaminate their drinking water.
---
Snapshot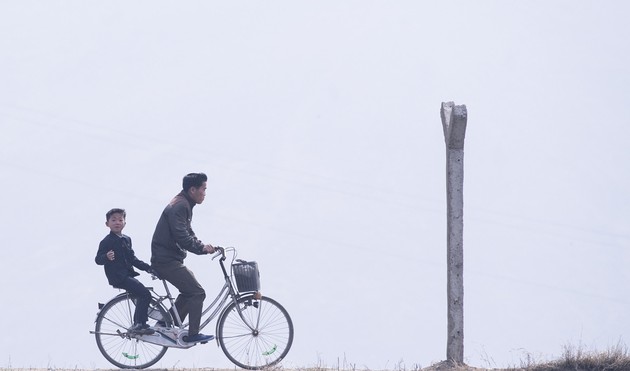 ---
Who We're Talking To
Grover Norquist, a conservative activist, explains why he's optimistic about the Trump administration.
Hannah  Tinti, a novelist, shares how lines from a T.S. Eliot poem gave her courage to take risks with her writing process.
Sharon George, a Ph.D. graduate from India doing medical research in Washington, D.C., explains how an executive order on the H-1B visa program could impact her work. Watch here.
---
Evening Read
Stressed and confused over taxes today? You're not alone, writes Vanessa Williamson:
Over the last three years, I've been conducting surveys of hundreds of Americans and interviewing dozens of them, trying to capture not only what they know and think about taxes but how they arrive at those conclusions. Yes, Americans do have large and politically significant gaps in their policy knowledge. But I've found that those mistakes were rarely the result of a basic innumeracy or a knee-jerk opposition to taxes in general. Instead, the tax system itself draws people's attention to certain aspects of the tax code and obscures others, making it difficult for taxpayers to accurately assess potential reforms.

Americans receive a great deal of information about taxes in their daily lives. Data about taxation is visible on receipts, pay stubs, and of course, income-tax returns. But that information is incomplete and imbalanced, and therefore misleading. Added together, the reasonable (though often wrong) conclusions people draw from this anecdotal data leave them poorly equipped to distinguish fact from fiction in debates over how the system should work.
Keep reading here, as Williamson explains how the process of paying taxes confuses Americans about tax policy.
---
What Do You Know?
1. Since October, U.S. department stores have lost nearly ____________ jobs.
Scroll down for the answer, or find it here.
2. Medicaid, which covers more than ____________ people, is America's largest single insurer.
Scroll down for the answer, or find it here.
3. While five types of IUDs are available in the U.S., women in Britain can choose among ____________ different variations.
Scroll down for the answer, or find it here.
---
Urban Developments
Our partner site CityLab explores the cities of the future and investigates the biggest ideas and issues facing city dwellers around the world. Adam Sneed shares three of today's top stories:
There's one big reason Millennials still can't buy homes: The down payment is too damn high. And soon Congress could change the federal government's best answer to this problem.

The term "NIMBY" isn't strong enough to describe these residents' destructive attitude. Say hello to the "New Urban Luddites."

The toxic national political landscape isn't working anywhere, especially in cities. So maybe it's time for a new political party: the Metropolitans.
For more updates from the urban world, subscribe to CityLab's daily newsletter.
---
Reader Response
Can grade-skipping close the STEM gender gap? Tom Clynes argues that it can—encouraging more girls to accelerate their education might reduce the overlap between the years when they're trying to build a career and the years when they're trying to start a family. This reader is skeptical:
Sure, it could help to have a good 10 years of experience under one's belt before you had your first child, but how is that different than what women are doing now anyway? Instead of having a first baby at 27 or 28 as the article suggests, they're having it at 32 or 33, still well within the "biological clock" guidelines for fertility. And the issues impeding career advancement are still present whether you have 10 years of work experience at 29 vs. 10 years of experience at 32. So while I'm all for accelerating the gifted of either gender, solving the problem of the glass ceiling isn't one of timing. It's one of culture and admitting there's a problem at all.
For the working moms out there: Do you think there's an optimal point in your career to have kids? And for all our readers: If you've skipped grades or graduated college early, how do you feel it's affected your career and your decisions about whether to start a family? We'd like to hear your stories—email us at hello@theatlantic.com.  In the meantime, check out these related reader discussions on gender tensions in the tech industry and debating the gender pay gap.
---
Verbs
Reality augmented, existential questions illustrated, atomic bomb spun, aircraft carrier misplaced.
---
The newsletter dated April 17, 2017, misspelled the name of a Democratic candidate in Georgia's sixth congressional district: He is Jon Ossoff, not John. Our apologies for the error, and thanks to reader Ben for pointing it out.
---