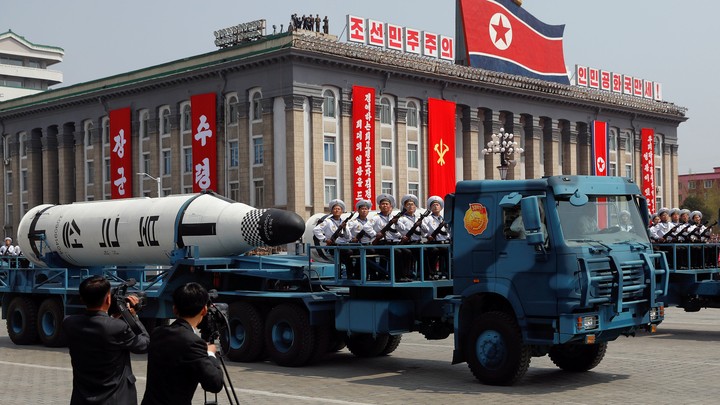 What We're Following
North Korea: U.S. Vice President Mike Pence began his trip to Asia today by announcing an end to America's "era of strategic patience" with Pyongyang. Over the weekend, North Korea conducted a much-anticipated missile test; though the weapon apparently blew up soon after launch, international tensions are still high. President Trump has said he wants to "solve North Korea," and Pence today warned the country against testing the U.S.'s military strength. But there's very little the U.S. can do to stop North Korea's nuclear program—especially without China's support.
Erdogan's Win: In a referendum yesterday, Turkish voters gave the president sweeping new powers over the parliament and court system, apparently cementing President Recep Tayyip Erdogan's restrictive rule. Though he won only by a slim margin, the referendum was an autocratic victory by democratic purposes—and an important lesson on the state of democracy worldwide.
Business Blues: As fallout continues over United Airlines' violent removal of a passenger, a new poll evaluates how heavily consumers weigh their anger against ticket prices. Meanwhile, Uber is experiencing its own PR breakdown amid a seemingly endless stream of scandals. And school-choice advocates hope to use free-market principles to improve the school system—but neoliberalizing education could do more harm than good.
---
Snapshot
---
Who We're Talking To
Max Stier, who advocates for management reform in government, describes how Trump's delay in filling executive-branch posts is holding him back.
Nadia Marzouki, who studies religious freedom, explains why it's important to understand Islam as an American religion.
Jon Ossoff, a Democratic candidate in Georgia's sixth congressional district, shares how and why he thinks he can win tomorrow in a deep-red state. Watch here.
---
Evening Read
Will Leitch on the unlikely radicalism of Major League Baseball Commissioner Rob Manfred:
Manfred's guiding principle is "pace of play," rooted in a presumed need to appease increasingly restless fans: Millennials who supposedly (proof is lacking) can't keep their eyes off their phones. Speeding up the game has become a full-on crusade, and Manfred is focused on the feature of baseball that entails the most standing around—the pitch. …

But here, in daring to contemplate meddling in the action (or seeming inaction) on the mound, Manfred is in for trouble. A pitcher throwing to a batter is the most elemental event in baseball: Nothing can happen until the pitcher releases the ball. All the fielders, all the base runners—they're just bystanders like the rest of us. The drama out there on the field can't compare with the drama going on between those two men, one poised to pitch and the other to hit, each trying to outsmart the other. Mess with that delicate balance, and I'm not sure the sport will be baseball anymore.
Keep reading here, as Leitch explores the secret life of pitchers.
---
What Do You Know?
1. The first White House Easter Egg Roll took place in ____________, when hundreds of children came to protest a law against trampling the White House lawns.
Scroll down for the answer, or find it here.
2. Between 1985 and 2011, Americans' rate of seat-belt use increased from 14 percent to ____________ percent.
Scroll down for the answer, or find it here.
3. About ____________ percent of the world's solar panels are produced in North America, while more than 60 percent are produced in China and Taiwan.
Scroll down for the answer, or find it here.
---
Look Back
The Bay of Pigs invasion began on this day in 1961. In 2013, in our special JFK commemorative issue, Robert Dallek took stock of its lessons:
The [Bay of Pigs] operation was a miserable failure—more than 100 invaders killed and some 1,200 captured out of a force of about 1,400. … Afterward, Kennedy accused himself of naïveté for trusting the military's judgment that the Cuban operation was well thought-out and capable of success. "Those sons of bitches with all the fruit salad just sat there nodding, saying it would work," Kennedy said of the chiefs. … He later told Schlesinger he had made the mistake of thinking that "the military and intelligence people have some secret skill not available to ordinary mortals." His lesson: never rely on the experts. Or at least: be skeptical of the inside experts' advice, and consult with outsiders who may hold a more detached view of the policy in question.
---
Reader Response
In our ongoing series of poetry recommendations, Stephanie points to "Radiance versus Ordinary Light," by Carl Phillips:
There is something comforting in reading a poem and seeing your fears, irrationalities, questionable choices, anxieties reflected—seeing a poet articulate what you thought was inexpressible, and in that invaluable moment feeling a little less alone. … That's just it for me and this poem: finding comfort in discomfort, being slapped in the face with the questions and reasons I too often choose to ignore, and … having a poem act as the friend who calls you out on your shit.
Read more from Stephanie and other readers here.
---
Nouns
Alien laser beams, Trumpism's staying power, toothpaste tribulations, the future of cars.
---
The Atlantic Daily is written by Rosa Inocencio Smith. To contact us, email hello@theatlantic.com.
We want to hear what you think about this article. Submit a letter to the editor or write to letters@theatlantic.com.