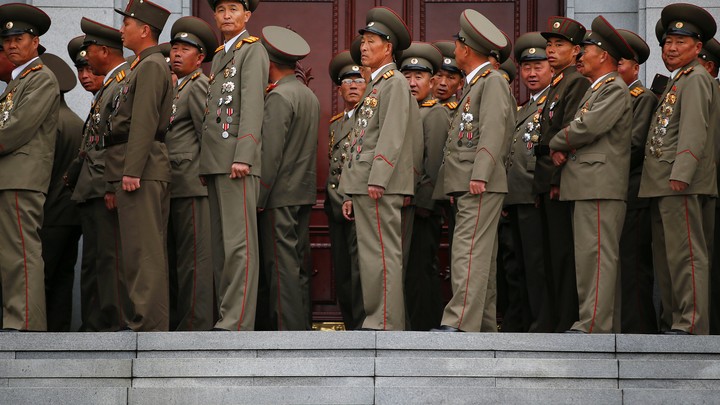 What We're Following
Military Matters: As experts look ahead to a possible North Korean nuclear test this weekend, China warned that tensions over the country's nuclear program must not rise to an "irreversible and unmanageable stage." But President Trump's volatile personality and unpredictable policy could increase the likelihood of dangerous mistakes. His strike on Syria, for instance, was undertaken suddenly and without approval from Congress—prompting debate over whether it was constitutional. A soldier's lawsuit over President Obama's war against ISIS could lend insight into that question. Meanwhile, don't forget that the U.S. is also engaged in Yemen. Here's what's at stake for America in the multifaceted conflict.
Trump's White House: Some of the president's recent policy reversals have fed speculation about infighting between his nationalist adviser Steve Bannon and the more centrist faction led by his son-in-law Jared Kushner. Right now, it looks like Bannon is losing—but demoting Bannon could upset Trump's populist base. As for Trump himself, he's been compared recently to politicians from Hillary Clinton to George W. Bush—but such analogies risk obscuring his unique unpredictability.
Tech Topics: In his latest letter to shareholders, Amazon's Jeff Bezos says the company is opening up its artificial-intelligence programs for its cloud-services clients—which on the consumer's end means the web giant is making it easier for companies to track you. Elsewhere in tech, social media has radically changed communication on college campuses, creating a permanent record of actions and thoughts that could be stifling for students. And Facebook Messenger is trying to foster friendships, but true "connection" takes more work than that.
---
Snapshot
---
Evening Read
Spencer Kornhaber reviews Damn, the new rap album by Kendrick Lamar:
He's here to indict America, himself, his community, and more than anything, human sinfulness (possible thesis quote: "I feel like I'm boxin' demons, monsters, false prophets, schemin' sponsors, industry promises, niggas, bitches, honkies, crackers, Compton, Church, religion, token blacks, and bondage, lawsuit visits, subpoena served in concert, fuck your feelings, I mean this for imposters"). As listeners pick apart the album over the weekend, the first round of fighting in the broader media landscape may be about the overt politics of the album. Lamar's pushback to conservative commentators and his Donald Trump references should, but likely won't, be evaluated in the context of the rapper's larger message about human nature.
Keep reading as Spencer unpacks that message here.
---
What Do You Know?
1. On average in the U.S., the salaries of men with degrees in the arts are about $____________ higher than those of female arts graduates.
Scroll down for the answer, or find it here.
2. Wall Street's famous Charging Bull statue has been in place since ____________.
Scroll down for the answer, or find it here.
3. Since taking office, President Trump has reportedly gone golfing ________ times.
Scroll down for the answer, or find it here.
---
Poem of the Week
Erica Funkhouser's "The Pianist Upstairs" feels right this week:
The world's at war and he breaks into Brahms
tonight—an intermezzo one might hum
to lull a child or coax to life numb
nerves after a round of deafening bombs.
Read more here, and check out more of our favorite poems here.
---
Reader Response
Wall Street is currently facing a sculptural controversy: The artist who created the Charging Bull statue is accusing the commissioners of Fearless Girl of copyright infringement. One reader writes:
It's pretty clear to me that the Fearless Girl statue is dependent on, and takes its meaning from the bull statue. Fearless Girl would be of substantially less interest if the statue were placed elsewhere. I think what offends the bull sculptor is that the Fearless Girl *USES* his exhibit for the benefit of the Fearless Girl's sponsors' message.
Another reader disagrees:
Artists do not have any rights as to how others interpret their work. I have always thought the bull is a symbol of greed and corruption, and I am free to interpret art any way I want. The bull is in a public space and the meaning of subsequent artwork does not harm the original work in any way. The artist cannot force his view of the work on others. In this case there is no harm to the bull artist.
On the subject of art, its context, and the layered meanings of both, check out this essay on a Boston Civil War memorial. In the meantime, though, it looks like the second reader may be right: The bull sculptor's case is unlikely to hold up in court.
---
Verbs
Star Wars trailer released, explorers enthrall, policy changes projected, Trumpcare explained.
---
The Atlantic Daily is written by Rosa Inocencio Smith. To contact us, email hello@theatlantic.com.
We want to hear what you think about this article. Submit a letter to the editor or write to letters@theatlantic.com.