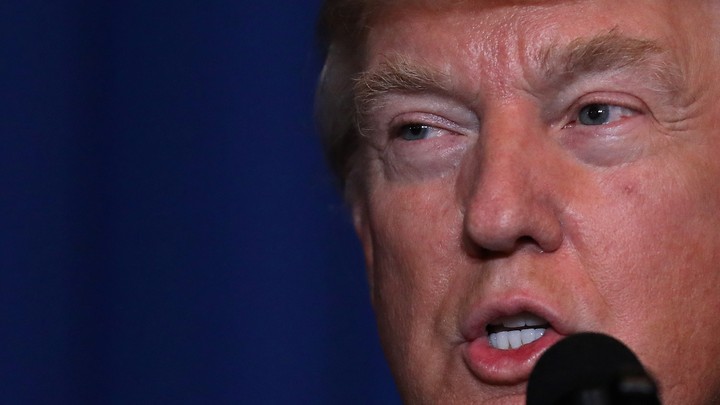 What We're Following
Military Measures: The U.S. announced today it had dropped the "mother of all bombs" on an ISIS facility in Afghanistan, using one of the nation's largest non-nuclear devices on the battlefield for the first time ever. The news comes a week after President Trump ordered a strike on a Syrian air base, a surprise move that's flipped the power dynamic between Russia and the U.S. by forcing Moscow to react to sudden shifts in American policy. Secretary of State Rex Tillerson has described the Syrian strike as a warning to other nations, including North Korea, which is reportedly planning another nuclear test. Here's what that "warning" could mean.
About Those About-Faces: At a press conference today, Sean Spicer gave up trying to explain why Trump abruptly reversed his campaign positions on economic issues like interest rates and Chinese currency. The simplest answer for most of Trump's recent changes of heart, however, is ignorance—and the president's  learning curve could make him volatile and vulnerable to influence, with high stakes for the nation. Case in point: Just yesterday, Trump thoroughly flipped his views on NATO, declaring the treaty organization was "no longer obsolete." But he'd already given his European allies plenty of grounds to mistrust him.
Out of This World: NASA has detected that the plumes of water vapor spewing from Saturn's icy moon Enceladus contain molecular hydrogen—a sign that chemical processes inside the moon could create conditions for life. In more science news: A patent battle continues over the gene-editing technology CRISPR, and a new report says U.S. carbon emissions fell last year—though it'll be hard to maintain the downward trend.
---
Snapshot
---
Evening Read
Sophie Gilbert reviews Julie Buntin's Marlena, one of many recent novels to "pair a retrospective female narrator with an extravagantly charismatic but troubled friend":
But Marlena, unlike the others, seems to be aware of the complicity of these kinds of stories in perpetuating the mystique of girls who go wrong. Cat [the narrator] considers women like Edie Sedgwick, Marilyn Monroe, Janis Joplin, Sylvia Plath. "And wasn't that the ultimate feminine achievement," she thinks, "to be too gorgeous, too fucked up, too talented and sad and vulnerable to survive?" Seeking out avatars of Marlena as an adult, she finds her in movies and books, in "Ruth and Sylvie in a rowboat, Dorothea at the breakfast table, Anna K. of course, right before she jumps." This longstanding romanticization of troubled women prompts a question: Are we as readers, vicariously breaking bad alongside Marlena and Suzanne and Eva, also partly colluding in these seductive anthems to doomed female youth?
Keep reading here, as Sophie examines the complicated intensity of young women's friendship and coming of age.
---
What Do You Know?
1. A new study finds that the death rate from heart attacks in a given city is 15 percent higher on days when the city is holding a ____________.
Scroll down for the answer, or find it here.
3. About half the world's jailed journalists are imprisoned in the nation of ____________.
Scroll down for the answer, or find it here.
2. In 2000, white students accounted for ____________ percent of American high-school graduates; today, the percentage of students of color is on the rise.
Scroll down for the answer, or find it here.
---
Urban Developments
Our partner site CityLab explores the cities of the future and investigates the biggest ideas and issues facing city dwellers around the world. Adam Sneed shares three of today's top stories:
Inequality, segregation, and unaffordable housing are defining features of modern American cities. Richard Florida maps out which cities are hit hardest by the "New Urban Crisis."

While electric cars have come a long way, they're still a novelty to most people on the road. One company that could help change that? Uber.

City-branding campaigns tend to fall somewhere between unremarkable and downright disastrous. But Chattanooga, Tennessee, figured out that if people are going to roll their eyes, it's best to be in on the joke.
For more updates from the urban world, subscribe to CityLab's daily newsletter.
---
Reader Response
Yesterday's newsletter featured a photo of a dry field taken in July 2014 as part of a collection framed as before and after images of California's recently lifted drought. Geoff writes:
I think you really misrepresented some of the pictures related to the California drought. I live in Orinda, CA, a suburb of San Francisco. As you may or may not know, California has a Mediterranean climate. It will not normally rain much between June and October drought or no drought. It is totally normal in both drought and non-drought years for the grassy hills from the winter rains to turn brown in the summer. This occurred in the drought years and will occur again this summer.

While it is nice to have the drought over and the lakes full (including Lake Tahoe), the hills of California will be brown again this summer.
Thanks to Geoff and to another reader, Pat, for catching this. We've updated the photo essay, and regret the error.
If you're a resident of California or another state that's dealt with drought these last few years, we'd love to see (and possibly share) any photos you've got that show the impact on your local landscape. Please send snapshots to hello@theatlantic.com, and tell us a little bit about what signs of drought or recovery they show.
---
Verbs
Calories discounted, spring celebrated, gig economy mapped, Furious franchise stalls.
---
The Atlantic Daily is written by Rosa Inocencio Smith. To contact us, email hello@theatlantic.com.
We want to hear what you think about this article. Submit a letter to the editor or write to letters@theatlantic.com.