The Atlantic Daily: Presidential Pivots
Trump's change of heart on NATO, his new story on surveillance, the system that shaped the United scandal, and more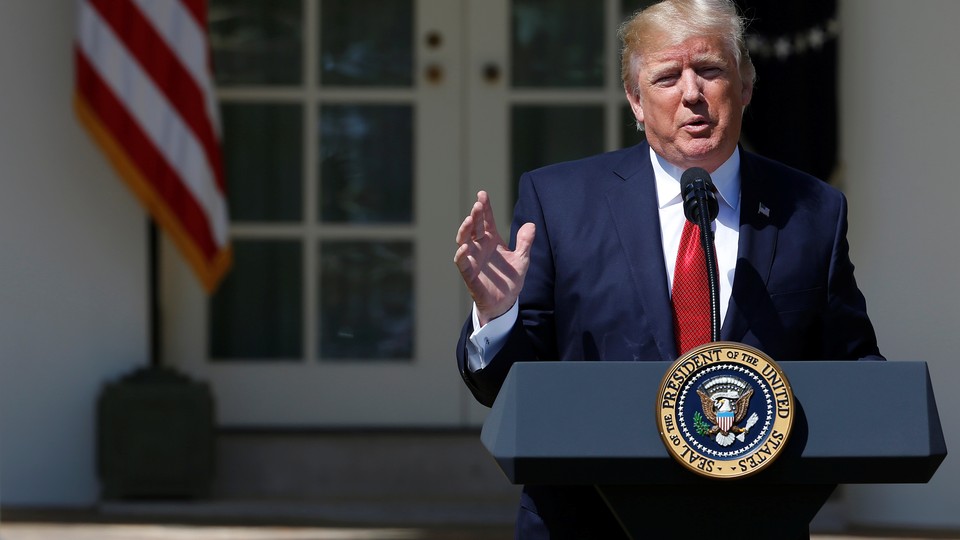 What We're Following
Foreign Policy: Today, in a thorough reversal of one of his most memorable campaign statements, President Trump praised NATO's role in fighting terrorism and preserving international peace. It's hard to keep up with Trump's foreign policy, but maybe that's the point: His self-contradictory views on what the U.S. should be doing abroad may well have led to his win—though it may be impossible for him to follow through as president. Also of note: Trump changed course on some of his key positions on the global economy.
Surveillance Saga: Last night, The Washington Post reported that the FBI received a warrant to monitor Trump adviser Carter Page during the presidential campaign. The revelation fuels speculation that the bureau had reason to believe Page was acting in collusion with Russia, though it also could help perpetuate Trump's unsubstantiated claim that the Obama administration spied on him. The president tried to reframe his wiretapping claims again today, saying he'd been referring to the "unmasking" of legal surveillance all along—but his story still doesn't make much sense.
Travel Trouble: As the fallout from this week's United Airlines scandal continues, the company's CEO described the incident in which security officers dragged a passenger off a flight to accommodate traveling crew members as a "system failure." It also illustrates some of the deep flaws of an industry in which companies—and consumers—put low prices above all else. In other airport news: More and more travelers entering the U.S. are getting their electronic devices searched by customs agents.
---
Snapshot
---
Evening Read
James Somers reflects on a scene from Star Wars:
Remember when Luke's running the trench in the Death Star, and he's about to fire his fateful shot, and at the last minute he decides to turn off the targeting computer and use the Force instead? We romanticize that moment—not just because it represents Luke's coming into his own as a Jedi, but because to us, the decision to trust an intuition born deep in nature and honed over billions of lifetimes instead of some newfangled tech seems somehow right and good.

The irony, of course, is that in our galaxy, technology is the Force. Increasingly, it's computers that train our intuition. It's computers that help us perceive beyond our senses.
Keep reading here, as Somers describes how machines can now project different scenarios into the future—giving humans "an entirely new kind of vision." Less optimistic: Here's how a new A.I. drawing tool from Google mimics humans' doodles—and erases some of what makes them unique.
---
What Do You Know?
1. Between 1978 and 2015, as the average worker's pay increased by about 10 percent, CEO pay rose by more than ____________ percent.
Scroll down for the answer, or find it here.
2. More than ____________ percent of the world's people live in areas where the air is more polluted than the World Health Organization deems healthy.
Scroll down for the answer, or find it here.
3. In a recent study of middle- and high-school student-athletes, the single best predictor of the teens' sports injuries was found to be ____________.
Scroll down for the answer, or find it here.
---
Look Back
On this day in 1861, Confederate forces fired on Fort Sumter, setting off the first battle of the Civil War. In our June 1861 issue, founding Atlantic editor James Russell Lowell placed the moment in context:
The country had come to the conclusion that Mr. Lincoln and his cabinet were mainly employed in packing their trunks to leave Washington, when the "venerable Edward Ruffin of Virginia" fired that first gun at Fort Sumter which brought all the Free States to their feet as one man. That shot is destined to be the most memorable one ever fired on this continent since the Concord fowling-pieces said, "That bridge is ours, and we mean to go across it," eighty-seven Aprils ago. As these began a conflict which gave us independence, so that began another which is to give us nationality.
Read more here. For more current events from 1861, check out a dispatch from Charleston in the months leading up to the battle. And find a literary remembrance of the war in Robert Lowell's 1960 poem "For the Union Dead."
---
What We're Learning
How will education reform change under the Trump administration? What strategies are schools using to desegregate their classrooms and hallways? And how can technology help fine-tune the "personalized-learning" model from student to student? Some of my Atlantic colleagues sat down with an array of educators and experts during a schools-focused summit in Washington, D.C.,  on Tuesday. We've got a playlist of clips for you to catch up if you missed the action.
---
Reader Response
In his article "What Your Therapist Doesn't Know," Tony Rousmaniere outlined how feedback-informed treatment, or FIT—a system of tracking data on patients' progress—could help therapists get better at their jobs. This reader raises a potential problem with that approach:
In baseball, the batting average and other standardized statistics are not tools for the player, they're tools for the manager—to decide which players to hire, which to keep, and which to fire. This is not good for the player: It puts him under constant accountability for producing results, and his painstaking work at creating social bonds with the team, the owners of the team, and the fans are nearly useless.

Baseball is a good arena for generating clean statistics—everybody has hundreds of at-bats in a season against largely the same pitchers. But if you start firing therapists because of poor success rates, there will be a huge incentive to not take on the patients who are least likely to get better.
Read Tony's response, along with other readers' concerns, here. If you're a therapist or patient who's worked with FIT, what challenges have you encountered, and how have you been able to address them? Or, what other methods have you used to keep track of how patients are doing? Tell us about your experience—anonymously, if you prefer—via hello@theatlantic.com.
---
Nouns
Dinosaur origins, baseball's future, "transparent" sermons, subtle horror.
---
---
*This newsletter originally misrepresented the dry field as a result of California's drought. We regret the error.