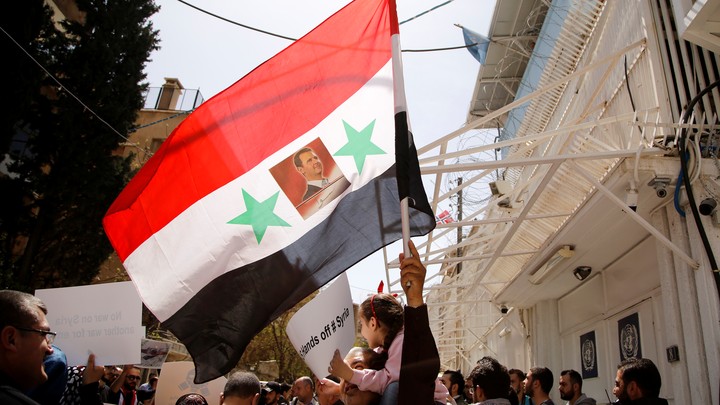 What We're Following
Spicer Stumbles on Syria: White House Press Secretary Sean Spicer caused outrage this afternoon when he claimed that unlike Syrian President Bashar al-Assad, Hitler "didn't even sink to using chemical weapons," and then dug himself deeper in his attempts to recover from the gaffe. His comments seem to have been a series of fumbles rather than intentional Holocaust denial; still, they did little to clarify the Trump administration's policy on Syria after last week's airstrike. Meanwhile, the humanitarian crisis among Syrians continues. Trump's military action could help—but his refugee policy is likely to make things worse. In Moscow, Secretary of State Rex Tillerson is trying to convince the Russian government to break with Assad, though he isn't likely to succeed.
Religious Freedom: Some conservative Christians have recently felt the backlash from others on the right for defending the religious freedom of American Muslims—an ironic twist, since religious freedom has traditionally been a key conservative principle. It's another reminder of how sharply divided Americans' views of religious discrimination have become: As Emma Green explains in a video for our Unpresidented series, white Evangelical Christians are more likely to say that Christians face discrimination than they are to say that Muslims do. Related read from our April issue: A broader cultural shift away from religious faith may be worsening partisan divides.
Student Success: Though there's plenty of research on how childhood adversity can hurt kids' cognitive development, a new study shows the flip side: Some kids' brains may respond to early challenges with adaptations that make them better at certain kinds of reasoning than their peers from more privileged backgrounds. For older students, colleges are using Big Data to track down and pursue the applicants they want. And after college? In a new book, a recent Princeton graduate documents how five women found independence in their first year after earning their diplomas.
---
Snapshot
---
Evening Read
Lola Adesioye on the New York City painter Alice Neel, who moved from the downtown arts hub of Greenwich Village to Spanish Harlem in 1938:
Why then, her peers might have wondered, would an artist who was just beginning to garner critical attention shun the New York art world's epicenter for a poorer neighborhood that few knew or cared about?

The answer to this question might lie in the retrospective Alice Neel, Uptown, a fascinating exploration of the painter's symbiotic relationship with Harlem. The show, on view at the David Zwirner Gallery in New York City, is curated by the New Yorker critic Hilton Als, who describes Neel's subjects as "artists, writers, everyday people, thinkers, and upstarts of color"—all of whom she painted over the course of the nearly 50 years she lived and worked uptown, before her death in 1984. The potent yet personable paintings, mostly done in oil, are enduring proof of Neel's curious, compassionate eye, on and off the canvas. "Whether I'm painting or not, I have this overweening interest in humanity," she once said. "Even if I'm not working, I'm still analyzing people."
Keep reading here, as Adesioye analyzes Neel's vivid and "beautifully pedestrian" paintings.
---
What Do You Know?
1. With approximately 1.5 million employees, ____________ is the largest private employer in the U.S.
Scroll down for the answer, or find it here.
2. Since 1989, DNA evidence has helped exonerate 349 wrongly convicted people—though only after they served a combined total of ____________ years in prison.
Scroll down for the answer, or find it here.
3. By 2050, ____________ percent of the world's coral reefs will be at risk of destruction by climate change.
Scroll down for the answer, or find it here.
---
Urban Developments
Our partner site CityLab explores the cities of the future and investigates the biggest ideas and issues facing city dwellers around the world. Adam Sneed shares three of today's top stories:
"Winner-take-all urbanism" has deepened inequality, segregation, and poverty in America's cities—and it's created a new urban crisis. Richard Florida explains how it happened, and what cities can do about it.

Congress hasn't made any changes to the Department of Housing and Urban Development's budget, but the looming threat of huge cuts is already taking its toll on public housing.

Elon Musk's vision for the Hyperloop is advancing faster than many predicted, and now an important question arises: Should the transportation network be built for cities, or suburbia?
For more updates from the urban world, subscribe to CityLab's daily newsletter.
---
Reader Response
Bob Cole pivots off our recently concluded series:
I greatly appreciated your aerial photos of the 50 states that ran over the last few months as "America by Air." Perhaps you'll consider expanding your photo essays to the fuller globe?  If so, attached is a photo I took around this time last year of Tabarka, Tunisia, on my way from Morocco to Istanbul.
Why not expand our aerial-photo horizons? If you'd like to contribute, send us your photos of the world by air: hello@theatlantic.com.
---
Adjectives
Crisp language, surreal sectionals, powerful pessimism, pee data.
---
The Atlantic Daily is written by Rosa Inocencio Smith. To contact us, email hello@theatlantic.com.
We want to hear what you think about this article. Submit a letter to the editor or write to letters@theatlantic.com.