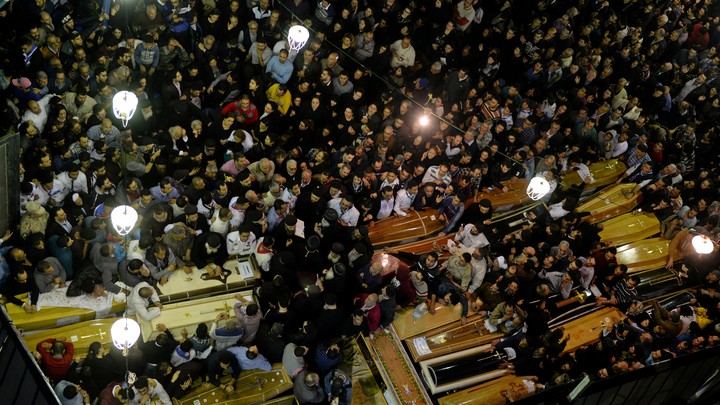 What We're Following
The Syria Situation: U.S. Secretary of State Rex Tillerson, along with the Group of Seven (G-7) industrialized nations, plans to pressure Moscow to end its support for Assad in Syria. Last week, President Trump's strike on an air base used by both Russia and Syria put an end, for now, to expectations that Trump and Putin would work together against terrorism, adding to a long history of dysfunction between the two nations. For instance, Russia played a role in the failure of Obama's 2013 deal to stop Syria's use of chemical weapons. Meanwhile, Trump's been getting good press for his military action, raising the question: What happens when a president shaped by reality television starts a televised war?
Coptic Christians Targeted: Egypt, the most populous country in the Middle East, entered a three-month state of emergency today after bombs in two Coptic churches killed more than 40 people on Palm Sunday. ISIS claimed responsibility for the attacks, which are part of an escalating strategy: The terrorist group is waging war on Christians in Egypt, and its attacks could seriously destabilize the region.
It's Official: Neil Gorsuch was sworn in as a Supreme Court justice today. The Court is already in the middle of its annual term, and Gorsuch, whose induction restores a slight conservative majority, will be going right to work to hear the last 13 cases of the term. Here's what's on the list.
---
Snapshot
---
Who We're Talking To
Barack Obama, former president of the U.S., shares how he avoided taking public criticism personally.
Julian Zelizer and Morton Keller, two historians, debate whether Trump has a chance to make deals across party lines.
Michael Ignatieff, the rector of Hungary's Central European University, discusses Prime Minister Victor Orbán's ongoing attempt to shut the university down.
Nathan Copeland, a paralyzed participant in a mind-controlled robotic limb study, describes what it's like to regain a sense of touch—knowing he'll only lose it again.
---
Evening Read
Rebecca Newberger Goldstein on the trial and execution of Socrates:
It's all too easy to imagine, at this moment in American history, the degree of revulsion and despair Plato must have felt at the verdict rendered by his fellow Athenians on his beloved mentor. How could Plato, grieving over the loss of the "best man of his time," continue to live among the people who had betrayed reason, justice, open-mindedness, goodwill—indeed, every value he upheld? From his perspective, that was the enormity Athenians had committed when they let themselves be swayed by the outrageous lies of Socrates's enemies. Did truth count for nothing?

A despondent Plato left the city-state of Athens, whose tradition of proud patriotism and morally confident leadership at home and abroad had been recently and severely shaken. Whether he was witnessing the end of Athenian exceptionalism or a prelude to the long, hard work of rebuilding it on firmer foundations, he could not have begun to predict.
Keep reading—and listen to an audio recording—here, as Goldstein follows Plato's path toward making Athens great again.
---
What Do You Know?
1. The College Board—the organization that administers the SAT and AP tests—sells students' scores and contact information to colleges at a rate of $____________ per name.
Scroll down for the answer, or find it here.
2. Sixty-three percent of American police cars are manufactured by the company ____________.
Scroll down for the answer, or find it here.
3. Between 2010 and 2016, Amazon's yearly sales in North America increased from $16 billion to $____________.
Scroll down for the answer, or find it here.
Answers: 0.42, Ford, 80 billion
---
Look Back
On this day in 1912, the Titanic set off from Southampton, England, on her first and only voyage. Two years before, in the May 1910 issue of The Atlantic, the steamship officer Charles Terry Delaney had warned about conditions that could lead to a wreck:
A narrow escape happened to me about six years ago when in charge of a ship carrying a full passenger-list. The night being hazy and the ship in the icetrack, I kept hanging on, until finally … almost alongside the ship was an iceberg towering up about three hundred feet. The ship passed within twenty feet of it, going at the rate of twenty-one knots; had there been a submerged trailer attached to the berg the ship's bottom would have been ripped open. Cold as I was at the time, I went colder still and vowed that I would never again take such risks. … But sailors are forgetful creatures …
---
Reader Response
For our series of poetry recommendations, Leo Rubinkowski shares Henrik Nordbrandt's "At the Gate":
I'm constantly amazed at the economy with which Nordbrandt expresses deep loss. The seven stanzas are each so vivid, but the third stands out. Nordbrandt questions the ability of language to encapsulate grief, but also explicitly relies on his language to express fully the scope of grief:

What can I say about the world
in which your ashes sit in an urn
other than that?

… And then the sixth and seventh stanzas: a crescendo of emotion, followed by a quiet, absolute statement, both inadequate to the task and perfectly expressive of the condition of the world.

Every time I read it, it kills me.
More recommendations from readers and staffers here.
---
Verbs
"Re-accommodation" recorded, scandal unpacked, charm weaponized, whales watched.
---
The Atlantic Daily is written by Rosa Inocencio Smith. To contact us, email hello@theatlantic.com.
We want to hear what you think about this article. Submit a letter to the editor or write to letters@theatlantic.com.