The Atlantic Daily: Mammoths and Medicine
Paul Ryan's health pitch, the CIA leak, lab-grown woolly mammoths, and more.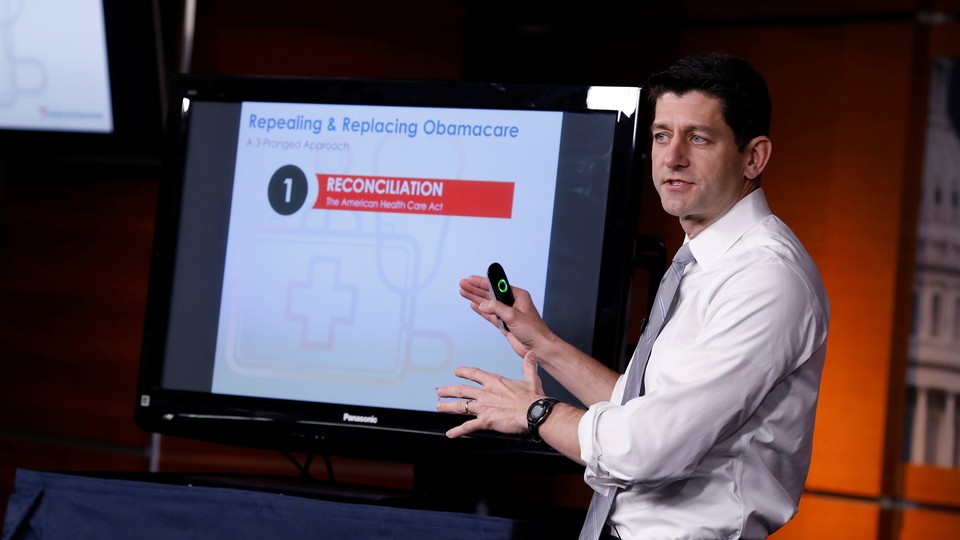 What We're Following
Bill-Pushers: Paul Ryan took to PowerPoint today to defend the American Health Care Act, declaring that his bill is "the closest we will ever get to repealing and replacing Obamacare." President Trump is also working hard to push the bill, but he's taking a gamble: AHCA faces opposition on all sides, from conservatives who think it doesn't go far enough and from a growing number of medical professionals who worry it will leave many more people without adequate coverage. And that could have broader implications: A new study draws a connection between improved medical access and reduced domestic violence.
Security Risks: Trump's closest allies are keeping quiet about his Twitter allegations that Obama ordered his "'wires tapped'" during the presidential campaign. Mike Pence declined to say whether he thinks Trump is right, and Sean Spicer says he won't discuss it at all. So just how serious are those unsubstantiated claims? Two historians put them in context and debate their significance. Meanwhile, fallout continues over this week's release of CIA documents by WikiLeaks: Though Julian Assange says he's uncovered the agency's tools for breaking into smartphones and servers, more worrying than the fact those methods exist may be that hackers could access them at all.
A Mammoth Undertaking: During a TV appearance today, Scott Pruitt, head of the Environmental Protection Agency, rejected the scientific consensus that human-generated carbon dioxide causes global warming. His statements were incorrect, but they'll nevertheless spur political debate over climate change that could slow the campaign to stop it. But over in Siberia, two scientists are making a radical new effort in that arena: To slow the thawing of Arctic permafrost, they're resurrecting an Ice Age ecosystem—complete with lab-grown woolly mammoths. Watch a video about Pleistocene Park here.
---
Snapshot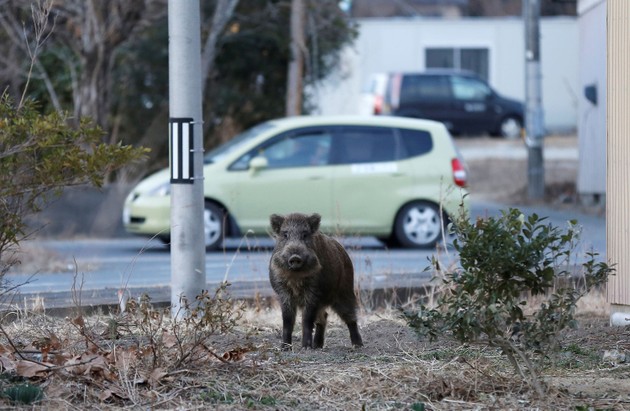 ---
Evening Read
Boyd van Hoeij on This Is Our Land, the most controversial film in France right now:
The political drama hit French screens in late February, just two months before the country chooses a new president. The debate stems from a supporting character named Agnes Dorgelle (Catherine Jacob), a blonde leader of a far-right party associated with nationalism and anti-immigrant sentiment, much like the real-life politician and presidential hopeful Marine Le Pen.

Members of Le Pen's party, the National Front, were quick to denounce the film sight unseen. … The reviews in the French critical community were … solid but not stellar, much like the first international reactions. … Many of these reviews, however, haven't really tackled some of the most pressing questions the film has raised. Is This Is Our Land actually anti-National Front? Could it potentially influence the elections?  And how does it fare as a snapshot of where French politics are today?
Keep reading here for van Hoeij's analysis of the film. Back in the U.S., immigration policy is a touchstone of the populist movement, and David Frum and Conor Friedersdorf debate how to handle it.
---
What Do You Know?
1. In dental parlance, the top front six teeth are known as "the ____________ six."
Scroll down for the answer, or find it here.
2. The first anatomically correct images of the clitoris weren't published until ____________.
Scroll down for the answer, or find it here.
3. While the University of Alabama (the Crimson Tide) lists 15 sports on its athletics website, Harvard University (the Crimson) lists ____________.
Scroll down for the answer, or find it here.
---
Urban Developments
Our partner site CityLab explores the cities of the future and investigates the biggest ideas and issues facing city dwellers around the world. Adam Sneed shares three of today's top stories:
It's a tough time for Uber: PR crises, shaky financials, and activist campaigns to get users to delete the app. Still, the company isn't doomed—but cities can expect to benefit from its empowered competitors.

With the Rust Belt's decades-long slump, some urban policy professionals are focusing on helping cities manage the ways they're dying off. But there's one big problem: If you plan for decline, that's exactly what you'll get.

Next time you hear a politician say they want to drain the swamp, set the record straight: Washington, D.C., quite simply was not built on a swamp.
For more updates from the urban world, subscribe to CityLab's daily newsletter.
---
America by Air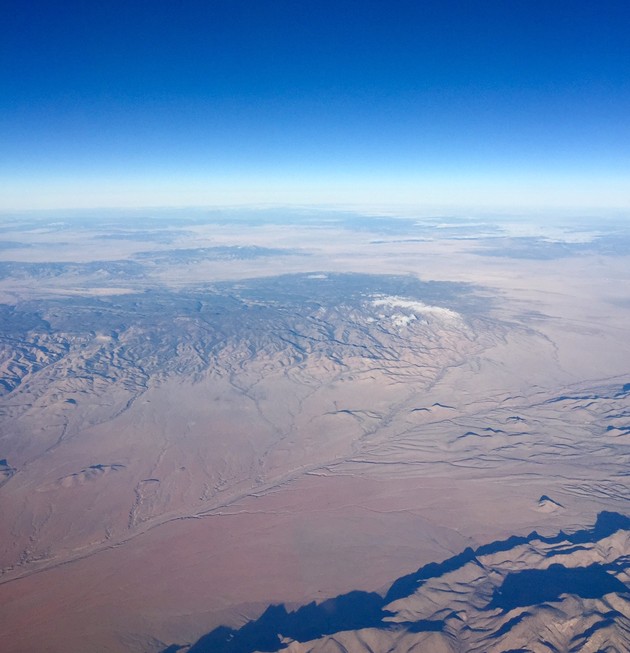 Spencer Clements captured this view over Magdalena, New Mexico, while "my wife Bonnie and I were flying from Winnipeg to Puerto Vallarta for a five-week stay in Bucerías":
I never get tired of peering out the window to look at the fascinating topology of the surface of our planet. (And, after all, how many humans in the history of our species have had the opportunity to enjoy the unique perspective of gazing down from miles above?) We passed over ND, SD, CO, and NM on our way, watching the snowy plains transition to mountains and then desert on our trip over the USA.
See many more photos across the country here, and send us your own via hello@theatlantic.com (guidelines here). Following this one from New Mexico, only four states remain of the 50: Connecticut, Georgia, Mississippi, and North Dakota.
---
Reader Response
Over in the TAD group today, Sophie Gilbert—our former Culture editor and now full-time writer—had a robust discussion with readers about pop culture. Sophie asked, "What kind of stories are you most interested in? Which ones recently have had the most impact on you?" A reader replied:
I'm most interested in the rise of the Golden Age of television and how it corresponds as a forum that is telling richer, character-driven stories that aren't simple coming-of-age dude stories. I'm also super interested in the way wardrobe and makeup is used to add to narrative these days, particularly after Mad Men (e.g. Tom and Lorenzo's epic Mad Style blogging). Also, the staying power of crime procedurals and how they have or haven't changed with the changing reality of the world—and with that, I think of Law and Order SVU's essential documentation of how we talk about sexual assault and how it's changed (also the only time they portray fat women or men is if they are villains, not as victims). Finally, why don't we have a 24 or other terrorism-driven show about white nationalist or homegrown terrorists?
Sophie responded in part:
Totally agree. Did you see the study I wrote up a while back showing that watching SVU makes people better educated about sexual assault? (Watching CSI does the opposite.) TV matters. It shapes how people think about the world. That's why representation is so important.
Do you have any suggestions for stories our Culture team could cover? Please let us know: hello@theatlantic.com. (One recent reader recommendation turned into a piece by David Sims that asked, "Will There Ever Be a Great Video-Game Movie?")
---
Verbs
Lost novel recovered, space pasta photographed, beauty dangers confronted, negativity embraced.
---
As many of you helpfully pointed out via email, the newsletter dated March 8, 2017, contained a typo of historic proportions: It was the Romanovs, not the Romans, whose empire fell 100 years ago. Our apologies for the error.
---