The Atlantic Daily: Protest and Prehistory
Women's strike, school funding, paleo plaque, and more.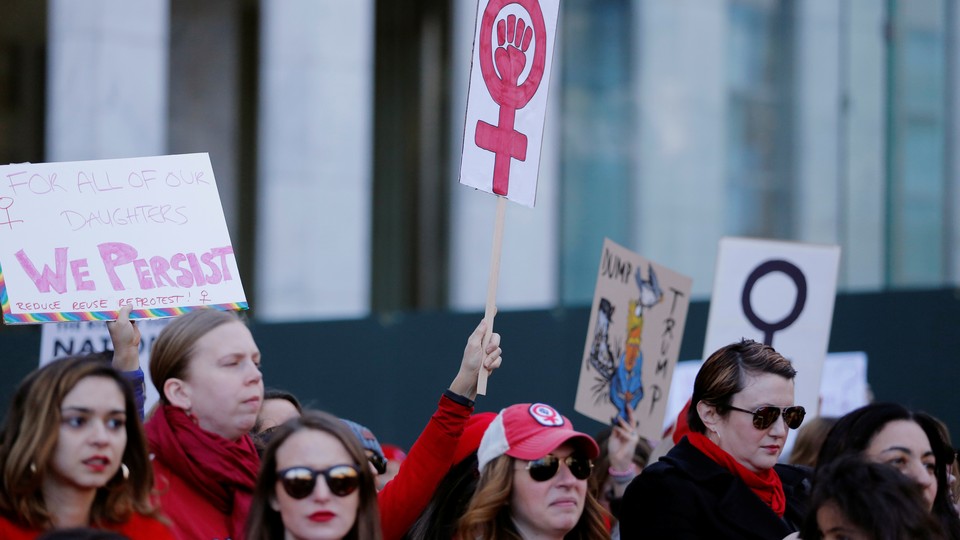 What We're Following
'A Day Without a Woman': That's what women across America aimed to create by staying home from work today. The strike, organized by the Women's March on Washington, was intended to demonstrate how much women contribute to the U.S. economy. After weeks of frequent demonstrations, the scene on the ground might seem familiar—yet as one historian notes, a general strike like this one represents a new model of protest. And that may be an example of how Trump's presidency—stirring civic engagement from his opponents as well as his supporters—could be revitalizing American democracy.
Educational Equity: Public schools in Kansas just won a major victory: The state's Supreme Court has ordered its government to significantly increase their funding, citing serious shortfalls in test scores among black, Hispanic, and low-income students. The failure to adequately fund public schools has been a nationwide concern in the wake of Betsy DeVos's confirmation as education secretary: The charter-school advocate has never attended or worked in a public school, and activists worry she's out of touch and unprepared for the role. But a visit to her hometown of Grand Rapids, Michigan—where she's known as a pragmatic philanthropist—paints a very different picture of her capabilities.
Prehistoric Finds: Did the original Paleo diet favor vegetables or meat? Thanks to their analysis of Neanderthals' fossilized dental plaque, a team of scientists has found that humans' closest relatives ate whatever was most readily available—more proof of their adaptability. Speaking of adaptations, another scientist has looked even further back in evolutionary history to find that for early animals, the first step in moving from water to land wasn't legs, but bigger eyes.
---
Snapshot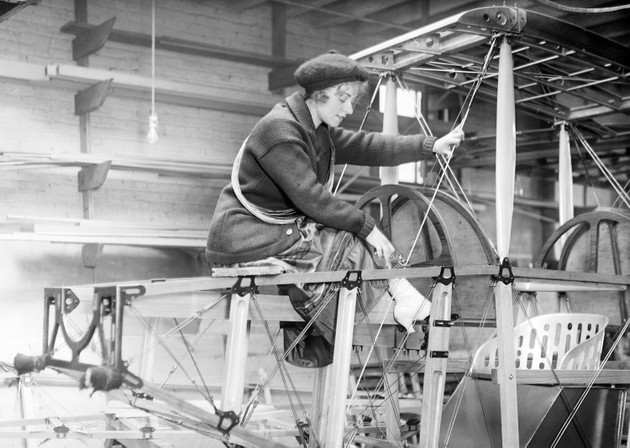 ---
Evening Read
Sophie Gilbert on a new dystopian novel:
Saeed and Nadia, the two central characters in Mohsin Hamid's fourth novel, Exit West, meet at the beginning of the book, at a night class on "corporate identity and product branding." He invites her for coffee in the cafeteria. They trade instant messages at work, and go for dinner at a Chinese restaurant. That the banality of their courtship plays out as their country is lurching toward civil war is deliberate: Exit West is a story about how familiar and persistent human existence is, even at the edge of dystopia. But it's also a warning against the assumption that the end of the world will leave rich, western countries unscathed.

In that, Hamid's novel is both timely—a tale about refugees playing out against a global migrant crisis—and impossibly prescient. When it comes to the future, he posits, we will all be migrants, whether we hop from country to country or stay in one place until the day we die. Either way, the world can become unrecognizable in the blink of an eye.
Keep reading here, as Sophie examines how Exit West charts a society's breakdown. And lest you be tempted: Here's why humanity shouldn't try to escape Earth's problems in space.
---
What Do You Know?
1. ____________ percent of "citizen petitions" against generic drugs are filed by brand-name pharmaceutical companies.
Scroll down for the answer, or find it here.
2. After being interrupted by a task like sending an email, workers take an average of ____________ minutes to get back to what they were doing.
Scroll down for the answer, or find it here.
3. Ellen Johnson Sirleaf, Africa's first female president, was elected in 2005 in the nation of ____________.
Scroll down for the answer, or find it here.
---
Look Back
Today marks 100 years since the start of the revolution that would eventually bring about the fall of the Russian Empire. In our January 1928 issue, Edmund Walsh looked back at its impact:
Russia was the last island fortress of absolutism in the rising tide of democracy, the outstanding anachronism of the twentieth century. Ringed round by the bayonets of the Preobrazhenski and Volinski regiments, its ukases executed by the knouts of Cossacks and the flashing sabres of the Hussars, it defied the elements for three hundred years—until the deluge came. Whose hand unloosed the flood gates? In my opinion, a woman, all unconsciously, had more to do with the final debacle than any other single cause.
A fitting read for International Women's Day—though maybe not for the reasons you'd think. While you're at it, check out this list of notable work from women writers in the Atlantic archives.
---
America by Air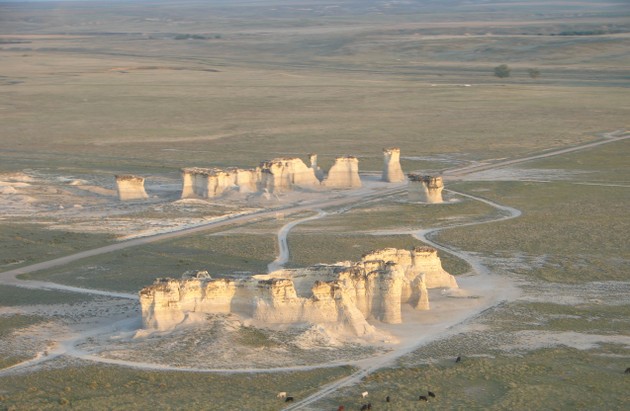 Dan Parkinson captured an odd and wonderful rock formation jutting out of the flat landscape of western Kansas:
I have attached a photo of the Monument Rocks, aka the Kansas Chalk Pyramids, which I took way back in 2006. They date to 82 million years ago during the Cretaceous, when western North America was separated from eastern North America by a vast shallow sea, before the Rocky Mountains formed. The Chalk Pyramids have been voted one of the eight wonders of Kansas, and they're located 20 miles due south of Oakley and I-70, in Gove County. In the distance to the south is the Smoky Hill River valley, looking smoky.
See many more aerial photos from readers around the U.S., and send us your own via hello@theatlantic.com (guidelines here).
---
Reader Response
The latest personal story for our long-running abortion series comes from a reader who grew up in a working-class family with immigrant parents:
They worked double shifts to send me to an expensive, college-preparatory high school. They had big dreams for their little girl.

The summer before I left for college, I began to feel pregnancy-related symptoms like nausea and sore breasts. My boyfriend convinced me to take a pregnancy test. I was shocked when it was positive. I immediately told him to look up a clinic to schedule an abortion. I knew there was no way I was going to forgo college for a baby. I had worked too hard. All I kept thinking about was how many graveyard shifts my dad had to work to send me to a private school. I felt sick to my stomach.

The morning of the abortion, my boyfriend and our best friends drove me. While my best friend was with me every step of the way, from the incessant tears and holding my hair back as I puked, my boyfriend was nowhere to be found. He and his friend had gone to eat while I sobbed on the curb in my pajamas.

I had the abortion and have no regrets. I did it for myself, yes—but I also did it for my parents and their dreams. They came to America to give me a better life, and I wasn't going to crush that dream.
She went on to "finish college, get an advanced degree, and now I have a wonderful husband and two beautiful young children." Now, as lawmakers debate whether to replace the Affordable Care Act, a political fight over Planned Parenthood could make or break the new bill.
---
Nouns
Donald Trump's disloyalty, the First Lady's first home, liberty's technical difficulties, ghosts in the machine.
---