The Atlantic Daily: The More Things Change
The GOP health-care plan, liberal depression, endangered panthers, and more.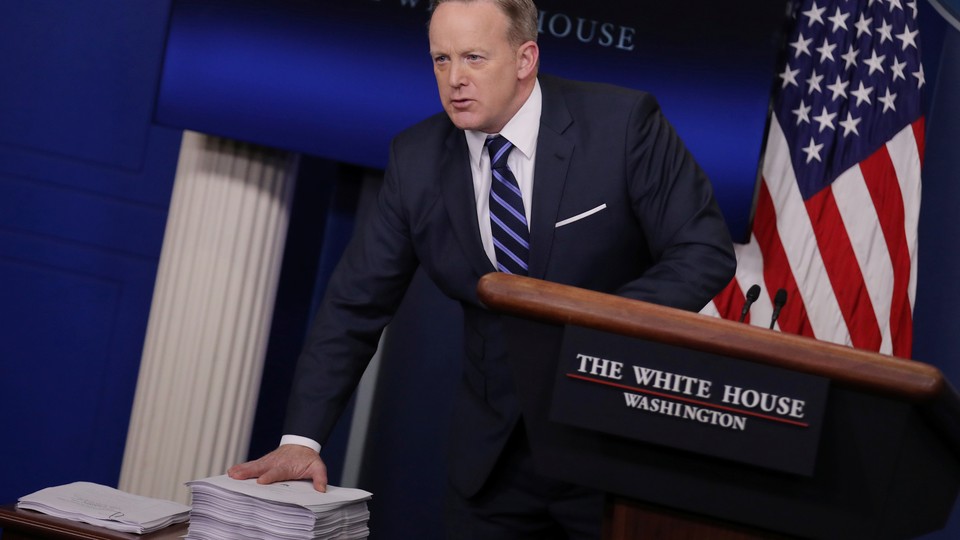 What We're Following
The Best-Laid Plans: The GOP's draft legislation to replace Obamacare came out last night to mixed reviews: It's much too similar to its predecessor, according to many conservatives. Indeed, some key provisions of the ACA carry over, such as protection for people with preexisting conditions—but the bill also reshapes Medicaid and repeals the taxes that pay for the current law's health programs (a change that will mostly benefit the rich). While the bill gets rid of the unpopular "individual mandate," it still includes a penalty for going without insurance—in a form that might make the law unsustainable. It also restructures Obamacare's income-based subsidies as tax credits weighted by age and income—and for some middle-class Americans, that might be a boon.
The Travel Ban: Though Trump's new revisions address some of the legal challenges to his first executive order, the basic character of the ban remains: It targets only Muslim-majority countries, and its national-security rationales are still skimpy enough that it resembles the "Muslim ban" of the Trump campaign. The revised order also includes a requirement to track "so-called 'honor killings'" and "acts of gender-based violence … by foreign nationals"—a provision that's apparently aimed at Muslim communities, and might hurt victims of domestic violence more than it helps.
Liberal Lessons: All this news from the White House may be exhausting for liberals, whose widespread sense of despair may stem from the cognitive dissonance of living in a nation whose values suddenly seem at odds with their own. One cure might be activism, but another might be optimism—and still more perspective might be found in a newly published notebook of Joan Didion's, which shows the iconic writer confronting a story of America that she can't figure out how to tell.
---
Snapshot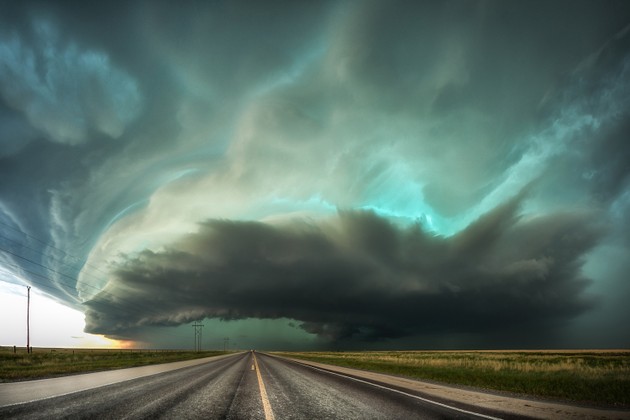 ---
Evening Read
Joshua Sokol on rescuing a panther kitten:
On a clear evening this past June, in rural Collier County, Florida, an endangered panther crossed a street and was hit by a man driving home. The driver, making out a tawny, crumpled form, called a hotline. The job of retrieving the animal fell to Mark Lotz, a panther biologist with the state Fish and Wildlife Commission. Lotz called me to see if I wanted to come. …

Recently, adult panthers have been dying in droves: most after being hit by a car on unfenced roads, occasionally after being mauled by another panther in a territorial skirmish. In 2013, 20 of the endangered cats were killed; then 33 the next year; then 43 in 2015 and 2016. … The story … is a classic Anthropocene motif. Thanks to people, a charismatic species starts vanishing from its range, lingering only in certain areas before fading there, too. Extinction looms, until conservationists make a concerted effort to save it. And then—well, it's not clear what happens next.
Keep reading here, as Sokol follows the biologists treating the injured panther and examines whether humans and big cats can coexist.
---
What Do You Know?
1. Approximately ____________ advertisers use Facebook.
Scroll down for the answer, or find it here.
2. Alec Baldwin's impressions of Trump on Saturday Night Live have corresponded to a ____________ percent increase in the show's ratings since last year.
Scroll down for the answer, or find it here.
3. Between 1988 and 2009, the share of the world's scientific and engineering papers with coauthors of different nationalities went from 8 percent to ____________ percent.
Scroll down for the answer, or find it here.
---
America by Air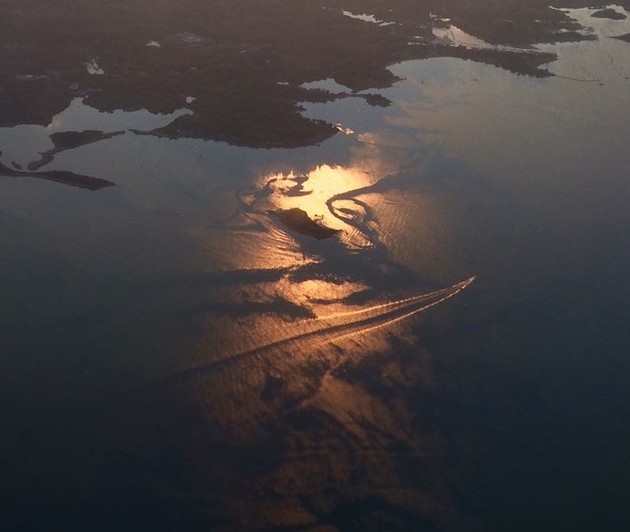 Lynne Ballerstedt crosses Rhode Island off our list of 50 states:
Hello, Atlantic! Love the cut of your journalistic jib.

Here's a picture I took in August of 2015 of the Narragansett Bay near sunset. You said you'd had nothing from Rhode Island yet, and I knew it to be my duty to surrender what I had. I hope it's of adequate quality.
See many more aerial photos from readers here, and send us your own—especially if it's above CT, GA, MS, NM, or ND—via hello@theatlantic.com (guidelines here).
---
Listen In
This Friday, for Atlantic subscribers, we're hosting a conference call between David Frum, who wrote our March cover story "How to Build an Autocracy," and Yoni Appelbaum, senior politics editor. The two will go behind the story, analyze recent developments with the Trump presidency, and respond to reader questions. Subscribe today to receive your invitation.
---
Reader Response
Over at the TAD discussion group, readers are having a robust discussion of Olga's piece on liberals' Trump depression. One writes:
Gay people are afraid their marriages are going to be nullified. Immigrants, both legal and undocumented, are scared to lose homes they've grown up in. Women are afraid of losing access to both birth control and abortions. Black people are afraid that their lives will shrink even further in value in the eyes of the justice system.

I just don't think there are comparable fears to conservatives under a Democratic presidency or Congress, other than maybe worrying about their guns, which I understand. And that's why it gets under my skin when people perceive liberals as overreacting. Trump hasn't just challenged the tax code or cut funding for this or that; he has verbally taken aim at everyone in this country who is not affluent, straight, cis, white, and penis-owning.
Another reader counters:
I totally understand the fear, but I think [that last sentence] is wrong; Trump has taken aim at everyone, period. He attacked Lying Ted, Little Marco, Boring Jeb, RedState, Fox News, Brent Bozell, Paul Ryan, many other Republican congressman and senators, both George Bushes, Alec Baldwin, Russell Moore, George Will, Arnold Schwarzenegger. [He points to the NYT's "319 People, Places and Things Donald Trump Has Insulted on Twitter: A Complete List."] Trump can insult someone one day, work with them the next, then insult them the next.

The left accuses people of racism, sexism, or other -ism based on what they did or said 40 years ago. I think Trump figures he's going to face the same exact accusations no matter what he does, so he has gone on the offensive.
The first reader responds here.
---
Verbs
Satellite photos searched, college protests transformed, Game of Thrones experienced, science supported.
---