The Atlantic Daily: Brexit Day
Britain's formal separation from the European Union, Trump's presidential privileges, new Manafort allegations, and more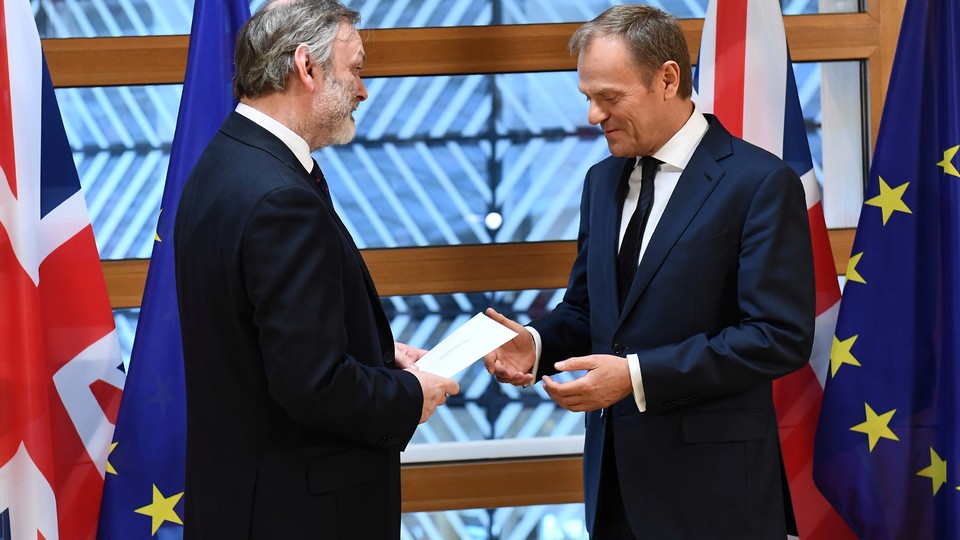 What We're Following
Triggering Brexit: British Prime Minister Theresa May sent European Council President Donald Tusk a hand-delivered letter notifying the European Union of the U.K.'s intention to leave the 60-year-old bloc. The move comes nine months after Britons stunned the European political establishment by voting 52 percent in favor of leaving the EU, and though it's expected to be a two-year process, some warn the unprecedented negotiations could take much longer.
Presidential Privilege: President Trump's lawyers are arguing that the president should be shielded from state-level civil lawsuits for the duration of his time in office. The immunity claim concerns a defamation lawsuit brought by former Apprentice contestant Summer Zervos, but, if accepted by the courts, could be applied to other lawsuits facing the president. President Trump has made similar appeals for presidential exemption with regard to his numerous business interests, including his financial stake in the Trump Hotel—a Washington, D.C., property that could soon be joined by another.
Manafort's Money: News reports suggest former Trump campaign chairman Paul Manafort may have engaged in money laundering. The allegations, which concern questionable property purchases and bank account transactions, come one week after the Associated Press reported that Manafort allegedly worked with Oleg Deripaska, a Kremlin-aligned Russian billionaire, in the mid-2000s to further Russian President Vladimir Putin's interests. They also come against the backdrop of the House Intelligence Committee's investigation into whether the Trump campaign colluded with Russia during the presidential election. As David Graham notes, testimony from Deripaska and Manafort could help determine if the allegations "point to truly nefarious behavior or … the stuff of conspiracy theory."
---
Snapshot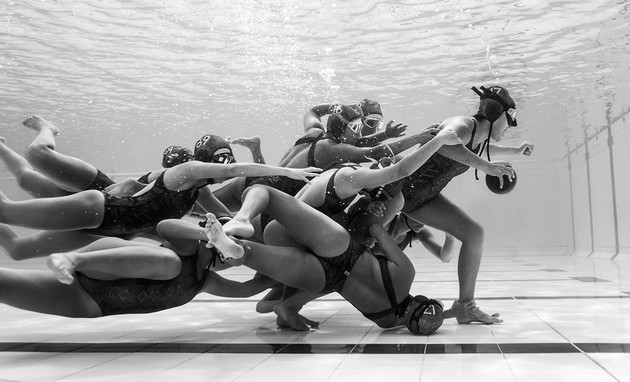 ---
Evening Read
Tony Rousmaniere, a therapist, considers what he doesn't know:
Sure, we can ask our clients for feedback about what's helping and what isn't; most therapists do. However, asking only helps if clients are forthcoming with their answers. … Which leads to the other 20th-century development that spurred many professions forward, while largely bypassing psychotherapy: the use of metrics to forecast likely outcomes. The most famous application of metrics is the "moneyball" concept … : In the 1970s, a baseball fan named Bill James collected reams of performance data that had previously been ignored (or at least underappreciated) by professional teams, such as slugging percentage and on-base percentage. From this, he developed statistical tools for predicting the performance of baseball players. Ultimately, those tools transformed how baseball teams are managed. Could a similar approach—looking for statistical patterns among a vast array of psychotherapy outcomes—help therapists better predict our patients' trajectories?
Keep reading here, as Rousmaniere explores how Big Data could help mental-health professionals help more patients.
---
What Do You Know?
1. Despite increased hours and climbing education levels, the wage gaps between black and white Americans are larger now than they were in ____________.
Scroll down for the answer, or find it here.
2. Approximately ____________ percent of Republicans believe President Trump's unsubstantiated claim that Obama ordered a wiretap of Trump Tower.
Scroll down for the answer, or find it here.
3. France's Socialist presidential candidate Benoît Hamon wants to impose a ____________ tax.
Scroll down for the answer, or find it here.
---
Look Back
On this day in 1973, the U.S. withdrew its troops from Vietnam. In our April 1985 issue, Vietnam veteran William Broyles looked back bitterly on the way the war ended:
In 1969, we could have negotiated a departure not unlike that of the French. We had many cards to play, many ways to protect those who had depended on us. But we chose to fight for four more years, which meant that Richard Nixon's share of the war lasted longer than America's share of the Second World War. And we left in ignominy anyway, the Marine helicopters churning on the roof of the embassy, the people who had depended on us left to the mercy of the victors.
Read Broyles's full account of his return to Vietnam here.
---
Reader Response
The TAD group is discussing Alana Semuels's piece on what happens when philanthropic gifts supplant some of the functions of government. One reader writes:
That is a good thing. Those who live in the community are much more qualified to determine a community's need than some DC bureaucrats.
Another reader suggests philanthropists may not donate where the money's needed most:
Elon Musk is kind of my go-to example (although I guess he's not really philanthropy and more just business): spending money on pet projects and making promises that probably can't be kept, but are undeniably "cool." But there's a lot of really un-sexy, boring research out there that is important and needs to be funded, and government bodies like the NIH or NSF are better equipped to judge how to allocate funds without just focusing on the cool projects.
Read the full discussion here. For more on the tricky intersections of philanthropy and government, here's a tale of two Betsy DeVoses: the pragmatic and generous local donor, and the underprepared education secretary.
---
Verbs
K-12 education tailored, microbes misunderstood, skinny jeans feared, internet trolls assessed.
---