The Atlantic Daily: Climate Changes
Trump's climate order, the GOP agenda, the private sector in government, and more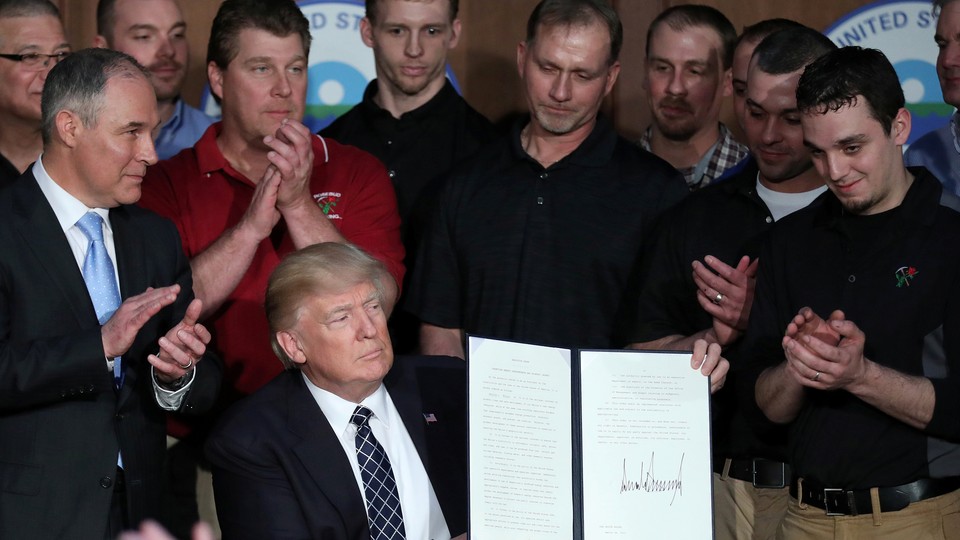 What We're Following
Power Plans: President Trump signed a highly anticipated executive order on climate today. The two biggest effects: The EPA will rewrite (and roll back) Obama-era regulations like the Clean Power Plan, and government agencies will no longer need to account for climate change while reporting on a project's environmental impact. Here's a guide to the details. Environmental advocates say the order favors fossil-fuel interests over the environment. Meanwhile, warming weather has given Iceland a booming travel industry—but the influx of tourists may not be all to the country's benefit.
After AHCA: The GOP is looking for an easy win after their failure to overhaul health care. Next up: tax reform. Simple, huh? On top of several negotiating challenges included in the Republicans' agenda, tax policy has many of the same attributes that made the health-care system so complicated. The problems aren't over for Obamacare, either: Some of the Americans enrolled have seen premiums rise fast, and their troubles could get worse—unless the Trump administration acts to fix it.
The Business of Politics: Trump's adviser and son-in-law Jared Kushner is set to lead a new initiative to reform how government works, with the help of former business executives. But the federal government operates much differently from a business, and without a deep understanding of the public sector, Kushner's team could run into trouble. Meanwhile, America's rising individual wealth and shrinking government means philanthropists' gifts are supplanting some government functions—but their influence may be at odds with the democratic process.
---
Snapshot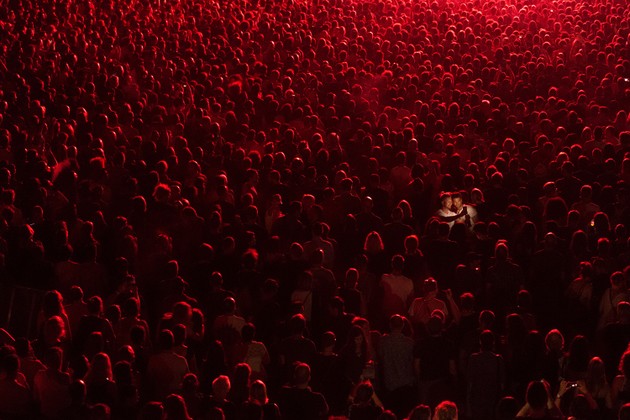 ---
Evening Read
Dustin Illingsworth reviews a new collection of lectures by the author Julio Cortázar:
The unifying through line is Cortázar's abiding insistence on the elasticity of literary art, the better to capture what he saw as a fleeting, contentious, and ever-fluid reality. At one point, Cortázar tells his students, "I had lived with a complete feeling of familiarity with the fantastic because it seemed as acceptable to me, as possible and as real, as the fact of eating soup at eight o'clock in the evening." The fantastic, then, was a means of leavening the flatness of the widely accepted, or the merely prosaic. The sentiment becomes something of a refrain. For Cortázar, like his creation Horacio, the joyless—and, in cases, politically expedient—narrowing of lived possibility was forever conspiring with a larger falseness, one he called "the prefabricated, pre-established world."
Keep reading here, as Illingsworth explores how Cortázar questioned reality. And for an alternate reality that's far too real, here's how some TV dramas are tackling the topic of fake news.
---
What Do You Know?
1. About ____________ percent of Americans describe themselves as Christians.
Scroll down for the answer, or find it here.
2. Since 1982, the share of female dentists in the U.S. has increased from 3 percent to about ____________ percent.
Scroll down for the answer, or find it here.
3. To help keep kids from developing addictive behaviors later in life, some German kindergartens periodically go without ____________.
Scroll down for the answer, or find it here.
---
Urban Developments
Our partner site CityLab explores the cities of the future and investigates the biggest ideas and issues facing city dwellers around the world. Adam Sneed shares three of today's top stories:
In many cities, there just aren't enough places to live. In the long pursuit of affordable housing units, U.S. cities are now looking to Vancouver's embrace of "granny flats."

If you don't like how long it takes you to drive home from work, find some comfort in this: Driving faster doesn't actually make you happier.

If you've ever worried about thieves smashing your car windows in search of valuables inside, here's a suggestion: Just don't lock your doors.
For more updates from the urban world, subscribe to CityLab's daily newsletter.
---
Reader Response
Tom in Juneau, Alaska, responds to Marla's photo, featured in the March 22 newsletter, of the mountain formerly known as McKinley:
I don't want to make too big a deal about this, but here in AK, it's Denali, as in "I was flying to Fairbanks and saw Denali today!" Almost like we are seeing an old friend or revered being. For some reason, "Mount McKinley" doesn't feel the same to us. (I think I speak for most Alaskans!)
As another reader, M., points out, Denali isn't just a local nickname either: In August 2015, after 40 years of lobbying by the Alaskan state government, "Mount McKinley" was officially restored to the name Alaska's Athabaskan people had given it centuries earlier. I'm sorry for the error! I asked Tom if he had a photo of Denali to add to our America by Air series. He replied:
I, regrettably, don't have a good picture of Denali. So I'm including one from a local reporter, Emily Kwong. The Sitka herring fishery [in the foreground] is one of the first fisheries of the year and a sure sign of spring. If I'm really lucky, someone will bring in some herring roe on spruce boughs—a traditional Native delicacy.
Check out that photograph, plus Kwong's account of fishing for herring from an airplane, here. And if you've got your own aerial photo of Denali to share, please send it along: hello@theatlantic.com.
---
Nouns
Brexit countdown, cancer misconceptions, unlikely allies, superbugs in space.
---