The Atlantic Daily: Appeal and Delay
London suspect identified, AHCA postponed, advertising empathy, and more.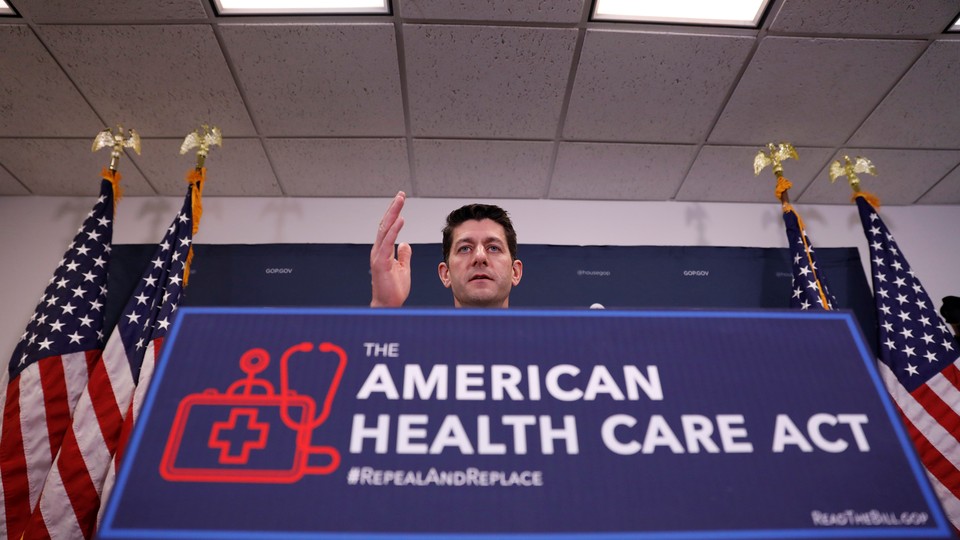 What We're Following
Terror's Aftermath: ISIS has claimed responsibility for yesterday's deadly attack outside the U.K. Parliament. The suspected terrorist, a 52-year-old British national, has also been identified. We're tracking the latest developments here. Prime Minister Theresa May urged citizens to go about their lives as usual—a philosophy of resilience that's carried the U.K. through war and terror in the past. Those past attacks also shaped London's emergency response system, which showed yesterday it was well prepared for the attack. Meanwhile in the U.S., the FBI made headway in another terror investigation, arresting an Israeli American teenager for calling in numerous bomb threats to Jewish Community Centers and schools.
Health-Care Hold-Up: House Republican leaders postponed tonight's scheduled vote on their new health-care bill after failing to gather enough support to pass it. For the past week, President Trump and Speaker Ryan have been scrambling to convince conservative holdouts by offering right-leaning tweaks to the law, including a work requirement for Medicaid coverage. That particular change might not work as planned, though, since poor health (and no access to treatment) can keep people from holding a job. On the other hand, a new poll suggests that people who do have jobs would rather get health benefits from their employers than from the government.
Trump and the Truth: This afternoon, Sean Spicer dismissed reports that the FBI has information suggesting that Trump's associates colluded with Russia to undermine Hillary Clinton's campaign. The House Intelligence Committee is investigating those allegations too, but their inquiry is already getting mired in politics, and the Benghazi probe offers a serious warning for how partisanship could undermine the results. But this is a tricky time for evidence: In a Time interview this week, Trump seemed to claim that his statements are true simply because he says them—which raises the question: How can anyone change his mind?
---
Snapshot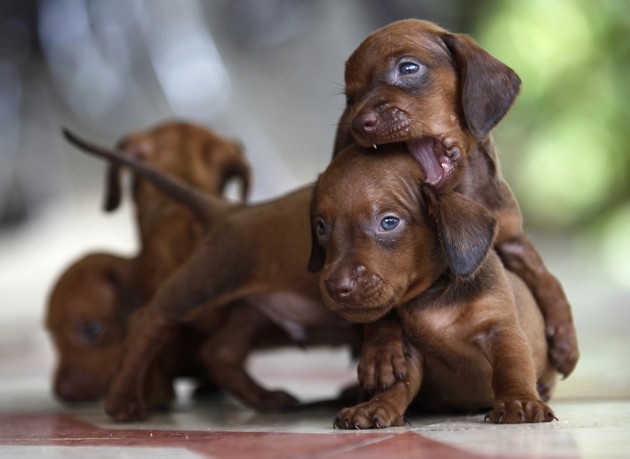 ---
Evening Read
Megan Garber on advertising empathy:
Heady promises, warm feelings, better things for better living—it's on the one hand the extremely typical stuff of ads, so longstanding an element of commercial messaging that we can safely assume that Neanderthals, once they realized they could rent out space in their caves, spread the news about Lairbnb via grunted renditions of "We Are the World." But when InterContinental summons the InterPersonal to sell its hotel rooms (or when Cadillac summons the same to sell cars; or when Expedia airs ads celebrating the aiding of refugees; or when Honey Maid, maker of graham crackers, airs spots promoting cross-cultural understanding; or when Panera, the fast-casual purveyor of Bacon Turkey Bravo® Sandwiches, adopts as its tagline, "Food as It Should Be"), what is being invoked is not merely blithe aspiration, cultural ideals fit to be transformed into corporate profits. The ads are, instead, profoundly political. And they are explicitly moral. They are making claims not just about what we should buy, but about who we should be.
Keep reading here, as Megan considers what it means when brands start acting as arbiters of morality. And for more on empathy in unlikely places, check out a new video game that seeks to show players a personal relationship with everything in the universe.
---
What Do You Know?
1. In 2013, a typical worker in New York City earned ____________ percent more than the national average.
Scroll down for the answer, or find it here.
2. A new report finds that ____________ percent of U.S. colleges are unaffordable for students whose families earn less than $69,000 a year.
Scroll down for the answer, or find it here.
3. Since 2000, America's per capita consumption of alcohol has risen by about ____________ percent.
Scroll down for the answer, or find it here.
---
Urban Developments
Our partner site CityLab explores the cities of the future and investigates the biggest ideas and issues facing city dwellers around the world. Adam Sneed shares three of today's top stories:
If your kids' school day starts too early in the morning, there's a clear culprit: suburban sprawl.

There's a long-established trend of Snowbelt residents moving to warmer, sunnier climates. New census data shows that pattern is only getting stronger, and that spells trouble for the Midwest.

What if concentrations of people were mapped on the Earth like mountains? The result is this weird geography of population density.
For more updates from the urban world, subscribe to CityLab's daily newsletter.
---
America by Air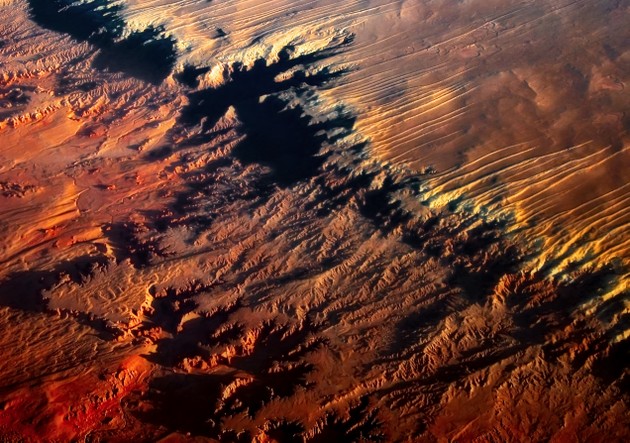 Jane Selverstone serves up a scene that looks like it could be from Mars:
I took this photo while on an early morning flight from Albuquerque to Portland, OR. I am pretty sure that we were somewhere in Arizona between Chinle and Kayenta, flying over Jurassic-age rocks. The low sun created strong shadows that emphasized the mesas and canyons. The extreme aridity of this part of the Colorado Plateau is obvious, and the brightly colored Mesozoic rocks are unobscured by vegetation. The northeast-trending, linear features are joints—fractures in the rocks. Whenever I fly over this part of the country, I see the landscape below as a beautiful combination of geology and abstract art.
---
Reader Response
In the TAD group, a reader reacts to James Somers's piece on how Like buttons fueled "the race to the bottom in media":
We decry the way Trump monopolized the news last year, but on the one hand it's hard to fault the media when it was clearly what the public wanted (on the other hand, it's literally their jobs to choose content based on what they feel is important for the public to know rather than rely just on metrics, so I do still fault them for their part as well). Metrics seem to drive so much these days, and while I think sites like The Atlantic still post interesting/thoughtful articles, so much seems to be driven by what will garner clicks.

Incidentally, this is also my biggest issue with Reddit, and with upvote systems in general—it rewards low-effort/copycat content, posting something people will "like" rather than perhaps being honest, and I think lowers the overall quality of content.

The point about podcasts was interesting; I hadn't thought about them and the way they "bundled" content. But I wonder if what we'll see instead is the rise of "must-listen" podcast episodes, rather than must-listen podcast series.
Read the full discussion here. Speaking of podcasts, Missing Richard Simmons has been on a lot of must-listen lists lately—but its conclusion raises some difficult ethical questions.
---
Verbs
Mosquito portraits shot, financial feelings flipped, divers' ears ring, Power Rangers go go.
---