The Atlantic Daily: Terror and Foreign Ties
An attack in London, Manafort's links to Russia, intel committee infighting, and more.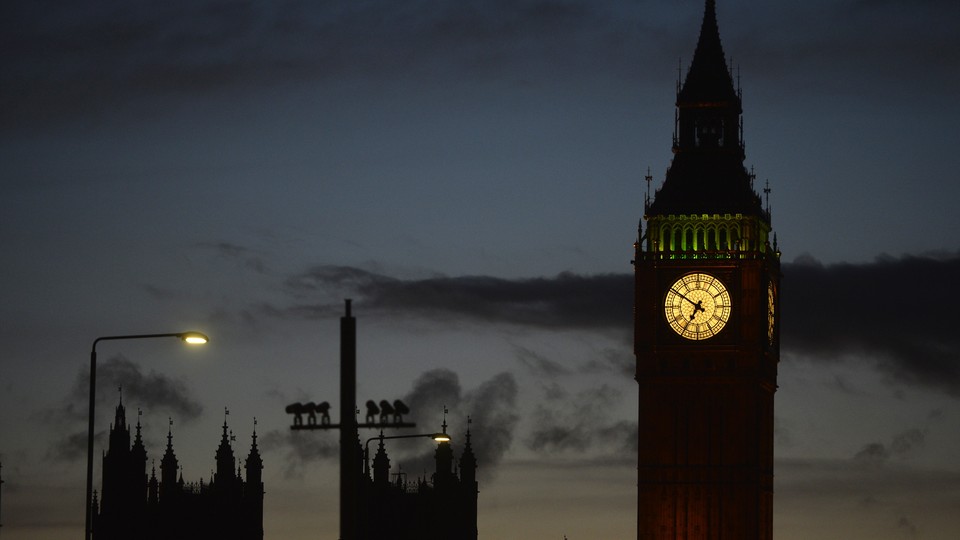 What We're Following
Fear in London: Four people were killed and 20 wounded today in what's being investigated as a terrorist attack near the British Parliament. Here's what we know so far. The alleged attacker, armed with a knife, struck several people with a car on Westminster Bridge and attempted to enter Parliament, killing a policeman before being shot dead by another officer. Unlike other recent terrorist attacks in Europe, which targeted crowds in relatively unprotected areas, this one took aim directly at the seat of government—with serious effects.
More Russian Revelations: This morning, the AP reported that Trump's former campaign chair, Paul Manafort, worked to advance Russia's political interests while employed by an oligarch close to Putin. Hours later, House Intelligence Committee Chair Devin Nunes—whose other recent statements have cast doubt on his credibility—caused another uproar: He announced new information that lent vague support to the president's claims he was surveilled—though it still gave no proof of government wrongdoing—and then briefed Trump himself without having shared the info with Democratic members of the committee. Adam Schiff, the committee's ranking Dem, said Nunes's seemingly partisan actions cast doubt on his ability to conduct an independent investigation into links between Russia and the Trump campaign—and capped off the day of bombshells by telling reporters that the evidence for such collusion was "more than circumstantial."
Tillerson's Travel Plans: The secretary of state is skipping a NATO summit next month, apparently prioritizing meetings with Russia and China instead—a sign of how the U.S. may be scaling back its relations with Europe. Such redefinition of America's role may be risky for global politics: Two scholars' new books point to increased instability in both Europe and Asia, and a lack of American leadership and peaceful influence could make the world's situation worse.
---
Snapshot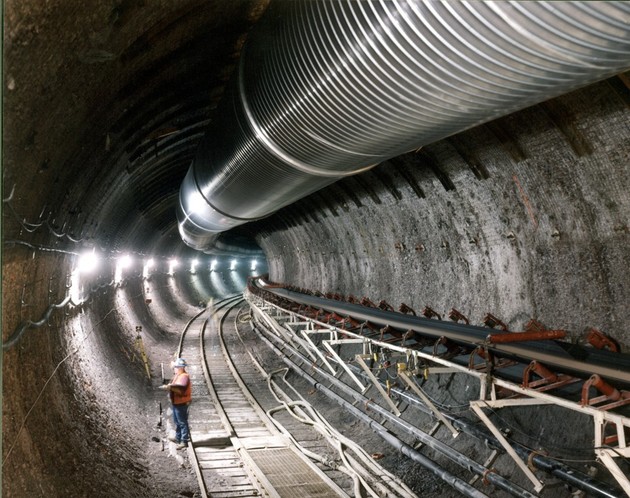 ---
Evening Read
Sarah Elizabeth Richards talks to undocumented families dealing with the fear of deportation:
Rosa-Maria, age 65, who has lived in Phoenix after leaving Mexico 18 years ago, hates driving with a license. (She also declined to give her last name.) Whenever she sees a police officer on the road, her heart races. "All I can think is 'Please pass me!'" she says. Even if she needs to make a turn, she keeps going straight because she doesn't want the officer to think she's evading him. But she's more terrified of the prospect of her 35-year-old son, who lives nearby and is married with three daughters, getting pulled over and arrested on the way to his construction job. … She has trouble sleeping and wakes up early every morning to walk down the block to see if his car is still there. If she can't see it, she calls several relatives to make sure he is okay. "My son acts like a big man and tells people to be strong," she says. "But I've talked to his wife, and she says he's starting to get scared. It's not fair to have to live with this fear every day."
Keep reading here, as Richards describes how the stress is hurting families' health.
---
What Do You Know?
1. Since ____________, the FDA has approved three prescription drugs to treat alcohol addiction.
Scroll down for the answer, or find it here.
2. A recent study finds that serving healthier meals at school could improve students' test scores by an average of ____________ percentile points.
Scroll down for the answer, or find it here.
3. One researcher found that nearly ____________ percent of working-age men who aren't in the U.S. labor force take pain medication every day—suggesting poor health may be part of what's keeping them from working.
Scroll down for the answer, or find it here.
---
Look Back
The Beatles released their debut album on this day in 1963. In our June 2013 issue, Colin Fleming called it "the year the Beatles found their voice":
In 1963, the Beatles were exploding in England ... Screaming girls, throngs of fans, bushels of albums being sold—this was when it all started. But the Beatles were also a veritable human jukebox that year. One of their many commitments was to turn up semi-regularly at the BBC, horse around on air, read requests, make fun of each other, make fun of the presenter, and play live versions of whatever people wanted to hear, whether that was their own material or a vast range of covers: Elvis Presley numbers; obscure rhythm-and-blues songs by lost-to-time bands like the Jodimars; Broadway show tunes; Americana; vamps on Buddy Holly, Carl Perkins, Chuck Berry; rearrangements of girl-group cuts; torch songs. If you wanted to hear what made the Beatles the Beatles, here is where you would want to start.
Read more here. Not a Beatles fan? Disliking the beloved band might be an unpopular opinion now, but 54 years ago plenty of listeners didn't like them either.
---
America by Air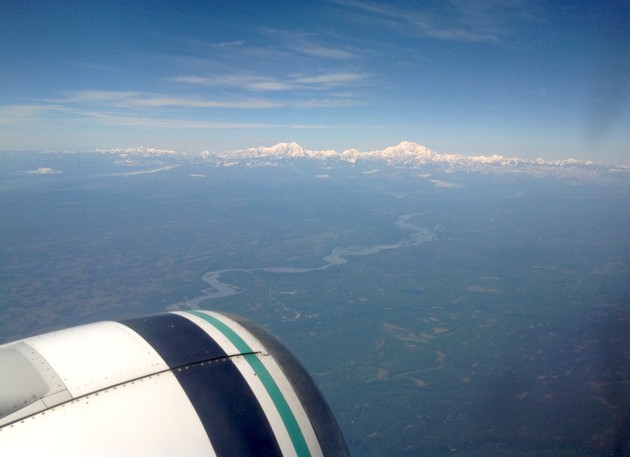 Marla Short got lucky:
This photo was taken on an Air Alaska flight to Fairbanks. The pilot drew our attention out the port side window to catch a glance of Mt. McKinley on a rare, near-cloudless day when it could be seen. Glad we saw it then, because just as he said, we didn't see it while on land, due to the ever-present cloud cover.
---
Reader Response
To begin our new Notes discussion over Liza Mundy's cover story ("Why Is Silicon Valley So Awful to Women?"), here's a reader who had an awful experience at the two male-dominated startups she's worked at:
Being the only woman at the whiteboard isn't an entirely new experience for me. Earning my Ph.D. in Physics, the field wasn't exactly overrun with women, but at least there were women. I learned in graduate school how to be everyone's little sister—how I need to repeat myself over and over again, and then send an email, to get my point or idea across. I learned to let the guys yell themselves hoarse over a problem, take notes, and come back with the answer. Even when you have the answer, they still might not listen to you. …

[By being Everyone's Little Sister], I can inhabit a special place, still allowed to be feminine, someone everyone roots for but no one is sexually attracted to, or intellectually threatened by. Everyone wants his kid sister to win. Everyone will defend his little sister from bullies.

Sure, you may forget she is a girl; you may leave her out of some things because you forget about her; but you are not going forget her all together. And you certainly aren't going to want your friends to sleep with her.
Read the rest of her story, including many sexist encounters, here. If you yourself have worked in the tech industry and have something to share about its challenges, please send us a note: hello@theatlantic.com.
---
Verbs
Experiments exploded, first daughters flipped, tech bubble deflated, dinos redefined.
---