The Atlantic Daily: Surveillance and Sesame Street
Wiretap claims, the health-care bill, edible drones, and more.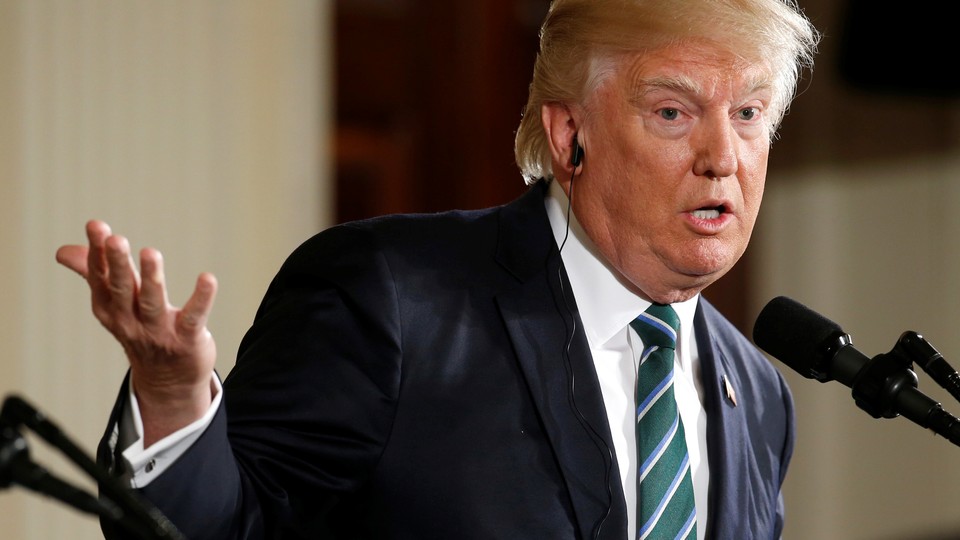 What We're Following
Aye, Spy: During a joint press conference with German Chancellor Angela Merkel today, President Trump continued to claim that he'd been wiretapped by the previous administration. Sean Spicer, too, stuck to the story yesterday but offered no evidence, so it seems the White House is simply afraid to admit it was wrong. More substantiated spying allegations: The Justice Department indicted four Russian hackers and intelligence agents this week for their role in a cyberattack on Yahoo, and the charges provide insight into the methods—and international advantages—of America's own spies.
Dealing With Health Issues: House Republicans are a little closer to passing their health-care bill: After meeting with Trump today, a group of conservative leaders say they'll support the bill in exchange for pushing its Medicaid provisions further to the right. But many hardline conservatives still stand opposed, not to mention the Democrats who say it already makes too many cuts. One person still on the fence is Bob Woodson, an anti-poverty activist who's spent years working with Paul Ryan—and though he's worried Ryan's new bill will hurt poor Americans, he still trusts the Speaker of the House.
Program Problems: Like the health-care bill, Trump's budget proposal might not look too good from a social-service perspective; for one thing, it cuts back on jobs programs that help disadvantaged workers. It also slashes funding for public broadcasting entirely, even though programs like Sesame Street have been proven to help kids from poor families succeed academically. On that note, the University of Michigan is making a multi-year effort to increase socioeconomic and racial diversity on its campus—but many students say that's not enough.
---
Snapshot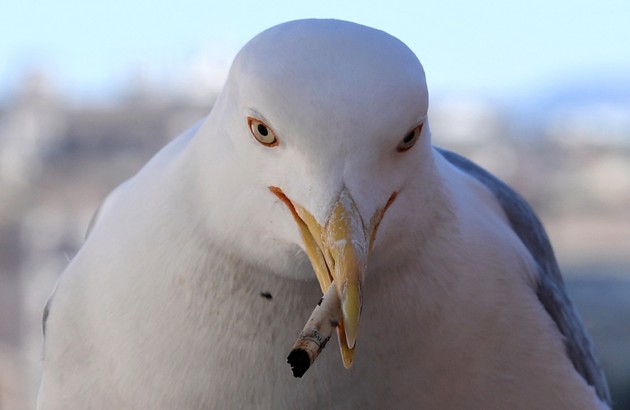 ---
Evening Read
Ian Bogost outlines "a few important moments in the history of conceptual art":
In 1917, Marcel Duchamp signed and dated a porcelain urinal, installed it on a plinth, and entered it into the first exhibition for the Society of Independent Artists.

In 1961, Robert Rauchenberg submitted a telegram reading "This is a portrait of Iris Clert if I say so" as his contribution to an exhibition of portraits hosted at Clert's eponymous Paris gallery. …

And in 2017, Nigel Gifford designed an edible, unmanned drone meant to deliver humanitarian aid to disaster zones.

Okay, I lied. The last one is a technology start-up. But it might as well be a work of conceptual art. In fact, it makes one wonder if there's still any difference between the two.
Keep reading here, as Ian outlines how the tech sector succeeds on conceptualism's central gimmick: "that the idea behind the work has more value than the work itself."
---
What Do You Know?
1. The makers of Monopoly are replacing three of the game's classic tokens with a T. rex, a rubber ducky, and a ____________.
Scroll down for the answer, or find it here.
2. In 1987, fantasy author George R.R. Martin co-wrote a TV procedural drama based on the fairy tale ____________.
Scroll down for the answer, or find it here.
3. Each year, earthquakes cause an estimated $____________ worth of damage to buildings in the U.S.
Scroll down for the answer, or find it here.
---
Poem of the Week
The Nobel Prize-winning poet Derek Walcott died today at the age of 87. From our January/February 2010 issue, his poem "The Lost Empire":
          I see it all come about
again, the tasselled cortege, the clop of the tossing team
with funeral pom-poms, the sergeant major's shout,
the stamp of boots, then the volley; there is no greater theme
than this chasm-deep surrendering of power
the whited eyes and robes of surrendering hordes,
red tunics, and the great names Sind, Turkistan, Cawnpore,
dust-dervishes and the Saharan silence afterwards.
---
Reader Response
When does adulthood begin? It's a subjective question we've explored on many fronts. This reader entered adulthood in a painful and tragic way:
I was 20 and began working at the same factory as my father did. He was in maintenance as an industrial electrician. There had been a summer program for employees' children and I worked out well enough that I was hired at the end of the summer. He was proud that I carried my weight.

However, three years into it and just after my 23rd birthday, my hand got caught in a take-up roll for a large paper machine and I was flung around like a rag doll. With both femurs and my left ulna, left radius, and left humerus broken, I spent months recovering.

But I kept a good attitude, believing falsely that I would be back to my normal self. My dad told me that he could never have had such a good attitude having gone through what I did.
Read many more stories from readers here.
---
Your Life in History
Speaking of getting older, Stephen Curry of the Golden State Warriors turned 29 this week. If you're about the same age, here are some facts about your life:
Check out Curry's complete Life Timeline here—and if you're a little older or younger, go here to find your own.
---
Verbs
Parties fragmented, interests conflicted, speech debated, perfection performed.
---