The Atlantic Daily: A Bitter Bill to Swallow
The CBO's health-care report, the rise of Geert Wilders, why facts don't change minds, and more.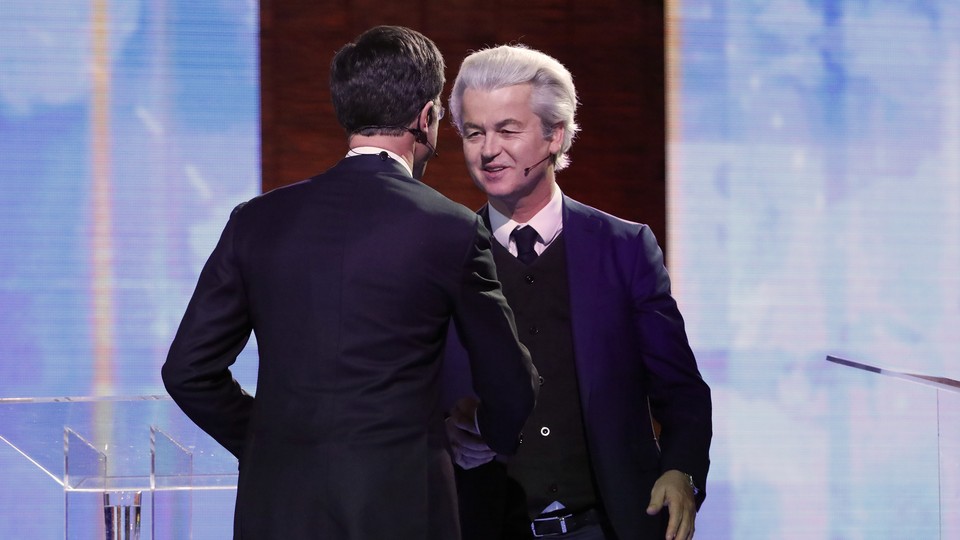 What We're Following
The Dutch Elections: On Wednesday, Mark Rutte, the prime minister of the Netherlands, will lead his center-right party into a narrow contest against far-right populist Geert Wilders for control of the government. Wilders, whose platform centers on effectively banning Islam in the Netherlands, seems like a surprising choice in a country that's historically known for tolerance—but the story behind Wilders's rise illustrates where those principles can break down. On a similar note: Back in the U.S., Congressman Steve King sent a racist tweet this weekend in support of Wilders. King has made similarly offensive comments in the past, but in the populist climate that fueled Trump's rise, his extreme views are now harder to write off.
The Bill for the Bill: The Congressional Budget Office today released its much-anticipated report on the GOP health-care bill. The results aren't promising: Although the new plan would reduce the federal deficit, 24 million Americans would lose health insurance, and those who keep it would see an increase in premiums. Most of those losing coverage would do so because of cuts to Medicaid—but even people who get health care through their jobs would be affected by the bill's repeal of the employer mandate. With points stacking up against the bill, it's looking more and more like the plan to repeal Obamacare will fail—and that might be best for the health of the Republican Party.
Climate Science: Early reports suggest that Trump will sign an executive order tomorrow repealing Obama's Clean Power Plan, which restricts power plants' greenhouse-gas emissions. It will be the first step in what's expected to be a thorough campaign to dismantle the U.S. regulations aimed at slowing climate change—not to mention cutting funding for scientific research and for states' environmental programs. What are environmentalists to do? They may have science on their side, but EPA Director Scott Pruitt denies it—and here's why facts alone aren't enough to fight people's false beliefs.
---
Snapshot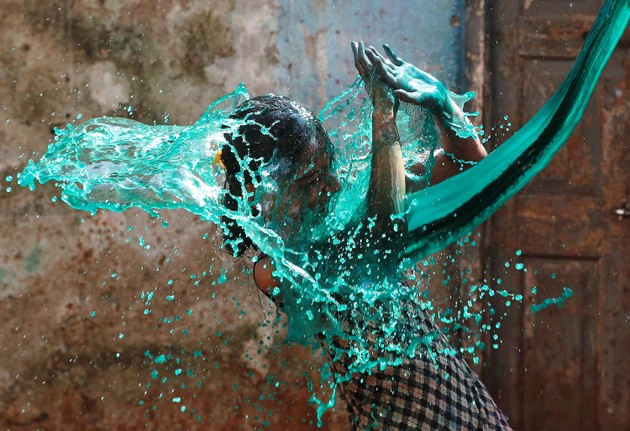 ---
Evening Read
Kate Robertson on the recent films starring female cannibals:
Having spent the last five years studying the female cannibal (an admittedly odd subject even in academic circles), I've been fascinated by how the subject has gained more mainstream visibility of late. While the female cannibal isn't new to pop culture, she's relevant in ways that go beyond shock value, by capturing ever-present social anxieties about gender, hunger, sex, and empowerment. These new works center on women who, in addition to eating humans, negotiate and subvert expectations for how women should look and behave. They're motivated by physical hunger but also by sexual desire, making them an extension of the femme fatale—the beautiful woman who deceives and ensnares men. In eating flesh, characters like Justine simply redirect this fear from the metaphorical to the physical. There's a persistent stereotype that women will "suck men dry"; well, these ones will literally devour you.
Keep reading here, as Robertson explores what cannibal women represent in pop culture.
---
What Do You Know?
1. The success of the 2012 film The Hunger Games—released unusually early in the year for an action movie—opened the way for Hollywood to start its summer-blockbuster season in the month of ____________.
Scroll down for the answers, or find it here.
2. Between 1964 and 1972, the percentage of African American kids attending all-black schools in the South went down from 98 to less than ____________.
Scroll down for the answer, or find it here.
3. The most powerful corporations in South Korea are controlled by families that own, on average, less than ____________ percent of the company shares.
Scroll down for the answer, or find it here.
---
Look Back
The astronomer Percival Lowell was born on this day in 1855. In our August 1895 issue, he outlined his belief that the surface markings on Mars were constructed canals and described what that would mean:
The evidence of handicraft, if such it be, points to a highly intelligent mind behind it. Irrigation, unscientifically conducted, would not give us such truly wonderful mathematical fitness in the several parts to the whole as we there behold. A mind of no mean order would seem to have presided over the system we see, a mind certainly of considerably more comprehensiveness than that which presides over the various departments of our own public works. … Quite possibly, such Martian folk are possessed of inventions of which we have not dreamed … Certainly, what we see hints at the existence of beings who are in advance of, not behind us, in the race of life.
Read all of Lowell's four-part series on Mars here. He was wrong about the canals, but in 2015, scientists did confirm that water flows on Mars—one of many similarities that make the Red Planet into a mirror for Earth.
---
America by Air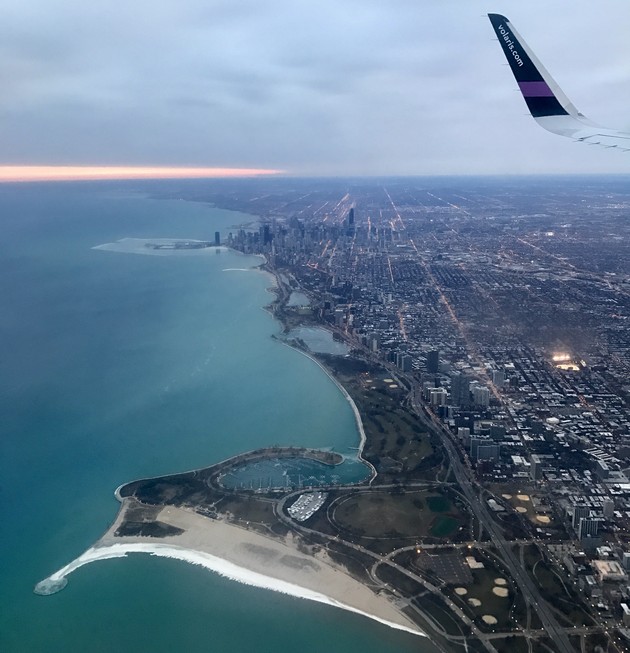 Rick Nunziati has a wonderful view of the Windy City at sunset:
Coming back from Huatulco, Mexico, our charter flight circled over Lake Michigan coming into Chicago on the first weekend of February. I got this shot with an iPhone 7 from the last row of the plane: a view from the north looking back south over the lakefront with the city—including Lake Point Tower, where we live—in the background.
See many more aerial photos from around the U.S. here, and send us your own via hello@theatlantic.com (guidelines here).
---
Reader Response
Last week, we asked you to tell us about the benefits of a long life. Here's Jim today:
I turn 65 in a couple of months, but I don't expect to "retire" at 65—or ever. I'm fit and healthy and having the greatest fun of my life at the head of a fast-growing business. In a quarter century, if still alive, I might have to slow down a bit, but there will still be something useful for me to do. … Not everyone can continue working, but there is a huge need for volunteers in areas that do not require physical agility. Unless totally senile—and that's something that will never happen to most of us—we all have something to offer.
Read more perspectives from other readers here. We'll consider a very different stage of life with this week's question: When does childhood end? Check out many decades' worth of different answers from our archives, and then tell us your own via hello@theatlantic.com.
---
Verbs
Spies spotted, murder case mockumented, "Fearless Girl" faces off, burnt forests bounce back.
---
The newsletter dated March 6, 2017, misstated the year of a poll that found nearly 20 percent of Americans didn't know what a TV was; it was 1945, not 1947. We regret the error.
---