The Atlantic Daily: Growth and Development
American jobs, driverless cars, Buffy the Vampire Slayer, and more.
What We're Following
Jobs, Jobs, Jobs: The February jobs report is out, and the numbers look good: The U.S. economy continued to grow last month. Even President Trump, who claimed in the past that positive stats were false, is now optimistic—a worrying reversal, since it shows he's willing to turn the accuracy of official data into a political battle. The success of his family's businesses since he took office can't hurt his outlook—but on a broader scale, can America's streak of economic growth last? Economists consider whether the U.S. is headed for a recession.
Auto Race: One change the economy will see in the coming decades is an increase in automated labor—and a corresponding loss of human jobs. Near Detroit, community colleges are looking to get ahead of that shift by training students in critical thinking as well as technical skills. How soon will our automated future arrive? When it comes to self-driving cars, at least, the tech industry's biggest players are locked in a high-speed, high-stakes race to bring their products to the public. Here's what to know about their efforts—and how they could change the world.
Trump's Advisers: A month after Michael Flynn was forced to resign as National Security Adviser, it's looking more and more like he never should have been appointed at all: Flynn lobbied on behalf of the Turkish government. And while the White House story shifted on whether the transition team was aware of the Turkish connection, the whole affair raises questions about the team's competence and the president's judgment. Trump's other choices have worked out better, with the retired generals in his Cabinet becoming an important voice for liberal democracy—but making military officers into political actors has its risks.
---
Snapshot
---
Evening Read
David Sims on the risky narratives of Buffy the Vampire Slayer:
Ask any casual fan of Buffy the Vampire Slayer to name their favorite episode and you'd get a veritable cornucopia of options. … Twenty years since the show premiered on The WB, individual episodes stand out and are treated with the reverence afforded cult films, their relative virtues endlessly debated online, their details picked over by scholars.

But the same casual fan could also tell you their favorite season of the show—be it the epic romantic drama of its second (with Angel's turn to evil), the graduation angst of the third (with the vampire slayer rival Faith), or the celestial battles of the fifth (pitting Buffy against the demon goddess Glory). It might seem obvious now that a popular TV show would center its viewing experience on both great individual episodes and long, serial arcs that played out over an entire season, but when Buffy did it in the late '90s, it was a revolution—a melding of other styles of genre storytelling that became the model for what we now think of as the "Golden Age" of TV.
Keep reading here, as David describes how the much-loved show redefined TV storytelling—and go here for an analysis of how one of those standout episodes dealt truthfully with teenage grief.
---
What Do You Know?
1. In a December 2013 poll, 59 percent of white evangelical Christians said they think Muslims face a lot of discrimination—compared to ____________ percent in a poll conducted last month.
Scroll down for the answer, or find it here.
2. With ____________ percent of the U.S. covered by 9-1-1, the emergency response system is both more reliable and more vulnerable than ever.
Scroll down for the answer, or find it here.
3. Though the U.S. didn't send a woman to space until 1983, NASA began testing female pilots to be astronauts in ____________ and found they tended to do better than the male candidates.
Scroll down for the answer, or find it here.
---
Poem of the Week
A reader, Leslie, recently recommended "Let No Charitable Hope" by Elinor Morton Wylie:
I was, being human, born alone;
I am, being woman, hard beset;
I live by squeezing from a stone
The little nourishment I get.

In masks outrageous and austere
The years go by in single file;
But none has merited my fear,
And none has quite escaped my smile.
---
America by Air
Ann Fisher tees up "a golf course in the Phoenix area":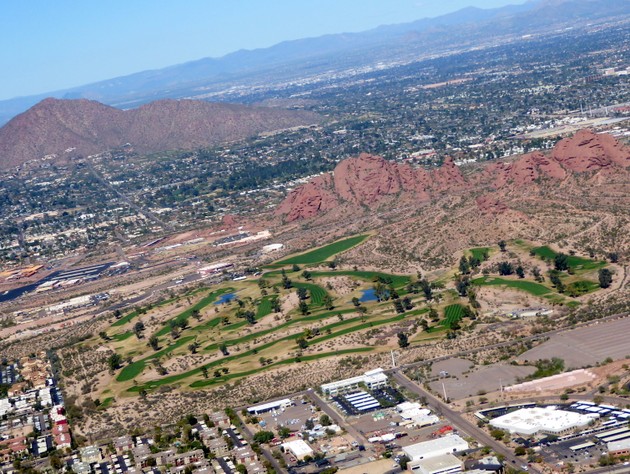 See many more aerial photos from readers here, and send us your own via hello@theatlantic.com (guidelines here).
---
Reader Response
Our "Question Your Answers" series continued today with a roundup of readers who questioned the value of a long life. Here's Bill:
As an 85-year-old, I recognize that my usefulness is coming to a close.
At this time, I seem to provide joy to my children and grandchildren.
When I become a liability and need the constant care of others, I am content to have my life end, even if I have to take care of that myself.
At this time I do not need nor want that kind of care. But it may come soon, and I can face that comfortably.
Another reader also sounds an ominous note:
If you have a more optimistic outlook on old age and would like to share your thoughts, please send us a note: hello@theatlantic.com.
---
Nouns
Baby-bump backlash, married priests, musical memoir, not your jam.
---