The Atlantic Daily: Speaking of Government
Trump's speech to Congress, State Department confusion, DeVos's education, and more.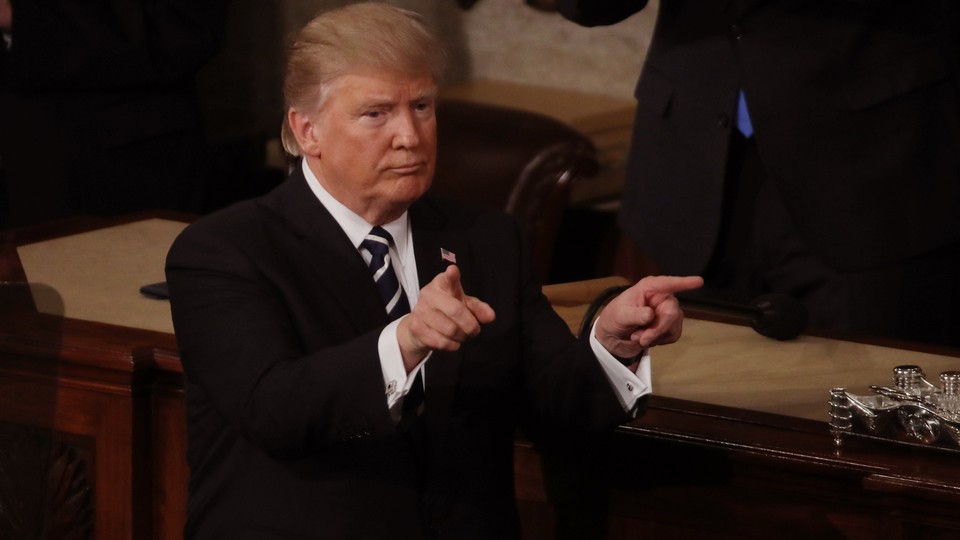 What We're Following
Trump's Speech, Reviewed: Compared to the combative rhetoric of his campaign, the president's address to Congress last night struck a surprisingly hopeful tone. He refrained from digressions such as insults to the press, and in many ways, he sounded like an ordinary politician. The normalcy of it all earned him some glowing reviews—but as David Frum writes, there were still some key elements missing. And lest past assessments of Trump's speaking style color our judgment of him now, James Fallows breaks down the speech as if listening to Trump for the first time.
Budget Points: Trump didn't offer many policy details in the speech, but he did mention making health insurance cheaper. The GOP has suggested doing this by scaling back what basic plans are required to cover—but for those who do need more extensive benefits (like maternity care or mental-health coverage), insurance would get a lot more expensive. And that's just one potential sticking point: Trump's economic plan, which also involves major tax cuts and an increase in military spending, has been divisive within his own party and could hurt his voter base.
Government Insiders: So, can Trump get Congress to carry out his agenda? He's been running into legislative roadblocks recently, though he's had some success charming some of the lawmakers. Meanwhile, his Cabinet is moving slowly toward completion, most recently with today's confirmation of Ryan Zinke as interior secretary. But in the State Department, where numerous key posts are left unfilled, officials are anxious: The White House has announced that radical foreign-policy change is coming, but current employees seem to know very little about what's going on.
---
Snapshot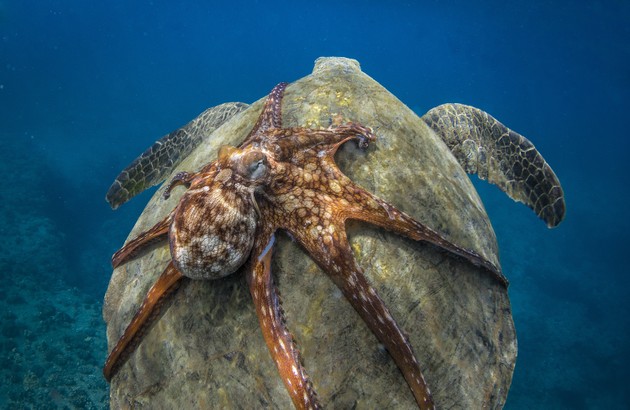 ---
Evening Read
Emily DeRuy on Calvin College, Betsy DeVos's misunderstood alma mater:
DeVos is now Calvin's most famous alum, and in recent weeks, the school has been painted in some circles both online and in conversation as a conservative, insular institution that helped spawn a controversial presidential-cabinet member intent on using public dollars to further religious education. But that is a grossly simplified narrative, and one that obscures the nuances and very real tensions at the school.

In more than a dozen interviews, professors, students, and alumni of all political stripes painted a picture of a college where intellectual diversity and thought-provoking debate are the norm, and where the belief that followers of the Christian Reformed Church, with which the school is affiliated, have an obligation to engage with the world around them compels both instructors and students to question what they think they know.
Keep reading here, as Emily explores Calvin's history of fierce debate and the complications of its present.
---
What Do You Know?
1. In the wild, elephants sleep for an average of ____________ hours every night.
Scroll down for the answer, or find it here.
2. Because of climate change, spring is starting about ____________ days earlier every decade.
Scroll down for the answer, or find it here.
3. Uber is valued at $____________—but after a month of back-to-back scandals, it may be heading for a meltdown.
Scroll down for the answer, or find it here.
---
Look Back
Yellowstone National Park was established on this day in 1872. In our April 1898 issue, John Muir described the landscape:
However orderly your excursions or aimless, again and again amid the calmest, stillest scenery you will be brought to a standstill hushed and awe-stricken before phenomena wholly new to you. Boiling springs and huge deep pools of purest green and azure water, thousands of them, are plashing and heaving in these high, cool mountains as if a fierce furnace fire were burning beneath each one of them; and a hundred geysers, white torrents of boiling water and steam, like inverted waterfalls, are ever and anon rushing up out of the hot, black underworld.
More on Yellowstone from our archives here. Elsewhere in history: Today marks 100 years since the publication of the Zimmerman Telegram—the leak that helped push the U.S. into World War I.
---
Australia by Air
So far, our collection of aerial photos has been limited to the U.S., but John Muir's description above of an "inverted waterfall" seemed like a good reason to share this image from reader Chelsea Attenborough in Australia: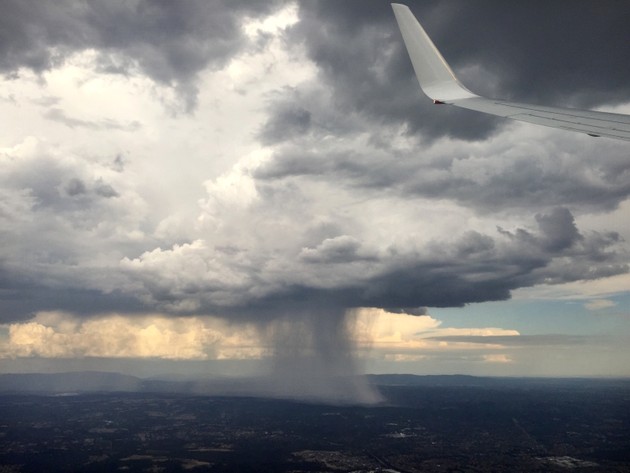 I've always been fascinated by aerial photos (to the point where I now have a drone to bugger around with—Insta is @chelatt if you want to check them out … ). But your submission on February 13 reminded me of a photo I took on my iPhone in early 2015 as we were coming in to land at Melbourne airport after a trip to the (Australian) Gold Coast.
See many more aerial photos from readers here, and send us your own via hello@theatlantic.com (guidelines here).
---
Reader Response
From a midshipman at the Naval Academy who "thought you might be interested in hearing a reaction to the President's speech from an officer in training":
I was profoundly disturbed by the moment surrounding the exaltation of Senior Chief Owens and his widow. Most news analysis marked it as the highlight of the speech. Even someone like Van Jones said it "was one of the most extraordinary moments you have ever seen in American politics, period."

The full context of the situation makes this all very disturbing to me. Hours before the speech, Trump blamed "the generals" for the SEAL's death. The country lost a highly trained special operator and a multi-million dollar aircraft while at the same time killing civilians and collecting intelligence of questionable value. Yet Trump considers questioning the efficacy of the mission to be unAmerican and disrespectful to the SEAL's memory.

I worry what this means for my friends and those who I will lead. Are we simply offerings to "American greatness," to be slaughtered on the altar in far-off lands so our mothers and widows can be glorified on national television in this perverse ritual in our civic religion? Are we to become the pious, saintly martyrs in Bannon's crusade against the Mohammedans? Nobody in that room could do anything but clap.

I think what happened was the full maturation of what Fallows calls "The Chickenhawk Nation." We will continue to honor veterans with major league baseball games at the Naval Academy and at the Superbowl, and give the DoD (their contractors) an increase in the defense budget nearly the equal to the size of the entire defense budget of Russia. Yet this administration will at best not rethink American grand strategy in the War on Terror, and at worst, they will undermine the mechanisms that have prevented major-power war for 70 years.
---
Verbs
Rocks licked, girls glowed, busyness boasted, Wolverine waves goodbye.
---