The Atlantic Daily: Clashing With Patriots
Trump's travel ban faced more legal challenges, he attacked a federal judge, New England won the Super Bowl, and more.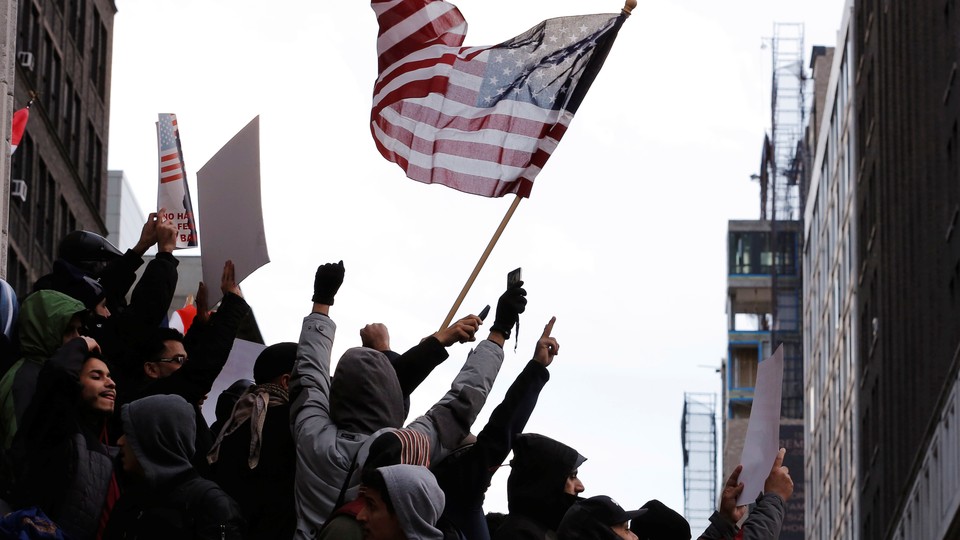 What We're Following
Opposing Trump: The Ninth Circuit Court of Appeals is now considering whether the controversial travel ban is constitutional. Over the weekend, a federal judge in Seattle issued a nationwide "temporary restraining order" on the ban—and Trump promptly retaliated on Twitter, questioning the legitimacy of the "so-called judge." It was another example of Trump's tendency to attack any institution that challenges him, from the press to the intelligence community—though attacking the judiciary is especially troubling given its role as a constitutional check on the executive branch. It's no secret that Trump likes his revenge, and now that he's got the power of the government behind him, the high-profile conservatives who opposed him during the campaign are bracing for retribution. Meanwhile, on the left, protests against Trump continue—but as David Frum argues, a more conservative strategy could prove more effective.
Trump's Talking Points: His latest bold accusation against the media came in a speech today at Florida's MacDill Air Force Base, where he claimed that journalists refused to cover terrorist attacks in Europe—though there's no evidence of that, and he couldn't name any such attacks. Yesterday, Trump caused another stir when he declined to accept Bill O'Reilly's description of Vladimir Putin as "a killer," responding instead, "Well, you think our country is so innocent?" There's some uncomfortable truth to that, not to mention the practical fact that the U.S. needs to maintain a working relationship with Russia. But Trump's comments also show he's not interested in moral justifications for America—and that could be a threat to the nation's political stability.
The Patriots Win: Last night's Super Bowl saw an incredible comeback from the New England team, which overcame a 25-point lead against the Atlanta Falcons to end the game 34-28 in overtime. Against a depressed and divided political climate, advertisers reached for a hopeful message, presenting a sunny and forward-looking vision of American unity—sometimes with overt political messages. In the halftime show, Lady Gaga didn't explicitly address politics, but instead made a patriotic statement with a creative and cathartic spectacle.
---
Snapshot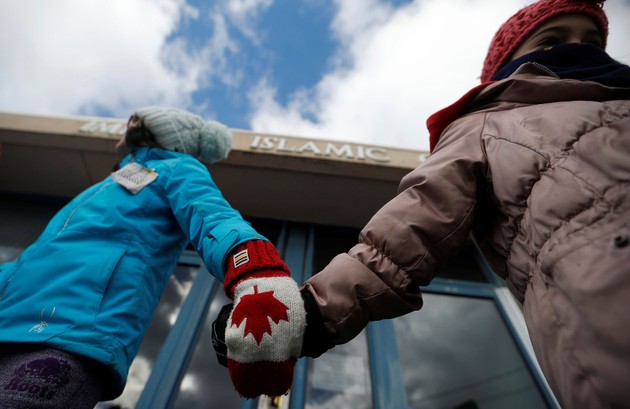 Christian and Jewish congregants form a "Ring of Peace" around an Islamic center in Toronto on February 3, 2017, to show solidarity with the victims of the January 29 shooting at the Quebec Islamic Cultural Centre. More context on the shooting here, and more photos of this weekend's vigils and funeral  services here. (Mark Blinch / Reuters)
---
Evening Read
Caitlin Flanagan on Megyn Kelly's move to the political center:
A funny thing happened as the election season unfolded. Kelly—the darling daughter of the conservative network—began to change before our eyes. She took on some of the most powerful Republican men in the country. … Over the summer she joined a group of vocal Hillary Clinton supporters … to take part in a Sheryl Sandberg initiative called Lean In Together … that was dedicated to some vague vision of a female utopia.

And she published a best-selling memoir, Settle for More, that buffs away her long history of strongly argued and often principled conservative opinions and emphasizes her handful of progressive ones, packaging herself as an independent. …  Kelly, it seemed, was cleaning up her record. Why? The answer came in January, when she announced her big new job at NBC.
Keep reading here, as Flanagan asks: Can Megyn Kelly escape her past?
---
What Do You Know?
1. In an animated interview, Justice Ruth Bader Ginsburg credits some of her success in law school to the perspective she got from her ____________.
Scroll down for the answer, or find it here.
2. Of the more than 400 species of ants that live in the rainforest, about ____________ live or spend most of their time in trees.
Scroll down for the answer, or find it here.
3. In 2016, ____________ foreign doctors received visa waivers to work in parts of the U.S. that are short on medical providers.
Scroll down for the answer, or find it here.
---
Look Back
Sixty-five years ago today, Elizabeth II succeeded her father as ruler of England. In our December 1943 issue, when Elizabeth was just 17, Wilson Harris considered how her education had prepared her for the throne:
The Princess may have years of service as heir-presumptive before her. She may at any moment by the caprice of fate be summoned to the most exalted position in the greatest Commonwealth in the world. Enough is known of her upbringing to show how well the preparation for either lot has been achieved by a training that has never threatened to dim the freshness or mar the simplicity of her girlhood.
Read more here. Want more on our archives? Here's how a 1970 Atlantic exposé of a fraudulent writing school led to its downfall—and foreshadowed the saga of Trump University.
---
Reader Response
Mimi shares a dramatic story of infertility:
Ten days before my wedding, I was diagnosed with breast cancer. … We returned from the honeymoon and embarked on a single round of artificial reproductive technology (ART) to preserve my fertility and our chances to build a future family. … At age 41, I had 18 eggs harvested. Twelve were fertilized and yielded five beautiful-looking embryos—my future babies. Two weeks after the embryos were frozen, I underwent my mastectomy.

A year later, after acknowledging that pregnancy was contraindicated for my type of breast cancer, my husband and I scanned gestational profiles at a surrogate agency. A year after that, he told me he wanted a divorce. After we separated, I underwent two more years of legal proceedings, which amounted to a full-time job, leading to a courtroom battle for the custody of the frozen embryos. My future babies' lives hung in the balance.
Read the rest of her story here, including many others from readers. If you've been involved in a legal battle over embryos and would like to anonymously share your experience, please send us a note: hello@theatlantic.com.
---
Verbs
Superb owls celebrated, avocados advocated, Spicer impersonated, browsers unmasked.
---