The Atlantic Daily: Moonlight and Moonshot
Anti-Semitic threats, space travel, the Oscars, and more.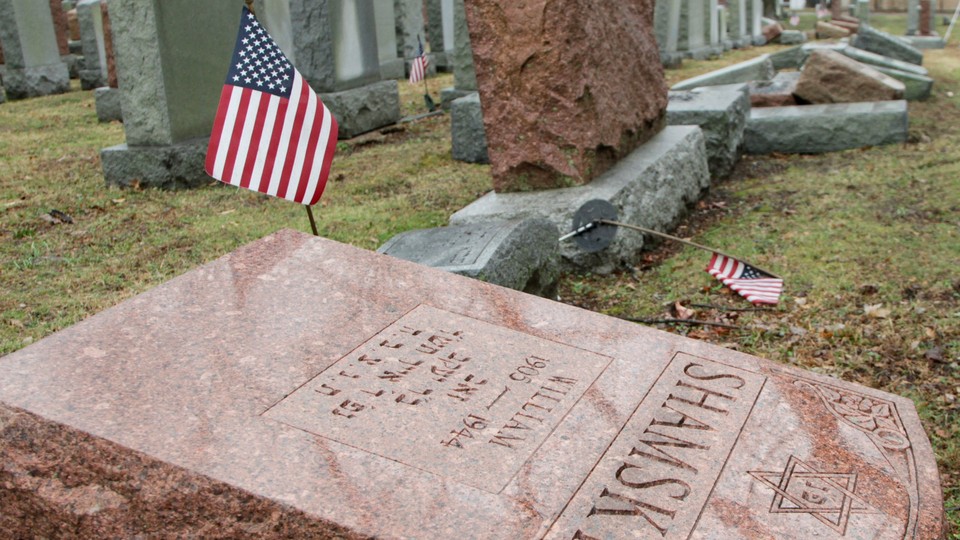 What We're Following
Rising Hate: In the latest wave of bomb threats against Jewish Americans, 19 community centers and schools in 11 states were targeted today—just one day after scores of headstones were damaged or pushed over at a Jewish cemetery in Philadelphia. Acts of vandalism are hard to prosecute as hate crimes and usually intimidate the communities they target—though in Philadelphia, the climate of fear is drawing Jewish and Muslim communities together. For his part, President Trump is accused of being slow to condemn the recent rise in anti-Semitism, and so far he's failed to address a parallel increase in Islamophobia. That lack of response reinforces the perception that Trump seeks to represent only some Americans—one of the key traits of a populist leader.
Borders, Patrolled: On a flight from San Francisco to New York City last week, deplaning passengers were required to show ID to agents of Customs and Border Patrol (CBP). The agents likely didn't have any legal authority to enforce the demand—but the effect on citizens' freedoms is still worrying. Also worrying is recent news of CBP agents requesting digital passwords from detained travelers at the border—especially since CBP could retain those records for up to 75 years. In better news regarding travel, this goes way beyond the border: SpaceX is planning to take two private citizens to the moon next year.
Oscars Upset: La La Land was the favorite for Best Picture at last night's ceremony, and the film was even named the winner—until announcers revealed a mistake: The award belonged to Moonlight. It was a thoroughly shocking twist, and it demonstrated the full power of surprise in an ever-more-predictable entertainment industry. But in light of the more intimate stories the Academy has recently favored, the choice of Moonlight may not be so surprising after all. Find much more post-Oscars coverage on our Culture page, and read our full recap here.
---
Snapshot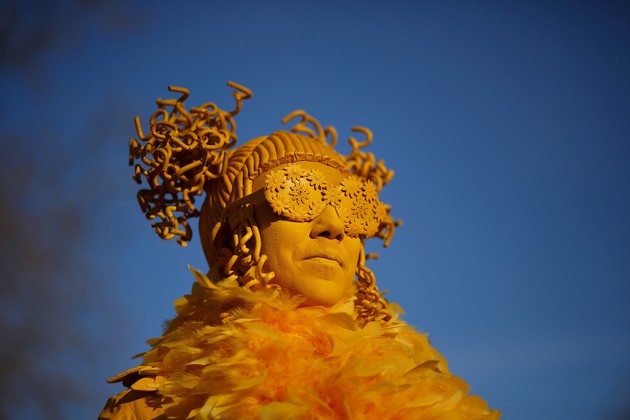 ---
Who We're Talking To
Angie Scioli, Rob Phillips, and Jay Korreck, three teachers who made a new documentary about their profession, discuss how pop culture misrepresents educators.
Jeffrey Tobias Halter, a consultant for office diversity initiatives, argues why men should advocate for gender balance at work.
Bill Nye, the eponymous science guy of the popular kids' show, shares how he got started on TV. Watch the animated interview here.
---
Evening Read
Ed Yong on the new technologies of neuroscience—and why some scientists think they've led the field astray:
"These new tools are amazing; I'm using them right now in my lab," says Asif Ghazanfar from Princeton University, who studies communication between pairs of marmoset monkeys. "But I spent seven years trying to understand their vocal behavior first. Now, I have some specific ideas about what the neural circuitry behind that might look like, and I'll design careful experiments to test them. Often it seems that people do the reverse: They look at the cool tech and say, 'What questions can I ask with that?' And then you get these results that you can interpret in vague ways."

This point is crucial. Unlike others who have levied charges of reductionism against neuroscience, Ghazanfar and his peers aren't dualists—they aren't saying there's a mind that sits separate from the brain and resists explanation. They're saying that explanations exist. It's just that we're looking for them in the wrong way. Worse, we're arriving at the wrong explanations.
Keep reading here, as Ed examines how brain scientists forgot that brains have owners.
---
What Do You Know?
1. Sesame Street's new series of segments designed to teach kids about STEM is starring the Muppet ____________.
Scroll down for the answer, or find it here.
2. The turnover rate at some trucking companies is as high as ____________ percent.
Scroll down for the answer, or find it here.
3. In 2015, the state of ____________ has the highest number of new HIV diagnoses in the U.S.; now, the state's first needle exchange program is trying to stop the spread of the virus.
Scroll down for the answer, or find it here.
---
Look Back
The poet Henry Wadsworth Longfellow would have turned 210 years old today. For Longfellow's 100th birthday, in our March 1907 issue, Bliss Perry reflected on his literary legacy:
To open Dante is like passing within the solemn portal of a cathedral. To read Longfellow is like entering the Craigie House. The fine dignity of the vanished eighteenth century is here. From the doorway stretches a gentle landscape, with its winding river and low hills. All around there is a quiet beauty, with lilacs and elms and green lawns sweet with children's voices; within the old mansion wait hospitality, and gracious courtesy, and the savor of worn books, and the sanctities of long, intimate converse with all lovely and honorable things. It is a friend's roof, and it welcomes us in hours when the cathedral oppresses or appalls.
Read the full essay here, and find some of the poems that Longfellow wrote for The Atlantic here.
---
The Timeline in Your Life
Our deputy editor Matt Thompson introduces a new interactive feature, Life Timeline:
Enter your birthday, and the Life Timeline will show you a brief tour of the history that's happened all around you. You can think of it as a rearview mirror for your life, allowing you to view the milestones that dot your journey to this moment, stretching back until just before you were born. Just like history, each Life Timeline comprises many different types of events—delightful moments and tragic ones, world-changing milestones and moments merely worthy of note, some you probably remember, some you might have forgotten, and a few you might not have known about at all.
Read more here—and check out the feature for yourself.
---
Reader Response
Bette contributes to our abortion series with a personal experience from 1971, when she was pregnant and diagnosed with the Rubella virus, which can cause birth defects:
My doctor … told me that although he couldn't give me advice, if it were his wife, he would urge her to have an abortion.

As a naive Christian girl, I had never heard the word "abortion." This was before Roe vs. Wade and I had no idea what was going on in "Women's Lib" circles at the time. … My Christian family had never faced anything like this before. We were blindsided by the news and needed time to come to grips with what was happening. I wanted to talk to Christian leaders I trusted. So we turned to our church.
---
Verbs
Shoppers surveilled, "wellness real estate" built, democracy crowdfunded, humans echolocate.
---