The Atlantic Daily: Safety and Space
Newly discovered planets, religious communities, Brits against Trump, and more.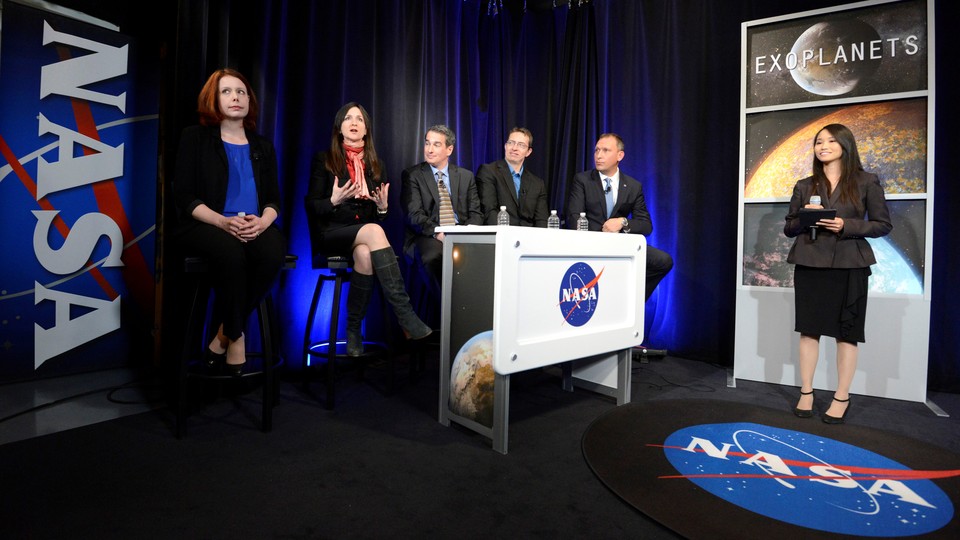 What We're Following
Big News in Science: Seven Earth-sized planets have been discovered in a solar system relatively close to ours. What's more, they're in the star's temperate zone, where it's neither too hot nor too cold for containing liquid water—and maybe life. Back on Earth, the recent failure of an Alzheimer's drug trial—the latest in a series of disappointing results—has scientists wondering if the leading theory about what causes the disease is wrong. But at least they're following the research: A new investigation reveals that many common medical treatments have been proven unhelpful and unnecessary—yet doctors keep prescribing them anyway.
Religious Retreats: The New York headquarters of the Anti-Defamation League received a bomb threat today—the latest in a series of such threats against Jewish organizations across the U.S. While dozens of Jewish community centers were targeted in the past two months, their leaders say most members are more saddened than scared by the uptick in public anti-Semitism. Meanwhile, a new book from Christian conservative thinker Rod Dreher makes the case for why Christians should withdraw from political life—but in doing so, argues Emma Green, he misses the question of how to live alongside people with different worldviews.
Trump Overseas: Thousands of people assembled in London earlier this week to protest the policies of the U.S. president. The "Stop Trump" movement, initially organized around a petition against Trump's state visit to Britain, links his "America First" beliefs to the nativist movement behind Brexit—but protesting Trump may not be helping the anti-Brexit cause. For his part, Trump has been all too eager to change how America interacts with the rest of the world. That's worried foreign-policy experts on both the left and the right—and now, they've come together to push back against the White House.
---
Snapshot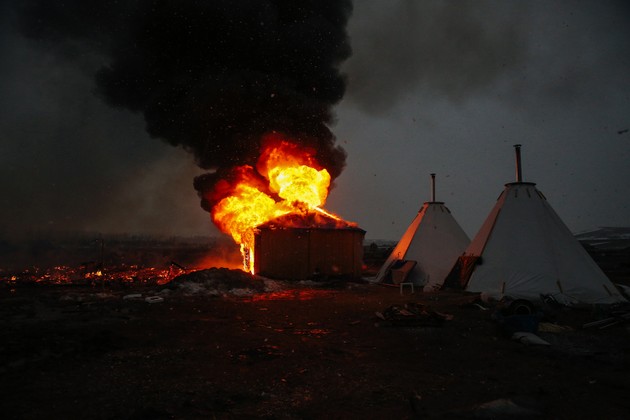 ---
Evening Read
In the final installment of our Rituals & Potions series, Vann R. Newkirk II looks back on an elementary-school ritual:
We behaved on Picture Day—only the worst monsters among us would ever disobey direct orders from our mamas—and did our little duck walks in little duckling lines to the photographer's room. We sat in the hallway in advance, and students eagerly awaited the final accoutrement that made Picture Day whole. Our teacher gave us each one small, cheap black comb—the most spartan of designs. The final directions were simple. Each of us went to the bathroom mirror to "fix ourselves," and use the comb to make sure our hair was just right for the photo. Mama's orders.

All good, except for one thing: Those combs were absolutely useless for my hair in any hairstyle I wore.
Keep reading here, as Vann reflects on how differences shape the smallest rituals. And for all our recent essays on beauty routines and when they fail, go here.
---
What Do You Know?
1. According to economist Jeffrey Sachs, the most important factor in America's economic future is ____________.
Scroll down for the answer, or find it here.
2. A new film by Martin Scorsese, deemed too risky for major studios, will be released by ____________.
Scroll down for the answer, or find it here.
3. Scientists have found a promising new treatment for eczema: a cream made with microbes taken from ____________.
Scroll down for the answer, or find it here.
---
Look Back
James Russell Lowell, The Atlantic's founding editor, was born on this day in 1819. In May of 1857, he wrote to his friend Charles Eliot Norton:
We are going to start a new magazine here in October. … The magazine is to be free without being fanatical, and we hope to unite in it all available talent of all modes of opinion. The magazine is to have opinions of its own and not be afraid to speak them. I think we shall be scholarly and gentlemanlike.
Norton's full account of the magazine's birth was published in October 1907. Read it here (and don't forget to check out our latest issue).
---
America by Air
Rolf Erikson captured this striking view just before landing at Savannah/Hilton Head International Airport. "I was fascinated by and captured a photo of this sea of containers at the Port of Savannah, Georgia, the nation's 10th busiest container ship port," Rolf writes. Many more aerial photos from readers are here; send us your own via hello@theatlantic.com (guidelines here).
---
Reader Response
An ESL teacher, Chris, responds to another reader's critique of "zombie rules":
I find that adhering to grammar rules, however zombified they may be, is important for me in teaching university students—the reason being that once they complete their studies, they will be on the job hunt, and their English abilities will be on trial. The likelihood that a future employer might be a follower of zombie rules to English grammar is quite high, so rather than that student be judged at the most crucial time for them, I attempt to nip it in the bud early if possible.
Read more here. Have you ever suffered serious consequences from a grammatical breach? If you've got a story, send it along: hello@theatlantic.com.
---
Verbs
Prosthetics printed, patients energized, rivalry reveled in, Facebook befuddled.
---