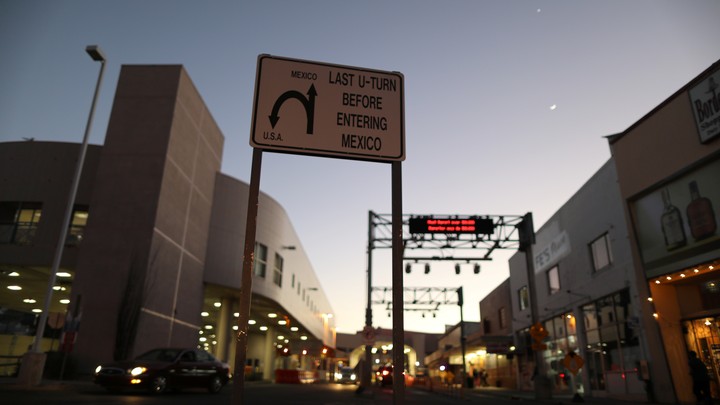 National Security:  In case you missed it over the weekend, Trump has picked a replacement for Michael Flynn: Army Lieutenant General H.R. McMaster. McMaster brings to the role a stellar record as a soldier and a scholar, but he'll face some unique challenges in defending the U.S. from within a turbulent administration. Not least among those will be the president himself, who's denied the legitimacy of not only the leaks coming out of his White House, but also the courts and the free press—attacks that, as James Fallows writes, undermine the public's ability to think and defend democracy.
---
Snapshot
---
Who We're Talking To
Tracy Van Houten, an aerospace engineer, explains why she's leaving NASA to run for Congress.
Deepak Singh, a journalist who was born in India, discusses his new book on what it's like to work minimum-wage jobs as an immigrant with an MBA.
Chimamanda Ngozi Adichie, a Nigerian author, reflects on what Americans get wrong about Africa in an animated interview. Watch here.
---
Evening Read
Olga Khazan on Zoltan Istvan, who ran for U.S. president last fall on a platform of defying death:
He knew he'd lose, of course, but he wanted his candidacy to promote the cause of transhumanism—the idea that technology will allow humans to break free of their physical and mental limitations. His platform included, in part, declaring aging a disease. He implanted a chip in his hand so he could wave himself through his front door, and he wants to get his kids chipped, too. He'd be surprised, he told me, if soon "we don't start merging our children with machines." He'd like to replace his limbs with bionics so he can throw perfectly in water polo. Most of all, he wants to stick around for a couple centuries to see it all happen, perhaps joining a band or becoming a professional surfer, a long white beard trailing in his wake.

Istvan made his fortunes in the real-estate business, but in 2003, he was working as a reporter for National Geographic in Vietnam when he almost tripped a landmine. The experience shook him so badly he quit journalism and devoted his life to transhumanism. "I thought, 'death is horrible,'" he told me. "How can we get around it?"
Keep reading here, as Olga explores how some futurists hope to achieve immortality—and why eternal life might not be so appealing after all. On an even more foreboding note: Here's why one historian believes technological advances might lead to the end of work, individualism, and humanity itself.
---
What Do You Know?
1. Around the world, the hair-care product ____________ is sold at an estimated rate of one bottle every 30 seconds.
Scroll down for the answer, or find it here.
2. In 1936, the Joseph Schlitz company marketed a daily vitamin D supplement in the form of the beverage ____________.
Scroll down for the answer, or find it here.
3. The Ponte City tower, an apartment building located in ____________, has had cameos in at least four apocalyptic action films.
Scroll down for the answer, or find it here.
Answers: frizz-ease; beer; johannesburg, south africa
---
Urban Developments
Our partner site CityLab explores the cities of the future and investigates the biggest ideas and issues facing city dwellers around the world. Adam Sneed shares three of today's top stories:
President Donald Trump is gung-ho about the U.S. producing more goods. But that raises one question that's not as clear-cut as he might hope: What, exactly, should cities be making in the 21st century?

Detroit is perennially at the heart of conversations about urban America's decline, resurgence, and still uncertain future. There's no doubt Motor City has come back from the brink, but don't call it a recovery just yet.  

What's the best thing about bicycle commuting? The rage.
For more updates from the urban world, subscribe to CityLab's daily newsletter.
---
America by Air
Michael O. Fidler digs in his photo archives for this October 2013 shot "over the FBI Fingerprint Analysis Center outside Clarksburg, WV, taken from my friend's vintage J3 Piper Cub." See many more aerial photos from readers here, and send us your own via hello@theatlantic.com (guidelines here).
---
Reader Response
Last week, I joined the TAD group of Atlantic readers for their book-club discussion of Margaret Atwood's novel The Handmaid's Tale. One of the main questions discussed had to do with the epilogue, which—mild spoiler alert—reframes the dystopian setting of the novel through the lens of a history lecture given many years in the future. One reader wrote:
This was actually one of the most striking parts of the book for me, maybe because I didn't see it coming. I don't know if we could infer just how much time had passed (I guess only 100-200 years?), but it really made me think about the way we talk about history in our own society. The jokes peppered throughout certainly gave the impression that they didn't take Gilead with a ton of gravity. So it strikes me as something of a critique of academia, and perhaps how we as a society grapple with the past.

Also, where is the line between simply researching/presenting history and injecting your own sensibilities? Certainly most historians studying Nazi Germany or Soviet Russia or where have you would have their opinions [of the events], but there is also the need to present the reality of those times.
Check out the whole discussion here. And for more on the question of history, here's how reading historical fiction helps students understand the present.
---
Verbs
Trust tricked, passwords protected, community comforts, horrors heal.
---
The Atlantic Daily is written by Rosa Inocencio Smith. To contact us, email hello@theatlantic.com.
We want to hear what you think about this article. Submit a letter to the editor or write to letters@theatlantic.com.