The Atlantic Daily: Facts, Faith, and Fear
Trump beefed with Australia over refugees, the National Prayer Breakfast focused on threats to faith, liberal cities clashed with conservative states, and more.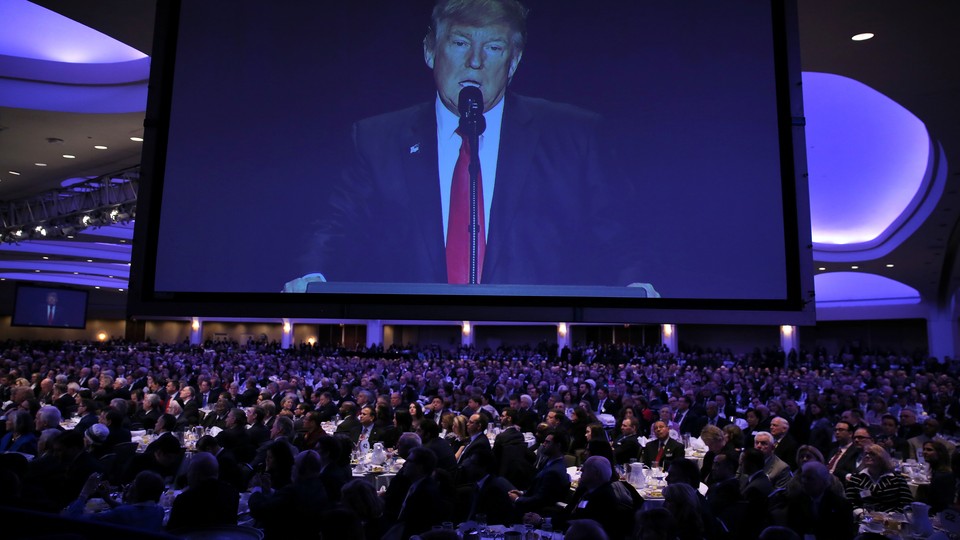 What We're Following
'This Dumb Deal': That's how President Trump referred on Twitter to the U.S. agreement with Australia to accept 1,250 refugees from an offshore Australian detention center. The tweet last night came shortly after a report from The Washington Post that Trump's call with Australian Prime Minister Malcolm Turnbull had turned heated on Saturday when Trump threatened to break the agreement—in addition to insulting Turnbull and boasting about his Electoral College victory. The future of the deal is still in question, and the strange choice to pick a fight with a close ally certainly hasn't helped Trump's image in Australia.
One Nation Under God: Trump spoke at the National Prayer Breakfast in Washington, D.C. this morning. Though he did take a moment to pray for better ratings for The Apprentice—a characteristic move that prompted speculation of a publicity stunt—the main thrust of his speech was to present a vision of religious nationalism, describing the U.S. as a nation strengthened by Christian values and under attack by Islamic extremism. Such threats are a defining theme of Trump's rhetoric, and they're one way he might redefine American exceptionalism—by making the measure of America's greatness its success in keeping people out.
Faking Facts: Why do Trump's supporters find his appeals to fear so convincing? Multiple studies suggest that conservatives are more sensitive than liberals to perceived dangers—and unfortunately, that tendency can make them vulnerable to fake news stories that invent or exaggerate threats. As for how to resist fake news, European nations that have been targeted by Russian disinformation campaigns, such as Finland and Estonia, provide some public-policy lessons. Yet Americans face an extra challenge when facts are contested by the president himself, and government economists, for instance, are sure to come up with statistics that Trump doesn't like. Can he handle it?
---
Snapshot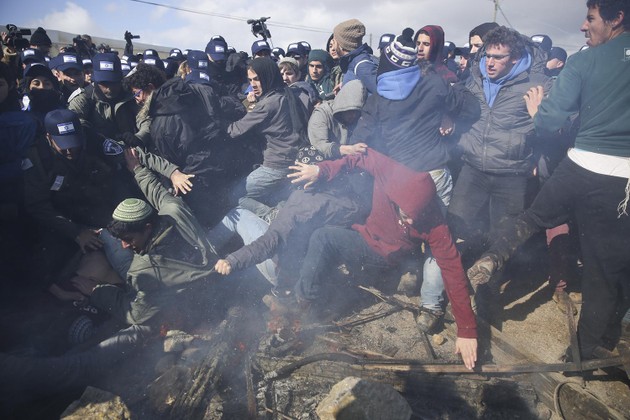 ---
Who We're Talking To
Hidetaka Hirota, author of the book Expelling the Poor, describes the history of U.S. policies aimed at keeping poor immigrants out.
Andrew Weaver, a climate scientist who's now a Canadian legislator, discusses his experience running for office and what scientists can bring to politics.
Alan Burdick, author of the book Why Time Flies, talks to James Hamblin about why the years seem to pass more quickly as we age. Watch here.
---
Evening Read
David Graham on the urban-rural divide:
American cities seem to be cleaving from the rest of the country, and the temptation for liberals is to try to embrace that trend. With Republicans controlling the presidency, both houses of Congress, and most statehouses, Democrats are turning to local ordinances as their best hope on issues ranging from gun control to the minimum wage to transgender rights. …

But if liberal advocates are clinging to the hope that federalism will allow them to create progressive havens, they're overlooking a big problem: Power may be decentralized in the American system, but it devolves to the state, not the city. Recent events in red states where cities are pockets of liberalism are instructive, and cautionary. Over the past few years, city governments and state legislatures have fought each other in a series of battles involving preemption, the principle that state law trumps local regulation, just as federal law supersedes state law. It hasn't gone well for the city dwellers.
Keep reading here, as David explores what happens when state and city governments clash. And for more news on local policy and urban planning, check out our partner site, CityLab.
---
What Do You Know?
1. In a recent survey, ____________ percent of Trump voters said they think he should be allowed to use a private email server.
Scroll down for the answer, or find it here.
2. By age 34, American women on average make 10-18 percent less than men—but among Ivy League graduates, women make ____________ percent less than men.
Scroll down for the answer, or find it here.
3. ____________ percent of Americans own mobile phones.
Scroll down for the answer, or find it here.
---
America by Air
Flying this summer "about two miles south of Edgeley, North Dakota," reader Ted Vosberg spotted the work of "a great patriot farmer":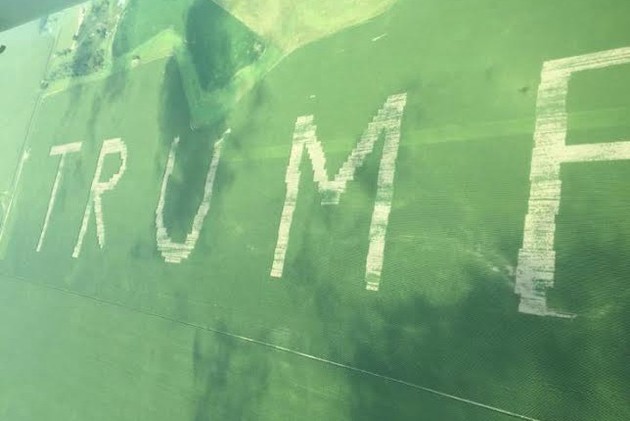 See many more aerial photos here, and send us yours via hello@theatlantic.com (guidelines here).
---
Reader Response
Have you or your loved ones been affected by Trump's travel ban? This reader's boyfriend is from Iran:
He graduated with a Ph.D. from a top American university in 2015. He has a one-time entry visa and is fearful of the risks involved when renewing it (the State Department can be unpredictable), so he has not traveled back to Iran since starting his Ph.D. in 2009. It has been 7+ years since he has last seen his family in person or walked the streets of his hometown of Tehran. … The executive order by Trump has created havoc for him and many of his Iranian friends who are also applying for Green Cards.

They are not threats to the United States. If anything, each of them has spent close to a quarter of their life contributing to American society through their Ph.D. research.  … To treat these exceptional individuals as terror threats is a travesty.
Here's more on how scholars from Iran have contributed to American science, and here is more reader discussion on the travel ban and terrorism. If you or a loved one have been affected by Trump's new policy, we'd like to hear from you (we'll post all stories anonymously). And meanwhile, here's how scientists around the world are helping their colleagues stranded by the ban.
---
Verbs
Trump tweets, controversy brews, Frederick Douglass remembered, opioids weeded out.
---