The Atlantic Daily: The Memo and the Media
Fake-news accusations, immigration raids, Red Scare lessons, and more.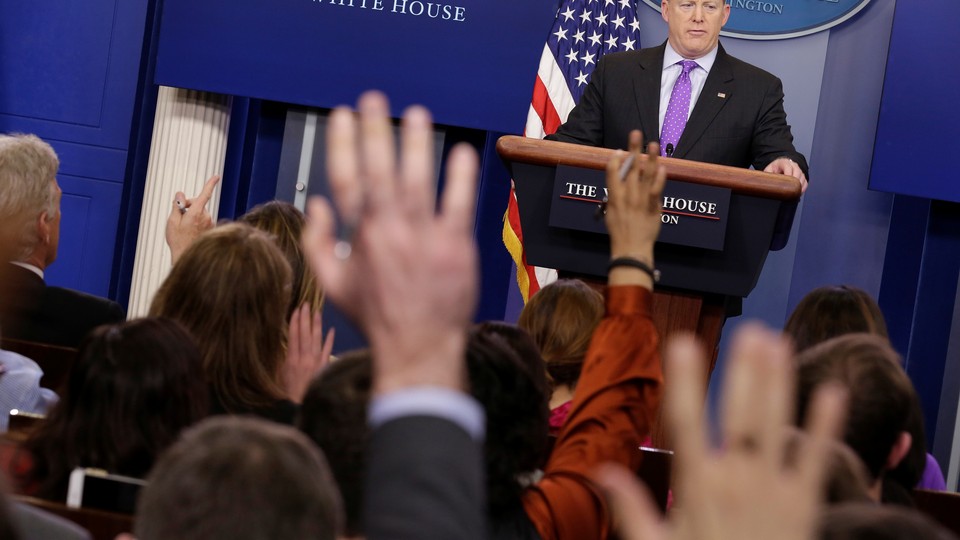 What We're Following
The Fourth Estate: One of today's biggest stories was the AP report—based on a leaked draft memo—that the Trump administration was considering deploying the National Guard to round up unauthorized immigrants.The memo was real, but the White House denied it, and the saga that unfolded illustrated how the administration's combat with the media spreads confusion and distrust. That distrust for "fake news" was a major theme of Trump's press conference yesterday—and it's complicated by the fact that coverage of the conference was drastically different for conservative audiences. A new manifesto from Facebook, where millions of people get their news, includes some effort to solve the problem—but it may end up destroying journalism as we know it.
So What's Really Going On With Immigration? ICE officials arrested hundreds in immigration raids last week, including one student who'd been protected from deportation by Obama's policy of deferred action for people who arrived illegally as children. Here, Democratic congressman Luis Gutiérrez explains how Trump's policy differs from Obama's, and here, an immigration-law expert explains what the raids mean for undocumented youth. On a different though related controversy, Trump's lawyers conceded a legal defeat yesterday in his battle with the courts over the executive order that targets immigration from seven Muslim-majority countries. But that doesn't mean the travel ban is dead: The Justice Department plans to rewrite it.
The Trump Administration: Scott Pruitt was confirmed today as head of the Environmental Protection Agency, and he's expected to begin his tenure by rolling back two major regulatory policies. In addition, the Senate held confirmation hearings for Seema Verma—Trump's choice to lead the Centers for Medicare and Medicaid Services, who reshaped Indiana's Medicaid program to reduce spending—and for David Friedman, his choice for ambassador to Israel,  whose hearing turned unexpectedly partisan. Such partisanship has been a constant in the administration's tumultuous first few weeks, and it adds an extra layer of uncertainty and controversy to reports connecting Trump's campaign with the Kremlin. So what's to be done about fears that Russia has infiltrated the U.S. political system? Here are three lessons from the Red Scare.
---
Snapshot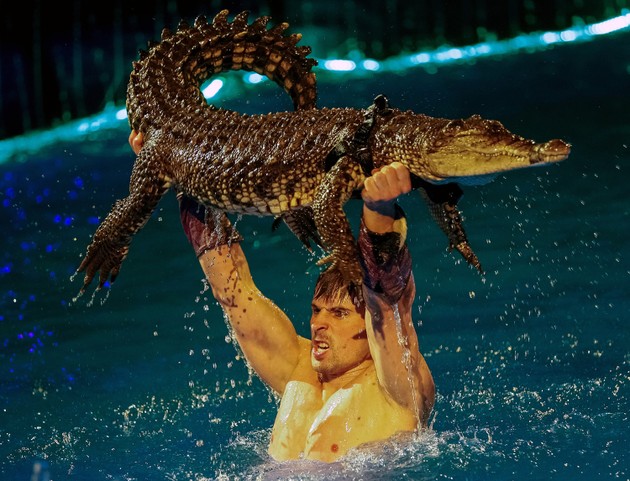 ---
Evening Read
Alana Semuels on the era before Jim Crow:
During a brief window of time between the end of the Civil War and the turn of the 20th century, black and white people lived next to each other in Southern cities, creating what the historian Tom Hanchett describes as a "salt-and-pepper" pattern. They were not integrated in a meaningful sense: Divisions existed, but "in a lot of Southern cities, segregation hadn't been fully imposed—there were neighborhoods where blacks and whites were living nearby," said Eric Foner, a Columbia historian and expert on Reconstruction. Walk around in the Atlanta or the Charlotte of the late 1800s, and you might see black people in restaurants, hotels, the theater, Foner said. Two decades later, such things were not allowed.

As Hanchett, the author of Sorting the New South City: Race, Class, and Urban Development in Charlotte, 1875-1975, puts it, "Segregation had to be invented."
Keep reading here, as Alana unpacks how a racist system came to be—and how it persists today.
---
What Do You Know?
1. During the Apollo era, NASA accounted for 4.5 percent of the federal budget; today, it's under ____________ percent.
Scroll down for the answer, or find it here.
2. Giant killer clams, which went extinct about 180,000 years ago, could weigh as much as ____________ pounds.
Scroll down for the answer, or find it here.
3. The single largest known family tree includes ____________ people. (One of them is Kevin Bacon.)
Scroll down for the answer, or find it here.
---
Poem of the Week
In honor of Presidents' Day, a ballad by Abraham Lincoln: "The Bear Hunt." Lincoln wrote this light verse for a friend around 1846, but it wasn't until February 1925 that it was published for the first time in The Atlantic. It begins:
A wild bear chase didst never see?
           Then hast thou lived in vain—
Thy richest bump of glorious glee
            Lies desert in thy brain.
---
Reader Response
Each week in our Politics & Policy Daily newsletter, we ask readers to submit their answers to a politics-related question. The latest: Which modern president do you most admire? Reader Christopher didn't support Barack Obama during his campaign, but respects him now for his own change of heart:
When someone is observed with such scrutiny and vigilance, they cannot escape their faults.  President Obama had his.  The pivot of his leadership was changing an opinion of what had been a strong conviction—not for the purpose of politics and remembrance—but because he knew it was the right thing to do!  Specifically, having held strong opposing views of [same-sex marriage], President Obama made a remarkable turnaround and went full throttle in securing rights and becoming a quiet champion for the community—this in spite of his own personal beliefs.  That's rarely seen in politics, and applaudable.
More reader choices here, including Harry Truman, Jimmy Carter, and George H.W. Bush. And for more political updates, subscribe to the Politics & Policy Daily.
---
Verbs
Tumult tweeted, exhaustion concealed, Fallon falls flat, epic fails.
---
This newsletter won't publish on Monday due to the Presidents' Day holiday, but we'll be back as usual on Tuesday, February 21. For weekend reading, here's Barack Obama's 2012 remembrance of Abraham Lincoln, and here's how The Atlantic endorsed Lincoln in 1860. Here's a look at how recent presidents have moved on after the Oval Office. The latest episode of our video series "Unpresidented" is here. And as always, you can find The Atlantic's latest coverage on our home page.
---