The Atlantic Daily: Labor and Leaks
Trump held an extended press conference, he announced his new pick for labor secretary, Yale wrestled with America's racial history, and more.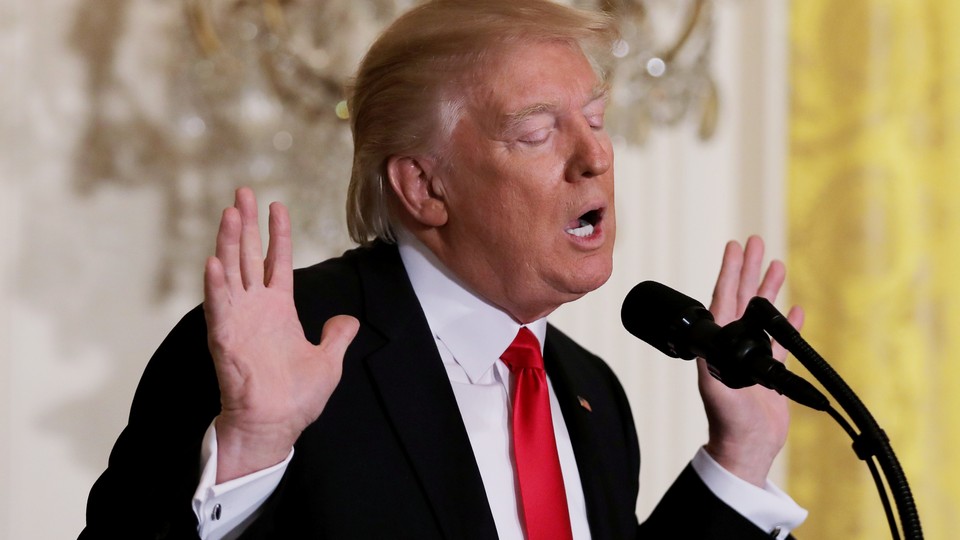 What We're Following
Trump's News Conference: In his first extended press conference from the White House, President Trump took the opportunity of announcing his new pick for labor secretary (more on that below) to rail against intelligence leaks and the media. His many complaints about his critics and about the state of the nation recalled his campaign rhetoric—and suggest he liked the campaign a lot more than his new job. Indeed, his administration is off to a rough start, with institutions from American courts to foreign governments checking him at every turn. When it comes to the leaks, though, he doesn't have much room to complain. David Frum has three reasons why.
Puzder's Replacement: The new nominee for labor secretary is Alexander Acosta, a Cuban-American lawyer who's served on the National Labor Relations Board and led the civil-rights division of the Department of Justice. His long record of government experience, which includes positions that required Senate confirmation, makes him a safer bet than failed nominee Andrew Puzder—but a scandal over politicized hiring from his time at the Justice Department could still come back to haunt him. Also in executive-branch news: Mick Mulvaney, who's expected to push for spending cuts, has been confirmed as Trump's budget director. And while environmentalists have worried about the fate of the EPA under its longtime opponent Scott Pruitt, the agency is also under serious threat from Congress.
Race in America: A new book about Emmett Till's lynching traces how America's Jim Crow past continues to work in the present. Meanwhile at Yale University, administrators are changing the name of a residential college that formerly honored slavery supporter John C. Calhoun—a decision that seems to respond to the current charged political climate. That same climate has led some liberals to call for policies that focus broadly on economic mobility rather than race in particular—but history suggests that such policies tend not to work.
---
Snapshot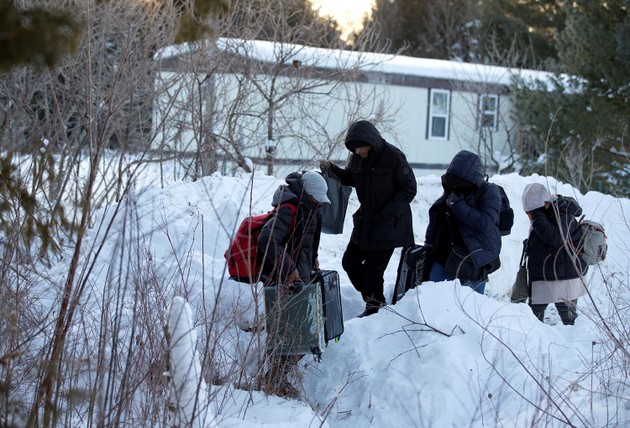 ---
Evening Read
Ian Bogost meditates on the benefits of mechanical watches:
Unlike the smart device, the analog watch orients its wearer toward the world rather than the self. The smartphone is all about you. It notifies you when new messages or likes arrive. It offers an ointment of information when the boredom of routine burns hot. The smartphone sucks in data and reprocesses it in a way that satisfies the device's owner. As the smartphone's handmaiden, the smartwatch merely compresses that information and makes it more accessible, from the wrist rather than in the pocket.

But the watch directs that attention outward, back toward the world. Checking the time is different from checking the phone. It poses implicit questions about where one ought to be, or what one ought to be doing. It situates a body in relation to the duties and accidents unconcerned with the tension of a spring wrapped inside a metal shell on a human wrist. Checking the time is always a humble act, while checking the phone is always a selfish one.
Keep reading here, as Ian makes the case for the watch as "the final resistance against the supremacy of computers."
---
What Do You Know?
1. In the past 20 years, more than 1,000 deer in the U.S. have been struck by ____________.
Scroll down for the answer, or find it here.
2. Between 1999 and 2011, the number of baptisms in Milwaukee, Wisconsin, dropped by ____________ percent.
Scroll down for the answer, or find it here.
3. The most radioactive object ever discovered by Scotland Yard—a hand towel soaked in polonium—was found in 2006 at the bottom of a ____________.
Scroll down for the answer, or find it here.
---
Urban Developments
Our partner site CityLab explores the cities of the future and investigates the biggest ideas and issues facing city dwellers around the world. Adam Sneed shares three of today's top stories:
Immigrants make up a fifth of America's working class overall—and in some cities they're as much as 60 percent of the working class. Amid a strike to protest President Donald Trump's agenda, these cities will feel the largest impacts of "A Day Without Immigrants."

Texas has taken high-school football extremely seriously for generations. As Dallas suburbs race to build flashy new stadiums, with price tags as high as $80 million, some are asking: Has it gone too far?

Urbanists love to list the problems with America's reliance on cars, but what would it take for such a massive culture transformation? For starters, don't demonize driving—just stop subsidizing it.
For more updates from the urban world, subscribe to CityLab's daily newsletter.
---
Question Your Answers
At The Atlantic, we think it's never been more important to take on established answers with tough questions. In our new brand film, Michael K. Williams of The Wire and The Night Of wrestles with one of his own: Is he being typecast? Check it out here.
---
Reader Response
A new salvo in this week's grammar debate comes from a reader who takes issue with the premise of "grammatical guilty pleasures":
With all due respect, this is the kind of stuff that perpetuates zombie rules. It perpetuates ignorance about the way our language works.

There is no "guilty pleasure" in "splitting" infinitives because it has never been ungrammatical in English. … When you suggest that splitting infinitives and stranding prepositions is something that only grammar renegades do—especially when you do it in a widely read publication—you're adding fuel to people's misconceptions (and their nervous cluelessness) about English. … There are conventions that formal writing must adhere to. But conflating stylistic conventions with grammar leads people to believe that those conventions are actual rules.
Read more here. Indeed, I was imprecise when I referred broadly to guidelines of usage and style as grammar rules. But I'd set that up as an aesthetic conflict: writerly instinct versus editorial edict. So now I'm curious: What's the aesthetic argument for a (so-called) rule like "never start a sentence with 'and'"? If you're a proud pedant with a case to make for convention, please send it along.
---
Verbs
Workaholics traumatized? Malaise melodized, rudeness redefined, life signs found.
---